Spreading Iona University Science to the World
Fifteen Undergraduate Research Students with Professor Dr. Sunghee Lee Attended the National Meeting of the American Chemical Society in Chicago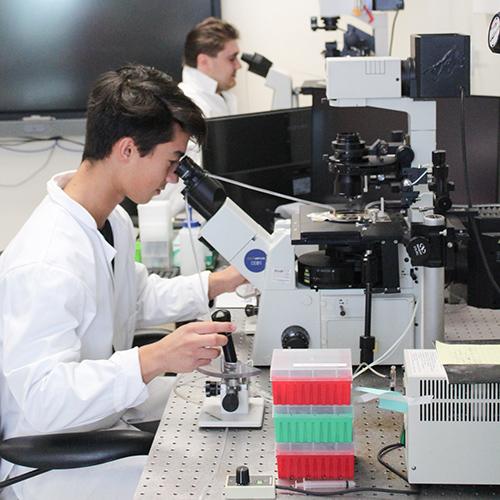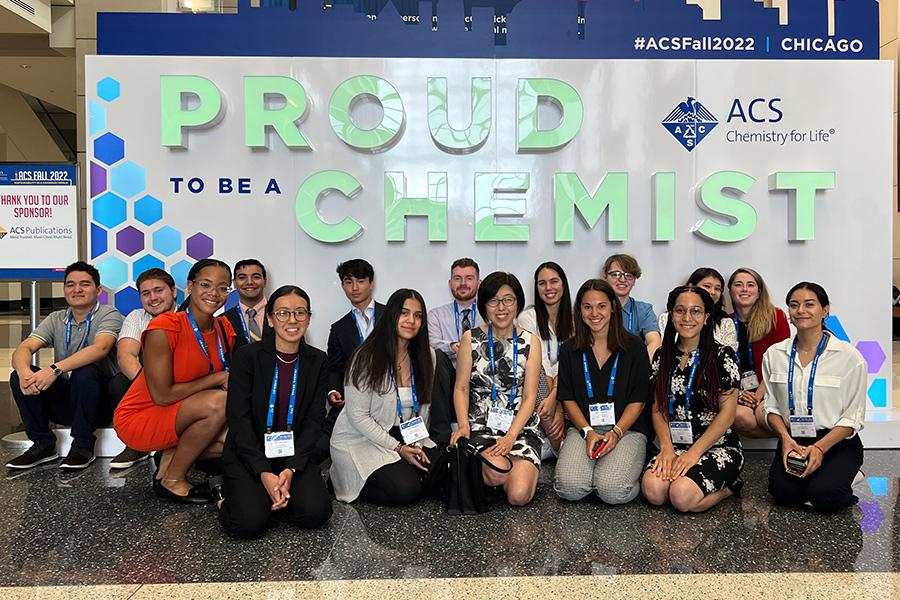 Chicago, IL – After an exciting research experience this past summer – spent mostly in the Cornelia Hall laboratory at Iona University – a team of 15 undergraduate research students recently traveled to Chicago, IL, and presented at the National Meeting of the American Chemical Society (ACS) with their faculty mentor, Dr. Sunghee Lee, of the Chemistry & Biochemistry Department.
"The future is bright and full of ideas, and I think it is important for us undergraduates to see," said Jamie Gudyka '24, a biochemistry major and student-athlete who participated in the trip. "The conference has ignited a spark and I am excited to see where this takes me as I am being my academic year and research continues and grows."
Dr. Lee's research group is called Project Symphony, which embodies an idea of collaborative work across various disciplines to achieve shared goals.
The theme of this year's ACS meeting was "Sustainability in a Changing World," which highlighted the critical role that chemists play in addressing our environmental challenges, and how academia, industry, and government can work together to help create a more sustainable world.
"Labs, trips and opportunities like the ones I was able to experience this summer are invaluable to students," said William Lowry '23, a math economics major. "It's what allows us to develop and refine what we love and want to do in the future. They provide memories and experiences that are impossible to find within the classroom. The people I was able to meet and the things I was able to experience, I will hold with me for years to come."
"Joining Project Symphony with Dr. Lee my freshman year has been eye opening… All of Project Symphony is dedicated and passionate about we do and as a result we can display our work to those around the world," Gudyka added. "Additionally, at the ACS conference, I was able to make connections for both future education and possible career routes… While thinking about the next step in a career can be scary, this experience made me excited as everyone was passionate and open to helping students get to the next level."
This team of Iona undergraduates was honored to be part of an international conference. Students participated in various sessions, workshops and networking opportunities, and presented seven research papers at the Biomaterials & Biointerfaces session of the Division of Colloid and Surface Chemistry, including:
#1. Differential Interaction of Cannabidiol with Biomembranes Dependent on Cholesterol Concentration
#2. Characterization of electrical properties of model lipid membranes using a modified electrophysiological technique
#3. Calculations of DOPC/DOPE Bilayer Structural Properties at Different Compositions by Molecular Dynamics Simulation
#4. Effects of plant polyphenols on biophysical properties of model membranes
#5. Raman spectroscopic investigation of model lipid membranes containing cholesterol and small molecules
#6. Thermodynamic investigation of interactions of phytochemicals with model cell membranes
#7. Effect of different DOPC/DOPS Ratios on the Structural Properties of Biological Membranes
ABOUT IONA
Founded in 1940, Iona University is a master's-granting private, Catholic, coeducational institution of learning in the tradition of the Edmund Rice Christian Brothers. Iona's 45-acre New Rochelle campus and 28-acre Bronxville campus are just 20 miles north of Midtown Manhattan. With a total enrollment of nearly 4,000 students and an alumni base of over 50,000 around the world, Iona is a diverse community of learners and scholars dedicated to academic excellence and the values of justice, peace and service. Iona is highly accredited, offering undergraduate degrees in liberal arts, science, and business administration, as well as Master of Arts, Master of Science and Master of Business Administration degrees and numerous advanced certificate programs. Iona's LaPenta School of Business is accredited by AACSB International, a prestigious recognition awarded to just five percent of business schools worldwide. The Princeton Review recognized Iona's on-campus MBA program as a "Best Business School for 2022." Iona University also recently launched a new, fully online MBA program for even greater flexibility. In July 2021, Iona University and NewYork-Presbyterian announced the establishment of the NewYork-Presbyterian Iona School of Health Sciences, to be principally located on the University's new campus in Bronxville, N.Y. Supported by a $20 million gift from NewYork-Presbyterian, the NewYork-Presbyterian Iona School of Health Sciences offers a new vision for collaborative health care education, modern workforce development, and community care. On July 1, 2022, Iona officially changed its status from College to University, reflecting the growth of its academic programs and the prestige of an Iona education.