Three Iona College Students Named University Innovation Fellows by Stanford University
Harnessing the power of innovation and entrepreneurship that has come to define an Iona College education, three Gaels have been accepted into a prestigious global program that is pushing the boundaries of student creativity.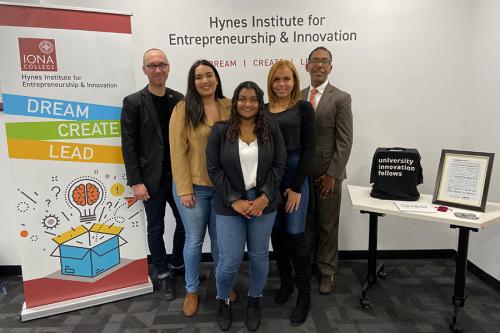 NEW ROCHELLE N.Y. – Harnessing the power of innovation and entrepreneurship that has come to define an Iona College education, three Gaels have been accepted into a prestigious global program that is pushing the boundaries of student creativity.
Run by Stanford University's Hasso Plattner Institute of Design (d.school), the University Innovation Fellows program challenges students to become agents of change on campus, empowering them with the skills and the mindset to create a bolder future.
Supported by Iona College's new Hynes Institute for Entrepreneurship & Innovation, a state-of-the-art, collaborative co-working space that looks and feels straight out of Silicon Valley, this year's fellows include:
Avery Burgos '20, Marketing, Entrepreneurship Minor (Bronx, N.Y.)
Riana Khan '22, Marketing and Entrepreneurship (Malverne, N.Y.)
Lisbeth Baez '20, Management Major, Entrepreneurship Minor (New York, N.Y.)
In all, 360 students from 90 higher education institutions in 13 countries have completed the training to be accepted into the program.
The Iona College fellows will set out to develop a social media platform to help connect freshmen both to each other and to mentors. In presenting the project to their peers, each of the Gaels said their training pushed them to grow as students and as individuals.
"A key to learning is being aware of your actions, especially when you are part of a team," said Baez, whose goal is to start her own social enterprise. "Being intentional is very impactful."
Christoph Winkler, Ph.D., endowed professor and founding program director of the Hynes Institute, said the fellowship program is a perfect complement to Iona College's core mission of learning through service. The students have identified a need on campus, and they are gaining the skills and attitudes to serve their peers with an entrepreneurial mindset.
"I think it is essential that we build a community of innovation and a culture of creativity in a collaborative environment that allows students to work together from as many different disciplines and as many different walks of life as possible," Winkler said. "That rich, diverse environment of thought allows us to really look at issues from multiple perspectives and create solutions that benefit the very people that we want to serve."
A celebratory pinning ceremony was held in the Hynes Institute on Dec. 6, 2019. Last year, Iona College also had three fellows in the program.
"The work that you are about to embark on is going to leave a footprint for future generations and hopefully will leave you with an indelible remembrance of what it means to be an Iona College student," said Darrell P. Wheeler, Ph.D., MPH, ACSW, Iona College provost and senior vice president for Academic Affairs. "And you know what they say: 'To those who are given much, much is expected in return.' We look forward to you doing incredible things."
ABOUT IONA
Founded in 1940, Iona University is a master's-granting private, Catholic, coeducational institution of learning in the tradition of the Edmund Rice Christian Brothers. Iona's 45-acre New Rochelle campus and 28-acre Bronxville campus are just 20 miles north of Midtown Manhattan. With a total enrollment of nearly 4,000 students and an alumni base of over 50,000 around the world, Iona is a diverse community of learners and scholars dedicated to academic excellence and the values of justice, peace and service. Iona is highly accredited, offering undergraduate degrees in liberal arts, science, and business administration, as well as Master of Arts, Master of Science and Master of Business Administration degrees and numerous advanced certificate programs. Iona's LaPenta School of Business is accredited by AACSB International, a prestigious recognition awarded to just five percent of business schools worldwide. The Princeton Review recognized Iona's on-campus MBA program as a "Best Business School for 2021." Iona University also recently launched a new, fully online MBA program for even greater flexibility. In July 2021, Iona University and NewYork-Presbyterian announced the establishment of the NewYork-Presbyterian Iona School of Health Sciences, to be principally located on the University's new campus in Bronxville, N.Y. Supported by a $20 million gift from NewYork-Presbyterian, the NewYork-Presbyterian Iona School of Health Sciences offers a new vision for collaborative health care education, modern workforce development, and community care. On July 1, 2022, Iona officially changed its status from College to University, reflecting the growth of its academic programs and the prestige of an Iona education.