Active Iona College Students Spent 88,957 Hours Volunteering During 2018-19 School Year
Iona College students are living the school's mission to "Move the World" and logged an impressive 88,957 hours in community service during the 2018-2019 school year.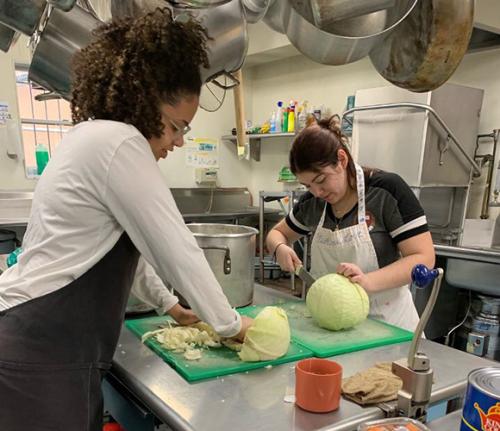 Volunteer Hours Grew More Than 15% vs. Previous Year at Iona as Studies Show College Volunteering Has Hit an All Time Low
NEW ROCHELLE, N.Y. — Read the daily headlines and you know many in this world need assistance. College students often want to extend a helping hand. But with endless distractions and deadlines, it's challenging for students to prioritize community service.
According to a 2018 report published by Fast Company, "More than three quarters of college students feel it's their duty to help others…(but) on average, just 26% of all university students typically volunteer."
Yet, Iona College students are living the school's mission to "Move the World" by logging an impressive 88,957 hours in community service during the 2018-2019 school year—a 15.7% increase in volunteer hours vs. the previous year. Student volunteers served children, seniors, the sick and disabled, victims of natural disasters, and held fundraising events for numerous charitable organizations.
Why are Iona students venturing beyond their bucolic campus to assist the underserved? The answer is a combination of culture, opportunity, and integration of service within the Iona curriculum. Leading these efforts is the director of the Office of Mission and Ministry, Carl B. Procario-Foley, Ph.D.
"We are so proud of the dedication our students show in serving those in our own community, and in communities around the world," says Dr. Procario-Foley. "The challenges facing the poor; the disabled; and those facing serious medical, emotional, or financial hardships are only growing. It's reassuring to know that our students are growing their commitment to service even when they face so many pressures on them to prepare for their careers and to work outside of college."
Iona College has seen marked increases in volunteering with the addition of new academic service-learning initiatives, increased fieldwork from education students, and a new free Speech clinic launched by its Speech Communication Studies program. In academic programs such as accounting, criminal justice, computer science, counseling, and social work, students provide education, aid, and support to the community through their classes. Also, Iona's many clubs and sports teams also raise funds to support local non-profits that serve children, first responders, and victims of natural disasters.
A cornerstone of the College's service commitment is its Iona in Mission program, which is dedicated to making service, justice, and spirituality an integral part of the consciousness of the College community. It is rooted in the tradition of the Blessed Edmund Rice, the founder of the Congregation of Christian Brothers, whose legacy of educating young people and establishing ministries around the world, particularly for the poor, is alive and well on campus. Each year through the Iona in Mission program, dozens of students, faculty, and alumni have the opportunity to embark on community service projects to provide hands-on experience in helping people in poor and marginalized communities in places as far away as Zambia, India, Peru, Puerto Rico, South Africa, and Ireland, and as close as Mississippi; Philadelphia; Washington, DC; Camden, N.J.; and Bridgeport, Conn.
"We believe that when you create the right culture, and give students many points of entry to service, it empowers them to take the lead to make a difference," notes Procario-Foley. "At Iona, service is integral to the learning process because it prepares our students to take on the tough issues when they graduate from Iona and go out into the world."
At Iona, students, faculty and administrators alike participate in community service. Amanda Howerton-Fox, Ph.D., assistant professor of Education, recently led one of the mission trips to Kolkata, India, where students served in various Christian Brothers' ministries with children and people with disabilities and volunteered at Mother Teresa house which serves the extremely poor, sick and dying.
"The most profound part of the mission trip experience for me was getting to know the students in the context of doing service," says Dr. Howerton-Fox. "Since returning, I see all my students differently. Seeing their individual humanity and the way they struggle with life's questions has made me more open to all my students as whole human beings with unique histories, and has made Iona feel much more alive to me as a place where people come to serve, and to learn how to live in service to others."
Recent Iona alumnus and Bronx, New York native, Jesse Koch '18 was introduced to mission work through the Office of Mission and Ministry and realized that there was a great need for mental healthcare in the world. He first attended a mission trip to Ireland his sophomore year, where he found his passion for helping the prison and homeless populations. Koch attended the Mississippi mission trip his junior and senior years and led retreats during his junior and senior years, where he helped teach other students about themselves and the presence of God in their everyday lives.
"My experiences with the Office of Mission and Ministry supported and gave me the opportunity to practice, all of what I was learning in the classroom during my psychology, and peace and justice classes," says Koch.
The opportunity to serve others and learn together is a vital aspect of an Iona College education. To learn more about upcoming Iona in Mission programs visit its home on iona.edu.
ABOUT IONA
Founded in 1940, Iona College is a master's-granting private, Catholic, coeducational institution of learning in the tradition of the Edmund Rice Christian Brothers. Iona's 45-acre campus is just 20 miles north of Midtown Manhattan. With a total enrollment of nearly 4,000 students and an alumni base of over 50,000 around the world, Iona is a diverse community of learners and scholars dedicated to academic excellence and the values of justice, peace and service. Iona is highly accredited, offering undergraduate degrees in liberal arts, science, and business administration, as well as Master of Arts, Master of Science and Master of Business Administration degrees and numerous advanced certificate programs. Iona's LaPenta School of Business is accredited by AACSB International, a prestigious recognition awarded to just five percent of business schools worldwide. The Princeton Review recognized Iona's on-campus MBA program as a "Best Business School for 2021." Iona College also recently launched a new, fully online MBA program for even greater flexibility.