Biden Cites Iona College Professor in Shaping Federal Disabilities Policy
Dr. Amanda Howerton-Fox Finds Early Exposure to Sign Language is Essential for Deaf Children, Biden Pledges Support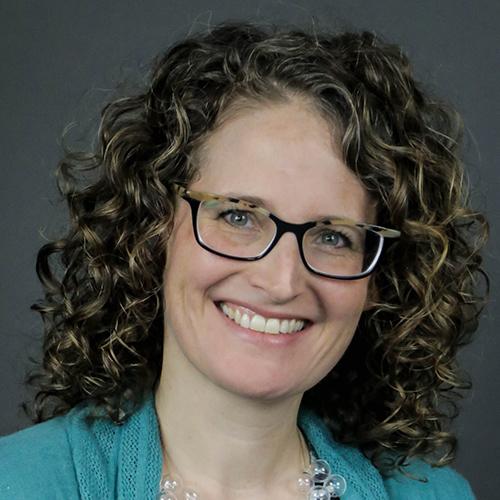 NEW ROCHELLE, N.Y. — Iona College's Amanda Howerton-Fox, Ph.D., has dedicated her life's work to social justice through education, particularly for deaf children and children learning English in school. So, when her research became a cornerstone of Joe Biden's plan for "Full Participation and Equality for People with Disabilities," it not only offered validation, but also encouragement.
"I've spent the last 20 years writing, researching, talking and trying to change people's minds. But maybe we need to change policy first," said Howerton-Fox, assistant professor of Education at Iona. "I've been doing a lot of reading this semester about anti-racism, and one of the things [Ibram X.] Kendi talks about is how he tried for so much of his life to change people's minds, hoping that would change policy. But that's actually not how it works. You change policy, and once policy changes, then people are ready to change their minds. So, this really got me excited about the possibility of being more involved on the policy end."
In keeping with the mission, vision and values of Iona, where service, justice and opportunity are foundational tenets, Howerton-Fox has been a steadfast advocate for deaf and bilingual education on campus and beyond. Arguing that early exposure to language is critical for a child's development, she has pioneered innovative pedagogies and formed exciting partnerships to expand access. Attracting the attention of the now president of the United States, however, certainly came as surprise.
LASTING IMPACTS
In 2019, Howerton-Fox and her research partner, Jodi Falk, executive director of the St. Francis de Sales School for the Deaf in Brooklyn, published a comprehensive literature review of over 200 articles focused on deaf children as English learners. The review, which had a special focus on deaf children being raised in non-English speaking and non-signing households, found that language deprivation for deaf children in their early years can have a lasting impact not only on language and literacy, but also on cognition and social and emotional development.
Biden's plan quoted the study, nearly verbatim, and pledged a federal policy that will "provide parents, health care providers, and early childhood professionals the resources needed to support these children."
"Every deaf child should have exposure to sign language when they are young," Howerton-Fox said. "So much language development happens in the first six months."
STARK CONTRASTS
Not surprisingly, the support for access to sign language varies in the United States, especially by socio-economic background, Howerton-Fox said.
Plus, there is an emphasis on speaking and hearing, which means many of the support services, such as cochlear implants, are targeted at getting children to hear, and not necessarily on introducing sign language. In fact, parents are often instructed not to sign because it will make the child dependent on signing, Howerton-Fox said.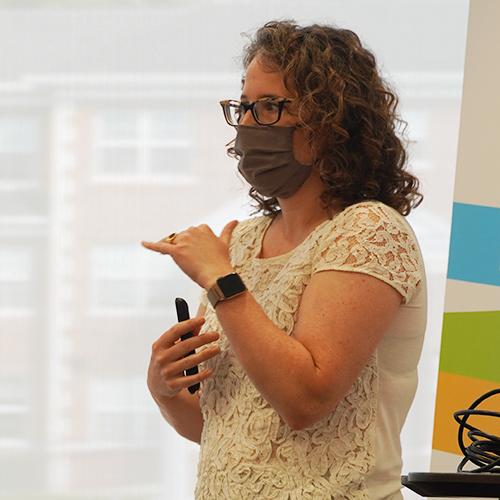 That is in stark contrast to Sweden, where Howerton-Fox did her dissertation research.
"In Sweden, the idea that all deaf children should have access to sign language and that all deaf children should be invited into the deaf community and culture is widely accepted," said Howerton-Fox. "The government will pay to relocate a family who has a deaf child to a deaf cultural center so that the entire family can learn sign language and the deaf child can be part of the community. So, when I was living there, I was taking Swedish sign language and I was taking it with grandpas and nephews and siblings, because everyone in the family was learning to sign."
"That's what it should be. But it's rare here," she said. "Having that foundation of a solid first language is going to support the development of English—and even of speech and hearing, if those are a goal—because children will have their first language to connect things to."
Nevertheless, looking toward the future, Howerton-Fox is hopeful.
"The fact that this is even on [Biden's] radar, that it's part of his agenda, is wonderful," she said. "He talks about the early supports; he talks about looking at the research, recognizing what's going on, and making sure that the families have the supports they need to get access to that early language – that's huge."
ABOUT IONA
Founded in 1940, Iona College is a master's-granting private, Catholic, coeducational institution of learning in the tradition of the Edmund Rice Christian Brothers. Iona's 45-acre campus is just 20 miles north of Midtown Manhattan. With a total enrollment of nearly 4,000 students and an alumni base of over 50,000 around the world, Iona is a diverse community of learners and scholars dedicated to academic excellence and the values of justice, peace and service. Iona is highly accredited, offering undergraduate degrees in liberal arts, science, and business administration, as well as Master of Arts, Master of Science and Master of Business Administration degrees and numerous advanced certificate programs. Iona's LaPenta School of Business is accredited by AACSB International, a prestigious recognition awarded to just five percent of business schools worldwide. The Princeton Review recognized Iona's on-campus MBA program as a "Best Business School for 2020." Iona College also recently launched a new, fully online MBA program for even greater flexibility.