HEINEKEN USA CEO Maggie Timoney '89, '92MBA to Deliver Iona University Commencement Keynote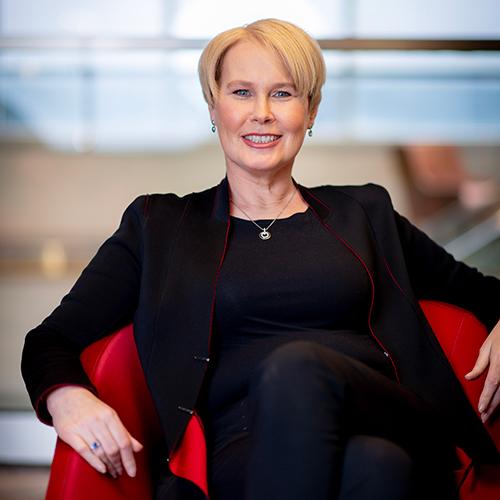 NEW ROCHELLE, N.Y. – Iona University is pleased to announce that HEINEKEN USA CEO Maggie Timoney '89, '92MBA will deliver the keynote address at the 79th annual Commencement ceremony on May 19, 2023. It will be Iona's first Commencement since it transitioned to a University in July 2022.
"Iona University is honored to have Maggie Timoney, a distinguished and widely celebrated leader in the world of business, as a member of our alumni community," said President Seamus Carey, Ph.D. "Maggie consistently and generously gives of her time, wisdom and energy on behalf of her alma mater. Her keynote address is sure to inspire future generations of Gaels to go out into the world, lead and continue to be of service in their chosen professions. My gratitude to Maggie and congratulations to the Class of 2023."
A native of Ireland recruited to play basketball at Iona, Timoney joined HEINEKEN USA in 1998 as a national sales manager. Since then, she has held leadership positions in the United States, The Netherlands, Canada and Ireland, including general manager of HEINEKEN Canada; senior vice president of human resources in the U.S.; and CEO of HEINEKEN Ireland. Prior to joining HEINEKEN, she worked for Gallo and an Anheuser-Busch wholesaler.
As the first woman to serve as CEO of a major U.S. beer company, Timoney is widely recognized as a transformational, barrier-breaking leader.
Timoney earned a bachelor's degree in international studies from Iona in 1989 and an MBA in organizational behavior in 1992. In 2001, she was inducted into Iona's Goal Club Hall of Fame as one of the greatest women's basketball players in the University's history. At the time, she held the title for all-time leading scorer with 1,894 career points; she is currently third in the ranks.
Timoney has served on the Iona Board of Trustees since 2015 and regularly credits her time at Iona with helping to form and shape her leadership skills. She remains an active and engaged member of the Iona community, from speaking with students and offering career advice to attending alumni gatherings and hosting networking events.
"Iona was a pivotal time that helped shape me into the person I am today. Reflecting on my time there, I would not change a thing," Timoney said. "I am incredibly humbled and so honored to speak to this year's graduates."
Iona University will host its 79th annual Commencement ceremony on Friday, May 19, 2023, at 10 a.m. on Iona's New Rochelle campus. Media are invited but must RSVP to Diana Costello, senior director of communications, at dcostello@iona.edu.
ABOUT IONA
Founded in 1940, Iona University is a master's-granting private, Catholic, coeducational institution of learning in the tradition of the Edmund Rice Christian Brothers. Iona's 45-acre New Rochelle campus and 28-acre Bronxville campus are just 20 miles north of Midtown Manhattan. With a total enrollment of nearly 4,000 students and an alumni base of more than 50,000 around the world, Iona is a diverse community of learners and scholars dedicated to academic excellence and the values of justice, peace and service. Iona is highly accredited, offering undergraduate degrees in liberal arts, science and business administration, as well as Master of Arts, Master of Science and Master of Business Administration degrees and numerous advanced certificate programs. Iona students enjoy small class sizes, engaged professors and a wide array of academic programs across the School of Arts & Science; LaPenta School of Business; NewYork-Presbyterian Iona School of Health Sciences; and Hynes Institute for Entrepreneurship & Innovation. Iona is widely recognized in prestigious rankings, including The Princeton Review's 2024 national list of "The Best 389 Colleges" and The Wall Street Journal/College Pulse's "2024 Best Colleges in America," which ranked Iona at #66 in the nation overall and #8 in the nation among Catholic schools. Iona's LaPenta School of Business is also accredited by AACSB International, a recognition awarded to just five percent of business schools worldwide. In addition, The Princeton Review recognized Iona's on-campus MBA program as a "Best Business School for 2023." Iona also offers a fully online MBA program for even greater flexibility. In July 2021, Iona announced the establishment of the NewYork-Presbyterian Iona School of Health Sciences, which is now principally located on Iona's Bronxville campus in collaboration with NewYork-Presbyterian. Connecting to its Irish heritage, the University also recently announced it is expanding abroad with a new campus in County Mayo, Ireland. A school on the rise, Iona officially changed its status from College to University on July 1, 2022, reflecting the growth of its academic programs and the prestige of an Iona education.