Iona Alumnus to Receive Tip O'Neill Irish Diaspora Award
The Donegal County (Ireland) Council has presented one of its 2019 Tip O'Neill Irish Diaspora Awards to Iona alumnus and board of trustee Patrick C. Dunican Jr., Esq., '88.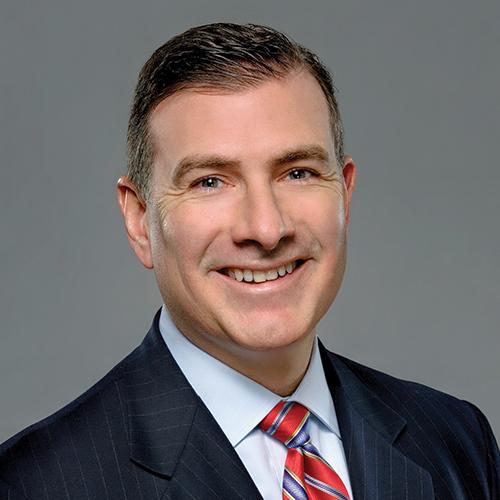 NEWARK, N.J. – The Donegal County (Ireland) Council has presented one of its 2019 Tip O'Neill Irish Diaspora Awards to Iona alumnus and trustee Patrick C. Dunican Jr., Esq., '88. Dunican is the current Chairman and Managing Director of Gibbons P.C. Cathaoirleach of Donegal County Council, Councillor Nicholas Crossan, announced the awards at a special event in the Letterkenny Public Service Centre. Award recipients will be honored at a ceremony on September 27 at the Inishowen Gateway Hotel in Buncrana, Ireland.
The Tip O'Neill Award is an initiative of the Donegal County Council's Donegal Diaspora Project, created in 2012 to mark the hundredth anniversary of the birth of Thomas Phillip "Tip" O'Neill, Speaker of the U.S. House of Representatives from 1977-1987 and one of the most prominent American statesmen of his time, whose maternal grandparents hailed from Donegal. The award is presented annually to people of Irish background in recognition of achievements in their chosen fields and their interest in and support for Ireland and its diaspora. Mr. Dunican is being honored for his high-profile work as managing director of one of America's largest and most prominent law firms, his community leadership, and his longstanding efforts to develop and strengthen economic ties between New Jersey and Ireland.
Also honored this year is author and playwright Frank McGuinness, who is celebrated as one of Ireland's greatest living writers, best known for such plays as Someone Who'll Watch Over Me, The Factory Girls, and Dolly West's Kitchen. Rounding out the 2019 recipients are Dublin-based developer Pat Doherty and Daniel J. Hilferty, CEO of Independence Health Group, parent of one of the leading health insurers in the US. Prior recipients include Chris Matthews, host of the nightly news program "Hardball" on MSNBC; former Maryland governor Martin O'Malley; and former governor of Montana, Brian Schweitzer.
On September 26, the evening before the award ceremony, all four 2019 honorees will take part in "A Life Stories Event with Professor Paul Moore," an informal program hosted by Donegal County Council and Ulster University at Magee.
"Their achievements speak for themselves and I am delighted that we in Donegal County Council, through the Tip O'Neill Irish Diaspora Award, are in a position to honor the outstanding contributions made by all four worthy recipients," said Councillor Crossan.
Mr. Dunican, whose four grandparents emigrated to the United States from Ireland, including his maternal grandfather, John Doherty, from Donegal, is a founding member of the Irish American Bar Association of New Jersey (IABANJ) and has long been active in initiatives to develop and strengthen local and regional business communities' connections with Ireland and Irish business ventures. These efforts are key components of wider-ranging statewide platforms to further economic partnerships between New Jersey and Ireland.
As Grand Marshal of the 78th Newark St. Patrick's Day Parade, Mr. Dunican led a full-day celebration, hosted in large part by Gibbons in March 2013, and raised more money for more charities than ever before in the parade's 78-year history. St. Patrick's Day has long been an annual celebration at Dunican's firm, featuring Irish meals, bagpipers, step dancers, a limerick contest, and other festivities, including presentation of the John T. "Chuck" Dolan Spirit Award, named in honor of one of the firm's founding partners, who was Irish-American, and awarded to employees who share his tremendous spirit. Notably, five Gibbons attorneys, including Mr. Dunican, are featured on the most recent "Irish Legal 100" list, a compilation of some of the most distinguished and accomplished men and women of Irish heritage in the legal profession in the U.S., published annually since 2008 by the Irish Voice newspaper.
Mr. Dunican is a nationally recognized legal industry leader in the United States who, after being elected Managing Director of Gibbons in 2004 at age 36, transformed the firm into a major force in the Mid-Atlantic legal market. He has been named by Law360 as one of the nation's most innovative law firm managing partners and by the New Jersey Law Journal as one of the state's "Distinguished Leaders" in the legal industry. For nine consecutive years, NJBIZ has selected him for its "Power 100" list of the most powerful people in New Jersey business, and, for the past two years, ROI-NJ has featured him on its "Influencers Power List." His focus on marketing and branding initiatives earned Gibbons a place as the only law firm featured in Steve Adubato's book, You Are the Brand. Mr. Dunican continues to oversee the firm's growth, leading operations in Newark, Trenton, and (as of September 1) Red Bank, New Jersey; New York, New York; Philadelphia, Pennsylvania; Wilmington, Delaware; Washington, DC; and West Palm Beach, Florida. He is Vice Chairman of the Board of his alma mater, Iona College, and Chair Emeritus of the Seton Hall University School of Law Board of Visitors.
In addition to his regular listing in the "Irish Legal 100," Mr. Dunican has been recognized among the "Irish Education 100," which celebrates Irish-American leaders and major supporters of educational institutions throughout the U.S. He has also been named among PolitickerNJ's "Irish American Leaders of New Jersey." In 2018, the Irish American Cultural Institute (IACI) presented Mr. Dunican with its Annie Moore Award, an annual honor recognizing an individual who has made significant contributions to the Irish and/or Irish American community and legacy through excellence in business, commerce, education, or the arts. In 2019, he delivered the keynote address at the 118th Friendly Sons of St. Patrick of the Oranges Dinner; the two most recent previous keynote speakers were Cardinal Joseph Tobin, Sixth Archbishop of Newark, and New Jersey Governor Phil Murphy.
ABOUT IONA
Founded in 1940, Iona College is a master's-granting private, Catholic, coeducational institution of learning in the tradition of the Edmund Rice Christian Brothers. Iona's 45-acre campus is just 20 miles north of Midtown Manhattan. With a total enrollment of nearly 4,000 students and an alumni base of over 50,000 around the world, Iona is a diverse community of learners and scholars dedicated to academic excellence and the values of justice, peace and service. Iona is highly accredited, offering undergraduate degrees in liberal arts, science, and business administration, as well as Master of Arts, Master of Science and Master of Business Administration degrees and numerous advanced certificate programs. Iona's LaPenta School of Business is accredited by AACSB International, a prestigious recognition awarded to just five percent of business schools worldwide. The Princeton Review recognized Iona's on-campus MBA program as a "Best Business School for 2021." Iona College also recently launched a new, fully online MBA program for even greater flexibility.