Iona College Announces New Bachelor of Science Degree Program in Nursing
Applications open immediately for Fall 2020 as COVID-19 spotlights heroism, demand.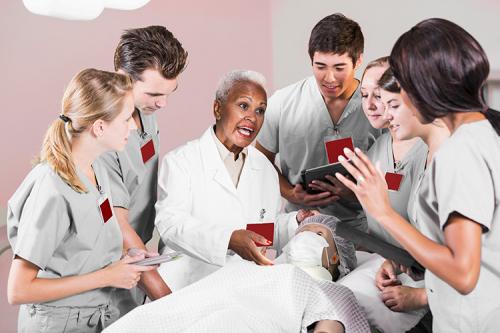 NEW ROCHELLE, N.Y. – Iona College today announced the launch of a new Bachelor of Science degree program in nursing, which will help to meet the growing demand for Registered Nurses both locally and nationally. With official approval from the New York State Department of Education now in place, Iona is ready to accept its first class of elite students this fall.
Iona's rigorous, values-oriented nursing program will offer two pathways to a bachelor's degree: a traditional 4-year undergraduate program open to both freshman and transfer students, complete with a core, liberal arts curriculum; and an accelerated, 15-month second-degree program for students who already have a bachelor's in another field. Both pathways will prepare graduates to sit for the National Certification and Licensing Examination for Registered Nurses (NCLEX-RN).
The college is accepting applications for both programs immediately. For more information and to apply, please visit www.iona.edu/nursing.
"As we have seen throughout the COVID-19 pandemic, nurses truly are heroes – and the world needs more of them," said Seamus Carey, Ph.D., president of Iona College. "In keeping with the mission and values of an Iona education, the nursing curriculum will prepare nurses who can both initiate and adapt to change, serve patients with compassion while demonstrating critical thinking in health care innovation, engage in bold leadership and advocacy, and seek knowledge wherever it presents itself in pursuit of a global culture of health."
The launch of the program comes as the need for qualified nurses continues to surge. According to the United States Bureau of Labor Statistics, Registered Nursing (RN) is listed among the top occupations in terms of job growth through 2026. The Bureau projects the need for an additional 203,700 new RNs each year through 2026 to fill newly created positions and to replace retiring nurses. Meanwhile, the American Association of Colleges of Nursing (AACN) warns that nursing school enrollment is not growing fast enough to meet the projected demand for nursing services.
Iona's nursing program will be housed in a state-of-the-art, 7,500 square-foot learning facility complete with all of the newest equipment, technology and simulated learning opportunities. Small-group, clinical  instructional settings with an 8-to-1 student-to-faculty ratio will ensure personalized attention.
The nursing program will add to Iona's already excellent health care offerings – including Occupational Therapy, Speech Pathology and Audiology, and Marriage and Family Counseling – and will emphasize an interdisciplinary focus on collaboration and interaction with professionals and other students on necessary services for everyone from pediatric to geriatric populations.
The College's newest campus facilities, including the Hynes Institute for Entrepreneurship & Innovation and the LaPenta School of Business, will also be utilized for collaboration.
"Iona College is committed to and well positioned to offer a cutting-edge, interdisciplinary nursing program that will prepare students to meet the challenges of  health care delivery and leadership in today's and tomorrow's complex health care system," said Darrell P. Wheeler, Ph.D., MPH, ACSW, provost and senior vice president for Academic Affairs at Iona. "Being in New Rochelle, just five miles outside of New York City in Westchester County, our students will have hands-on experience in some of the nation's top facilities. We cannot wait to welcome our first class of exceptional students this fall."  
Related News: Iona College Announces Susan Apold as Director of New Bachelor of Science Degree Program in Nursing
ABOUT IONA
Founded in 1940, Iona University is a master's-granting private, Catholic, coeducational institution of learning in the tradition of the Edmund Rice Christian Brothers. Iona's 45-acre New Rochelle campus and 28-acre Bronxville campus are just 20 miles north of Midtown Manhattan. With a total enrollment of nearly 4,000 students and an alumni base of over 50,000 around the world, Iona is a diverse community of learners and scholars dedicated to academic excellence and the values of justice, peace and service. Iona is highly accredited, offering undergraduate degrees in liberal arts, science, and business administration, as well as Master of Arts, Master of Science and Master of Business Administration degrees and numerous advanced certificate programs. Iona's LaPenta School of Business is accredited by AACSB International, a prestigious recognition awarded to just five percent of business schools worldwide. The Princeton Review recognized Iona's on-campus MBA program as a "Best Business School for 2023." Iona University also recently launched a new, fully online MBA program for even greater flexibility. In July 2021, Iona University and NewYork-Presbyterian announced the establishment of the NewYork-Presbyterian Iona School of Health Sciences, to be principally located on the University's new campus in Bronxville, N.Y. Supported by a $20 million gift from NewYork-Presbyterian, the NewYork-Presbyterian Iona School of Health Sciences offers a new vision for collaborative health care education, modern workforce development, and community care. On July 1, 2022, Iona officially changed its status from College to University, reflecting the growth of its academic programs and the prestige of an Iona education.