Iona College Graduate Occupational Therapy Program Gains Accreditation by the ACOTE
Iona accredited for seven years, the maximum period for new programs, highlighting quality of educational experience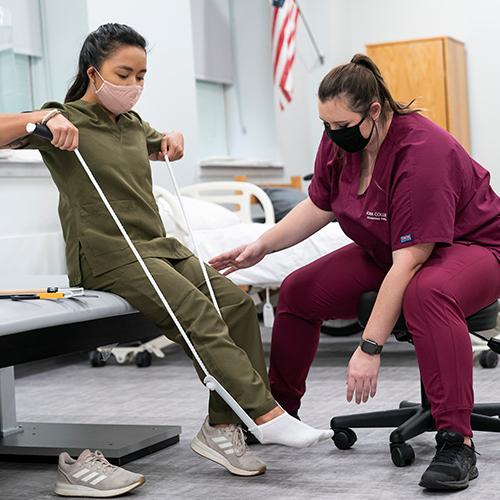 NEW ROCHELLE, N.Y.  — The Accreditation Council for Occupational Therapy Education (ACOTE) granted Iona College's graduate Occupational Therapy program a status of accreditation for a period of seven years – the maximum amount for a new program –  highlighting the program's innovation and dedication to students. After hosting an on-site evaluation, the College received a Report of the Accreditation Council (RAC), stating the program complied with all 121 ACOTE required standards.
Graduates of an ACOTE-accredited program are eligible to sit for the national certification examination for occupational therapists, administered by the National Board for Certification in Occupational Therapy (NBCOT). After successful completion of this exam, the individual will be an Occupational Therapist, Registered (OTR) and will also be able to apply for licensure in all states including the District of Columbia, Guam and Puerto Rico.
"This is a fantastic achievement for the Iona College graduate Occupational Therapy program," said Joseph E. Stabile, Ph.D., dean of the School of Arts & Science. "Congratulations to program director, Dr. Laurie Olson, on developing this accredited program that students will benefit from for years to come. We are grateful that the Council recognized this job well done."
The RAC noted the program's efforts in embracing Iona's brand promise to "Learn Outside the Lines," even during the pandemic, stating that "in the short time span of the program, particularly through the challenges over the past year and a half, the students have actively engaged in many noteworthy activities both inside and outside of the classroom." The activities mentioned included: involvement in the Student Occupation Therapy Association, creating a new Coalition of Occupational Therapy Advocates for Diversity (COTAD) chapter on Iona's campus and launching a successful peer mentoring program.
Additionally, the program faculty were acknowledged in the RAC for their commitment "to providing the highest quality of instruction and bridging 'class-to-clinic and class-to-community' connections to create highly prepared students to meet the needs of occupational therapy clients in multiple settings." Students enrolled in this program gain real-world experiences, ensuring that they are confident to continue on their fieldwork journey. Faculty frequently invite current health professionals to the classroom to serve as standardized patients who mimic the impacts of various conditions such as multiple sclerosis or a stroke on a client.  Students practice building rapport, listening to a clients' concerns and personal goals, as well as practice OT assessment and intervention strategies.
ACOTE also commended the program's collaboration with The Hynes Institute for Entrepreneurship & Innovation, a hub to foster the development of creativity and leadership skills for students, noting that "from the inception of the occupational therapy program, the program director [Olson] has met with [Christoph Winkler, program director of the Hynes Institute] to seek opportunities for collaboration." Occupational Therapy students frequently participate in Hynes Institute co-curricular events such as the Hynes Innovation Challenge. Hynes Institute and OT faculty collaborate each semester to facilitate students' development of an entrepreneurial mindset and application of strategies used by innovators to solve disability-related concerns and problems that the clients of OT face.  For example, one team of OT students developed AccessiGear, an adaptive clothing apparel line, through their participation in the Hynes Institute Innovation Challenge in their first year of study.  Throughout their second academic year, they continued their engagement with Hynes faculty, which led to their developing connections for mentorship with a Fashion Institute of Technology Graduate student who provided guidance on polishing their clothing line and another with a Fordham University law student who worked with them around copyright.
Moreover, beginning in the fall of 2022, students in Iona's graduate Occupational Therapy program will be part of the brand-new NewYork-Presbyterian Iona School of Health Sciences.
"We will continue to make sure our program complies with ACOTE standards as well as remains committed to providing a curriculum that focuses on educating occupational therapy practitioners with an authentic heart for service," said Dr. Laurie Olson, program director of the graduate Occupational Therapy program. "We appreciate ACOTE's suggestion that our program should cite the most current published OT philosophy in all documents.  We look forward to continuing to enrich and elevate how we prepare our students so that they become outstanding clinicians, team members, leaders, innovators, advocates and changemakers in healthcare.  Our top priority is, and always will be, making sure that we educate our students to understand the importance of maximizing the health, well-being, and quality of life for the people, populations and communities in which they work."
ABOUT IONA
Founded in 1940, Iona University is a master's-granting private, Catholic, coeducational institution of learning in the tradition of the Edmund Rice Christian Brothers. Iona's 45-acre New Rochelle campus and 28-acre Bronxville campus are just 20 miles north of Midtown Manhattan. With a total enrollment of nearly 4,000 students and an alumni base of over 50,000 around the world, Iona is a diverse community of learners and scholars dedicated to academic excellence and the values of justice, peace and service. Iona is highly accredited, offering undergraduate degrees in liberal arts, science, and business administration, as well as Master of Arts, Master of Science and Master of Business Administration degrees and numerous advanced certificate programs. Iona's LaPenta School of Business is accredited by AACSB International, a prestigious recognition awarded to just five percent of business schools worldwide. The Princeton Review recognized Iona's on-campus MBA program as a "Best Business School for 2021." Iona University also recently launched a new, fully online MBA program for even greater flexibility. In July 2021, Iona University and NewYork-Presbyterian announced the establishment of the NewYork-Presbyterian Iona School of Health Sciences, to be principally located on the University's new campus in Bronxville, N.Y. Supported by a $20 million gift from NewYork-Presbyterian, the NewYork-Presbyterian Iona School of Health Sciences offers a new vision for collaborative health care education, modern workforce development, and community care. On July 1, 2022, Iona officially changed its status from College to University, reflecting the growth of its academic programs and the prestige of an Iona education.