Iona College Now Offers an Expedited, Affordable Master's Degree in Adolescent Education
Iona College has revamped its Master of Science in Teaching (MST) program so that students and working professionals can save valuable time and money.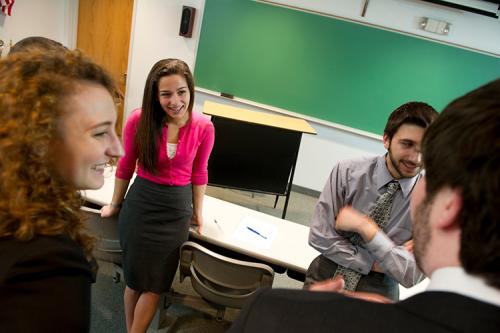 Revamped Program Can Save a Student $9-12k To Help Lighten Student Debt Burden
NEW ROCHELLE, N.Y. – According to the American Federation of Teachers, student debt is currently running over $1.5 trillion for more than 45 million students. That, coupled with an anticipated teacher shortage during the next decade, has driven Iona College to come up with a unique solution. It has revamped its Master of Science in Teaching (MST) program so that students and working professionals can save valuable time and money.
"While carefully balancing our core curriculum with the evolving needs of students and demands of the marketplace, an Iona College student can complete an MST in Adolescent Education in less than two years," said Richard A. McMahon, clinical senior lecturer and coordinator of Graduate Education Programs at Iona College.
Specifically, students now can complete a degree – and student teaching requirements – with 33 credits to 36 credits, down from 45, and save anywhere from $9,000 to $12,000 over the life of the program. Additionally, the College has created specialties for professionals transitioning in five teaching areas of secondary education: biology, social studies, Spanish, English and math.
"The demand for teachers in grades 7 through 12 is great and will only grow in the coming years," said Professor McMahon. "Our MST in Adolescent Education provides people with the necessary skills and formal training to not only become gainfully employed, but to be leaders in their field."
The U.S. Department of Labor projects about eight percent growth in the field and a need for nearly 80,000 new teachers through 2026. With an average salary of $88,460 in the New York metropolitan area (NY, NJ, and Pa.), Professor McMahon noted the return on investment was a good one. "Once their degree requirements and related student teaching are completed, graduates will find a relatively smooth path to the classroom."
The move follows the College's recent addition of an online MBA, which is also designed for convenience, flexibility and affordability to meet the needs of working professionals. With the revamped MST, Iona is shortening the time it takes for teachers to earn the necessary teaching certification. Iona's MST program is accredited by the Association for Advancing Quality in Educator Preparation (AAQEP).
Interested students can learn more at www.iona.edu/mst, or call (800) 231-IONA.
ABOUT IONA
Founded in 1940, Iona College is a master's-granting private, Catholic, coeducational institution of learning in the tradition of the Edmund Rice Christian Brothers. Iona's 45-acre campus is just 20 miles north of Midtown Manhattan. With a total enrollment of nearly 4,000 students and an alumni base of over 50,000 around the world, Iona is a diverse community of learners and scholars dedicated to academic excellence and the values of justice, peace and service. Iona is highly accredited, offering undergraduate degrees in liberal arts, science, and business administration, as well as Master of Arts, Master of Science and Master of Business Administration degrees and numerous advanced certificate programs. Iona's LaPenta School of Business is accredited by AACSB International, a prestigious recognition awarded to just five percent of business schools worldwide. The Princeton Review recognized Iona's on-campus MBA program as a "Best Business School for 2021." Iona College also recently launched a new, fully online MBA program for even greater flexibility.