Return to Campus
Welcome back to campus! Please check the return to campus protocols and ensure your medical records are up to date.
Iona College President Seamus Carey, Ph.D., Named to City & State's 2021 Westchester Power 100
Carey finalizes major agreements to shape the future of Iona College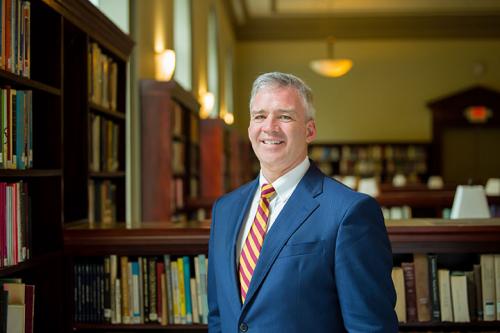 NEW ROCHELLE, N.Y. (November 2021) — Iona College President Seamus Carey, Ph.D., has been named for the third consecutive year to City & State's Westchester Power 100, a list of the most influential people in the county and beyond.
Since beginning his presidency in July 2019, Carey has propelled the College on a path of innovation, executing a vision that expands student opportunities both inside and outside of the classroom despite the challenges of the pandemic. From adding new programs and degrees to introducing new extracurricular offerings, Carey's foresight has resulted in a remarkable 32 percent spike in new-student enrollment over the past two years.
Most notably, in May 2021, Carey finalized an agreement for Iona to nearly double its footprint by acquiring the 28-acre campus of Concordia College in nearby Bronxville, N.Y. Soon thereafter, Carey announced the establishment of the NewYork-Presbyterian Iona School of Health Sciences, to be principally located on the new campus. NewYork-Presbyterian, ranked the #1 hospital in New York, according to U.S. News and World Report's Best Hospitals rankings, supported the new school with a $20 million gift.
"Acquiring the Bronxville campus and establishing a premier school of health sciences ensures that Iona students will receive a first-class education well into the future, supported by extracurricular activities that will enrich the overall experience and enhance outcomes," Carey said. "It's an honor to be named to City & State's Westchester Power 100 in recognition of all that is happening at Iona."
Among other innovative academic programs, new degrees added under Carey's leadership include a Bachelor of Science in Nursing, with both a traditional undergraduate program as well as an accelerated program. The Hynes Institute for Entrepreneurship & Innovation, meanwhile, launched its first two majors, offering students a solid pathway to entrepreneurial leadership.
Outside of the classroom, Carey has also made bold moves. In addition to hiring Hall of Fame men's basketball coach Rick Pitino, Carey introduced a new Club Sports program, offering students an opportunity to compete even if not at Iona's Division I level. Esports has been a standout success. Similarly, opportunities in the performing arts have also expanded under Carey's watch, highlighted by the College's first Irish Dance Ensemble. Meanwhile, Carey is also beautifying the heart of Iona's New Rochelle campus, recently breaking ground on the "Murphy Green," which will add a vibrant social hub for outdoor activity by Spring 2022.
City & State's Westchester Power 100 spotlights business executives, labor leaders, academics, activists, advocates and others who are shaping the future. View the complete list here.
ABOUT IONA
Founded in 1940, Iona College is a master's-granting private, Catholic, coeducational institution of learning in the tradition of the Edmund Rice Christian Brothers. Iona's 45-acre New Rochelle campus and 28-acre Bronxville campus are just 20 miles north of Midtown Manhattan. With a total enrollment of nearly 4,000 students and an alumni base of over 50,000 around the world, Iona is a diverse community of learners and scholars dedicated to academic excellence and the values of justice, peace and service. Iona is highly accredited, offering undergraduate degrees in liberal arts, science, and business administration, as well as Master of Arts, Master of Science and Master of Business Administration degrees and numerous advanced certificate programs. Iona's LaPenta School of Business is accredited by AACSB International, a prestigious recognition awarded to just five percent of business schools worldwide. The Princeton Review recognized Iona's on-campus MBA program as a "Best Business School for 2021." Iona College also recently launched a new, fully online MBA program for even greater flexibility. In July 2021, Iona College and NewYork-Presbyterian announced the establishment of the NewYork-Presbyterian Iona School of Health Sciences, to be principally located on the College's new campus at 171 White Plains Road, Bronxville, N.Y. Supported by a $20 million gift from NewYork-Presbyterian, the NewYork-Presbyterian Iona School of Health Sciences is expected to offer a new vision for collaborative health care education, modern workforce development, and community care.