Iona College President Seamus Carey, Ph.D., Named to City & State's Westchester Power 100
Carey pushes through pandemic to lead on a path of innovation.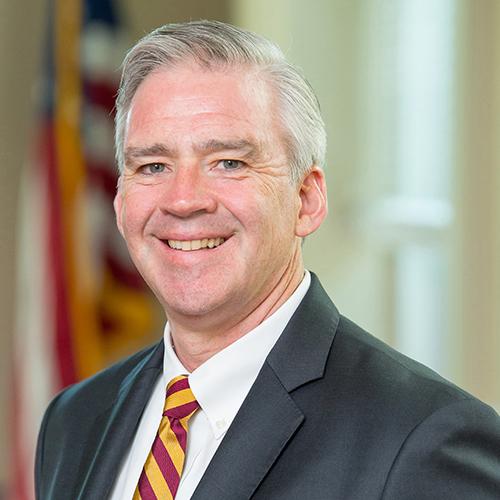 NEW ROCHELLE, N.Y.  – Iona College President Seamus Carey, Ph.D., has been named for the second consecutive year to City & State's Westchester Power 100, a list of the most influential people in Westchester.
A Bronx native and first-generation college student, Carey began his Iona presidency in July 2019. Propelling the College on a path of innovation, he has since overseen the launch of Iona's new brand, new nursing program, and two new undergraduate programs in entrepreneurship and entrepreneurial leadership. He has also presided over the grand reopening of the newly renovated LaPenta School of Business, in addition to the opening of the Hynes Institute for Entrepreneurship & Innovation. Carey also played a key role in the hiring of Hall of Fame men's basketball coach Rick Pitino, a two-time NCAA tournament champion.
Just a few months into his leadership, Carey was also among the first to contend with the COVID-19 pandemic. He swiftly closed campus in March due to Iona's proximity to the New Rochelle outbreak, shifting all learning to online platforms. Pushing to innovate and lead through the pandemic, Iona was also one of the first in the nation to reopen. This fall, the College instituted strict public health protocols to keep the community safe as students returned for in-person instruction and on-campus living.
"Through the many challenges we all have faced in 2020, it has been imperative for us at Iona to keep pushing ahead and approaching problems with new and innovative thinking. The pandemic did not alter our course – it expedited it," Carey said. "I am honored to be named to City & State's Westchester Power 100. Working in partnership with so many other incredible leaders on this list, we will continue to prepare students to be tomorrow's leaders."
City & State's Westchester Power 100 puts a spotlight on the business executives, labor leaders, academics, activists, advocates and others who are shaping the future. Carey, who has a long history of serving in higher education, came in at #76.
Prior to his appointment at Iona, Carey served as the 26th president of Transylvania University, the first university in the state of Kentucky, from 2014 to 2019. Carey also served as dean of Arts & Sciences at Sacred Heart University for four years, where he supervised 121 full-time faculty, 18 department chairs and eight graduate program directors. As part of his development efforts, Carey oversaw the expansion of Sacred Heart's campus in Dingle, Ireland. He also served as chairman of the Philosophy department at Manhattan College, where he taught for nine years.
Carey earned a Ph.D. in Philosophy from Fordham University in 1996 after earning a MA from the same university and his BA from Vassar College in 1987. Carey attended Harvard's Management Development Program as well as the Executive Leadership Academy (ELA), a yearlong program co-sponsored by the Council of Independent Colleges (CIC), the American Association of State Colleges and Universities (AASCU), and the American Academic Leadership Institute (AALI).
Carey has published three books, which focus on the intersection of philosophy, parenting, and family life.
ABOUT IONA
Founded in 1940, Iona College is a master's-granting private, Catholic, coeducational institution of learning in the tradition of the Edmund Rice Christian Brothers. Iona's 45-acre campus is just 20 miles north of Midtown Manhattan. With a total enrollment of nearly 4,000 students and an alumni base of over 50,000 around the world, Iona is a diverse community of learners and scholars dedicated to academic excellence and the values of justice, peace and service. Iona is highly accredited, offering undergraduate degrees in liberal arts, science, and business administration, as well as Master of Arts, Master of Science and Master of Business Administration degrees and numerous advanced certificate programs. Iona's LaPenta School of Business is accredited by AACSB International, a prestigious recognition awarded to just five percent of business schools worldwide. The Princeton Review recognized Iona's on-campus MBA program as a "Best Business School for 2020." Iona College also recently launched a new, fully online MBA program for even greater flexibility.