Iona College Students Donate 50 Bags of Clothing to Local Nonprofit
Pilot program with The Sharing Shelf provides clothing to teens in need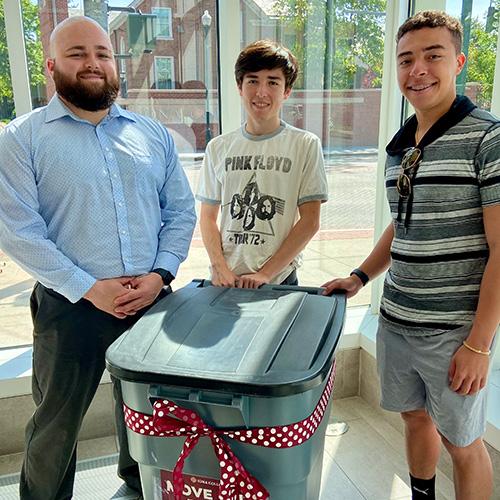 NEW ROCHELLE, N.Y. – Clothing is an essential need of our daily lives. Yet, across our community, many children and teens lack access to sufficient and appropriate clean clothing. 
To help combat this and in keeping with its mission of service, Iona College piloted a new partnership with The Sharing Shelf to organize a clothing drive as students moved out of their residence halls. Ultimately, about 50 bags of new or gently used clothing, sneakers, boots, hats, scarves and other clothing was donated to the local nonprofit.
"Iona's commitment to service runs through everything we do," said Iona College President Seamus Carey, Ph.D. "So when it came time for students to move out for the summer, this new partnership provided the perfect opportunity to give back to the community in a tangible way."
Scarsdale High School seniors Israel Richardson and Spencer Krivo volunteered with The Sharing Shelf as part of a school program that encourages seniors to get involved in their local communities. Every morning for about two weeks, they arrived to pick up the donations and bring them to the organization's warehouse in Port Chester, N.Y. 
Both students said the opportunity was rewarding and filled them with a sense of gratitude. Beyond just picking up the donations, the students also sorted and organized the clothing, providing critical support to help fulfill the needs of the community. 
"It's a little-known fact that I'm a big Spiderman guy, and he likes saving people, and this is like saving people because it's helping to put clothes on their backs," said Richardson. "When you pick up an item and you think, 'OK, that is going to go to someone.' That's when it feels real. You're having a little connection. It's a very physical, hands-on job, but at the end of the day, you know it's really helping somebody." 
Krivo said his favorite part of the experience was when a social worker would come to pick up an order, and he would see a shirt he sorted go out with the package.
"That's a really special feeling," he said. "I actually feared when I was joining the organization that I wouldn't be too useful. But Israel and I, we have been the miscellaneous task masters… We really do have a tangible role in all of this."
The Sharing Shelf was founded in 2009 to combat clothing insecurity and meet related basic material needs of low-income infants, children and teens. It supports schools, hospitals and non-profits who work directly with economically vulnerable families in the Westchester community.
"Thank you to everyone at Iona College who either donated or helped to support this highly successful clothing drive – our first of its kind with a college," said Deborah Blatt, executive director. "Your donations directly help children and families in our community and bring dignity and respect to those who are facing hard times."
Special thanks to the Iona College Office of Residential Life as well as Facilities Management and College Marketing and Communications for their joint partnership and support of the program.
ABOUT IONA
Founded in 1940, Iona College is a master's-granting private, Catholic, coeducational institution of learning in the tradition of the Edmund Rice Christian Brothers. Iona's 45-acre New Rochelle campus and 28-acre Bronxville campus are just 20 miles north of Midtown Manhattan. With a total enrollment of nearly 4,000 students and an alumni base of over 50,000 around the world, Iona is a diverse community of learners and scholars dedicated to academic excellence and the values of justice, peace and service. Iona is highly accredited, offering undergraduate degrees in liberal arts, science, and business administration, as well as Master of Arts, Master of Science and Master of Business Administration degrees and numerous advanced certificate programs. Iona's LaPenta School of Business is accredited by AACSB International, a prestigious recognition awarded to just five percent of business schools worldwide. The Princeton Review recognized Iona's on-campus MBA program as a "Best Business School for 2021." Iona College also recently launched a new, fully online MBA program for even greater flexibility. In July 2021, Iona College and NewYork-Presbyterian announced the establishment of the NewYork-Presbyterian Iona School of Health Sciences, to be principally located on the College's new campus at 171 White Plains Road, Bronxville, N.Y. Supported by a $20 million gift from NewYork-Presbyterian, the NewYork-Presbyterian Iona School of Health Sciences is expected to offer a new vision for collaborative health care education, modern workforce development, and community care.