Iona College Students "Learn Outside the Lines" by Heading to Broadway
An Iona alumnus provides free tickets for students to broaden their horizons with inspiring performances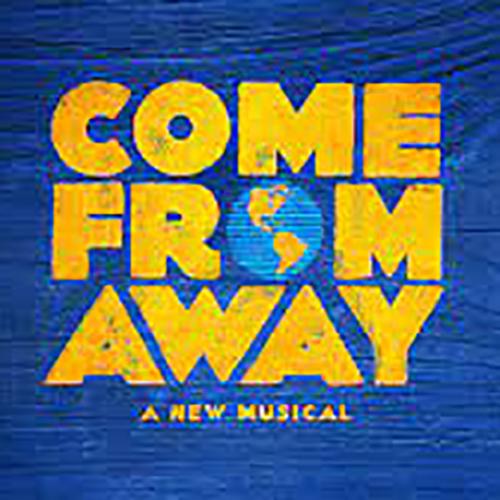 NEW YORK, N.Y. — Iona College students had a busy semester "Learning Outside the Lines" of the classroom by heading to Broadway. Thanks to the generosity of Iona College alumnus Christopher O'Connor '89, '92MBA, '94PMC, students received complimentary tickets to enjoy "Thoughts of a Colored Man," the first Broadway show written and directed by a Black man with a Black man in the lead role; as well as "Come from Away," a musical based on a true story in the week following the September 11 attacks. Just this week, Gaels also attended "Take Me Out," which follows a star center fielder who is forced to contend with the challenges of being a gay person of color within the confines of a classic American institution.
"I have always been motivated to give back to the communities that have helped shape me to be who I am today," said O'Connor. "I was exposed to the arts during my time at Iona and it was transformative. I'm happy to provide experiences that will encourage my fellow Gaels to expand beyond their horizons and delve into all that performing arts has to offer. It is an inspiring and enriching world."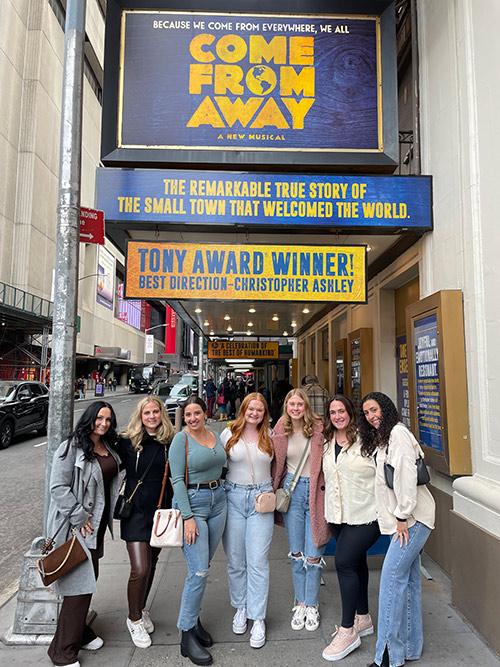 Shakinah Silverberg '24, a biology major, said, "I am always intrigued by hearing the experiences of those with similar backgrounds to myself, and upon hearing that my school was hosting a trip to see 'Thoughts of a Colored Man,' I jumped at the opportunity to attend the show. I was amazed by the storytelling that combined songs, monologues and entertaining character interactions so well, while also masterfully addressing such a critical topic in our society. Having an alumnus give back so that I was able to learn from the creators and performers of this show was incredible to me. He could have chosen to provide us tickets to any Broadway show, but he chose such an impactful and educational performance, which touched me deeply. Seeing this show was an experience that I will never forget and have since raved to my friends and family about. I am so grateful for the opportunity to have been able to attend."
This experience also allowed students who are from out of town to delve into the heart of the classic New York City theater district. Annika Ziels '24, an arts leadership and public relations major from Portland, Ore., was in the audience for "Come from Away."
"Being provided opportunities like attending Broadway shows with Iona is one of the main reasons why I chose to go to school in New York," she said. "It never ceases to amaze me how many incredible experiences we are so close to at Iona College. I am so thankful to our alumni who care so much about exposing students to the arts, knowing how special it is for us to get to experience it all."
Current Iona students and future Gaels can look forward to the College's growing investment in performing arts. Iona welcomed its first class of recruited performing arts students during the Fall 2021 semester, who also worked one-on-one with Broadway actor Nathan Lucrezio during an orientation over the summer. The College will also expand creative offerings on its new Bronxville campus.
"Iona alumni have a tremendous impact on the lives of our students," said Iona College President Seamus Carey, Ph.D. "Their dedication and generosity – whether time spent mentoring students or the experiences they have made possible – reinforce our commitment to providing learning opportunities outside the classroom, which are equally important as those within. It also showcases how blessed Iona is to have such a supportive and engaged network of alumni who are always eager to give back."
ABOUT IONA
Founded in 1940, Iona College is a master's-granting private, Catholic, coeducational institution of learning in the tradition of the Edmund Rice Christian Brothers. Iona's 45-acre New Rochelle campus and 28-acre Bronxville campus are just 20 miles north of Midtown Manhattan. With a total enrollment of nearly 4,000 students and an alumni base of over 50,000 around the world, Iona is a diverse community of learners and scholars dedicated to academic excellence and the values of justice, peace and service. Iona is highly accredited, offering undergraduate degrees in liberal arts, science, and business administration, as well as Master of Arts, Master of Science and Master of Business Administration degrees and numerous advanced certificate programs. Iona's LaPenta School of Business is accredited by AACSB International, a prestigious recognition awarded to just five percent of business schools worldwide. The Princeton Review recognized Iona's on-campus MBA program as a "Best Business School for 2021." Iona College also recently launched a new, fully online MBA program for even greater flexibility. In July 2021, Iona College and NewYork-Presbyterian announced the establishment of the NewYork-Presbyterian Iona School of Health Sciences, to be principally located on the College's new campus at 171 White Plains Road, Bronxville, N.Y. Supported by a $20 million gift from NewYork-Presbyterian, the NewYork-Presbyterian Iona School of Health Sciences is expected to offer a new vision for collaborative health care education, modern workforce development, and community care.