Iona Launches Month of Excellence in Scholarly & Creative Activities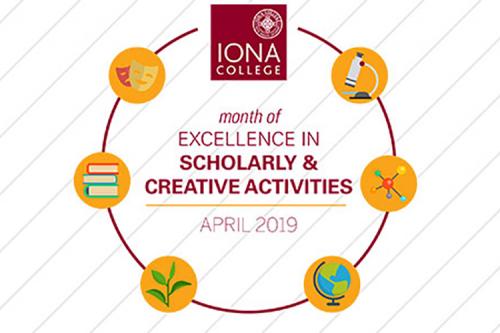 NEW ROCHELLE, N.Y. - Iona College is proud to announce the launch its Month of Excellence in Scholarly & Creative Activities this April. Featuring more than 30 events including performances, lectures, presentations, and more, the month-long event is a showcase and exhibition of faculty-student achievements and accomplishments in academic research, performing arts, and creative work across a variety of disciplines.
The Iona Month of Excellence in Scholarly & Creative Activities is an expansion of Iona Scholars Day which celebrates its 10th anniversary on April 9. Started in 2009 and spearheaded by Sunghee Lee, Ph.D., Board of Trustees Endowed Professor of Chemistry, the event originated as an opportunity for undergraduates to share their research and scholarly activities with their peers. Dr. Lee had noticed Iona students were already well-versed in presenting at both national and international conferences with audiences of undergraduate-, graduate- and professional-level researchers. While Iona students were regularly impressing these audiences, there was an opportunity to create a forum to share their work and findings with their classmates on Iona's campus. In 2014, the day was expanded to include graduate students.
Over the last decade, the level and volume of scholarly activity and research has outgrown a single Undergraduate Scholars Day. This year's month-long venture allows more students the opportunity to attend events and gain confidence in presenting, and the ability to inspire fellow students to participate in this academic showcase.
"There are already many vibrant examples at Iona of academic excellence and distinctiveness to recognize and build upon," said Iona Provost Darrell P. Wheeler, Ph.D., MPH, ACSW. "This expanded Month of Excellence in Scholarly & Creative Activities is an opportunity for our students to share their exciting research and scholarly activities in a wide array of formats." Wheeler added, "This is a clear hallmark of faculty-student achievements across a variety of disciplines. I extend my sincerest thanks to Dr. Lee for her continued leadership in this important student-centered academic enterprise."
"The expansion of Scholars Day into a month-long event is an important showcase and outlet for faculty-student work and an inspiration to other fellow students to pursue academic excellence," said Dr. Lee. "The event is meant to be a venue for students to gain confidence in presenting their work and decide how best to present their work. Iona's Month of Excellence in Scholarly & Creative Activities encapsulates and integrates all disciplines in the arts, in science and in business, and provides another venue of experiential learning."
The event will also serve as preparation for Iona students' participation in the annual National Conferences on Undergraduate Research (NCUR). Established in 1987, NCUR promotes undergraduate research in universities throughout the United States. It is a cross-discipline event, from science to religious studies and everything in between. More than a dozen Iona students will present at the 2019 event at Kennesaw State University.
The Iona Month of Excellence in Scholarly & Creative Activities coincides with the United States House of Representatives' resolution in 2010 designating the second week in April as "Undergraduate Research Week." It was formed to honor undergraduate research and its invaluable contributions.
See detailed information about Iona's Month of Excellence in Scholarly & Creative Activities.
ABOUT IONA
Founded in 1940, Iona College is a master's-granting private, Catholic, coeducational institution of learning in the tradition of the Edmund Rice Christian Brothers. Iona's 45-acre campus is just 20 miles north of Midtown Manhattan. With a total enrollment of nearly 4,000 students and an alumni base of over 45,000 around the world, Iona is a diverse community of learners and scholars dedicated to academic excellence and the values of justice, peace and service. Iona is highly accredited, offering undergraduate degrees in liberal arts, science, and business administration, as well as Master of Arts, Master of Science and Master of Business Administration degrees and numerous advanced certificate programs. Iona's LaPenta School of Business is accredited by AACSB International, a prestigious recognition awarded to just five percent of business schools worldwide. The Princeton Review recognized Iona's on-campus MBA program as a "Best Business School for 2020." Iona College also recently launched a new, fully online MBA program for even greater flexibility.