'Iona In Mission' Offers Life-Changing Experiences
Enables students, faculty, and alumni to help those with little hope and scarce means, here and around the world. Zambia, India, South Africa & New Orleans are among the destinations where Participants leave the college bubble and comfort zones.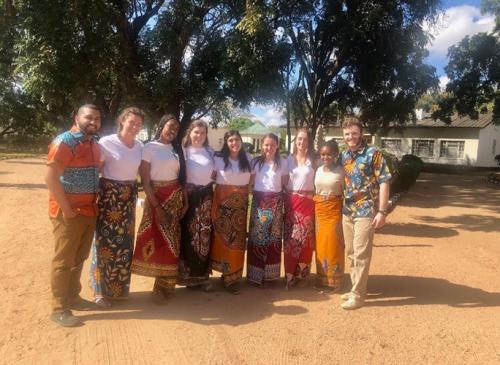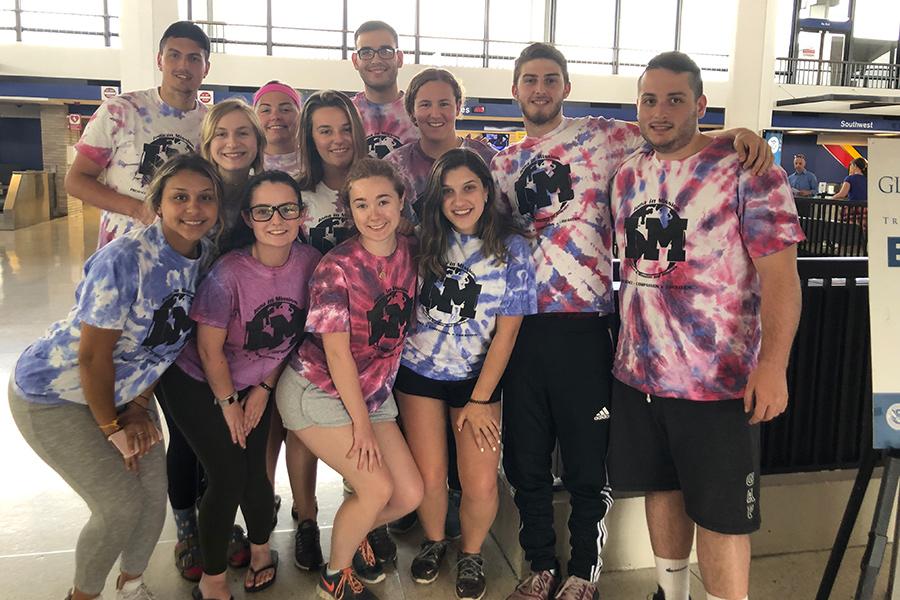 NEW ROCHELLE, N.Y. – For many college students, time off is a chance to put down the books, take a vacation, and let off some steam. But for those who are service-minded, who embody Iona College's mission to "Move the World," a break from school provides an opportunity for life-changing lessons as they venture to remote villages and impoverished communities around the globe in need of help.
The Iona in Mission program each year offers dozens of students, faculty, and alumni opportunities to embark on community service projects in places as far away as Zambia, India, Peru, Puerto Rico, South Africa, and Ireland, and as close as Mississippi, Philadelphia, Washington, DC, Camden, NJ, and Bridgeport, CT. The goal is to provide hands-on experience in helping people in poor and marginalized communities.
"When students embed themselves with the poorest of the poor, the impoverished, the disabled, the people with scarce means and little hope, it opens their eyes to issues of poverty, injustice, and what truly are life's necessities," says Faith Krefft, assistant director of service and immersion with the College's Office of Mission and Ministry. "Many students have found that Iona's mission trips are not only life-changing for the people they help, but for themselves as well. It's life-long learning at its best."
The work can consist of building homes, rebuilding areas devastated by natural disasters or taking care of the sick, undernourished, people with disabilities, immigrants, and those in hospice care. Trips are generally tied to religion and education courses, and can be taken as electives. Students typically pay for their trips, though some financial aid and fundraising offsets the expenses.
A mission trip can vary from a long weekend to 12 days, and affords participants the ability to see first-hand the "humility and dignity of all people, regardless of their circumstances," Krefft added. "It gets students out of the 'college bubble' and out of their comfort zones. While it exposes them to some harsh realities, it also gives them a chance to do something about it and to learn a more worldly view."
For Sarah Newman, a 2019 graduate who led a group to New Orleans where they helped communities devastated by Hurricane Katrina, the trip was one of the most important experiences she had while at Iona. It not only provided real life lessons about the challenges and hardships faced by those whose lives were destroyed by the deadly natural disaster, but also the hard work and perseverance required to rebuild neighborhoods one room at a time.
"It allowed my team and me to serve the city, hear its history, and meet its citizens," Newman said. "We learned that New Orleans is a city of resilience, which quite frankly is a lesson I will never forget."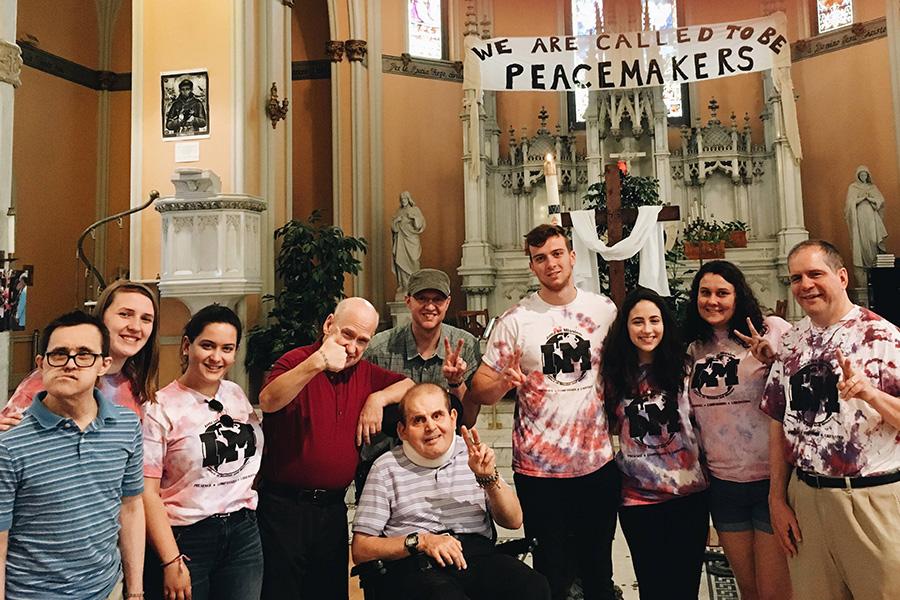 Service, Justice, and Spirituality
The Iona in Mission program is dedicated to making service, justice and spirituality an integral part of the minds and consciousness of the college community. It coordinates service trips to help communities in need from around the world, and to integrate service and active participation as part of the daily lives of its students, faculty and alumni. It is rooted in the tradition of the Blessed Edmund Rice, the founder of the Congregation of Christian Brothers, whose legacy of educating young people and establishing ministries around the world, particularly for the poor, is alive and well on campus.
Professor Richard McMahon, who is in charge of Iona's graduate school of education, last year spent eight days with 10 students in Houston, Texas, where they partnered with a Baptist Church to fix windows, walls and homes in areas that were destroyed by Hurricane Harvey in 2017. The students were selfless, committed, and seamlessly worked together for the common good, he said.
"One of the things that is unique about these trips is that the students get very empowered," McMahon said. "This is empowerment 101. This is education at its best."
What also moved McMahon was when a young five-year-old boy watched the students repair his grandmother's home and remarked: "I want to grow up and be like these people."
For Amanda Howerton-Fox, assistant professor of education who moderated a trip to the Mother Theresa homes in Kolkata, India, the trip was transformation. Whether it was holding the hands of dying women, feeding orphans who had been left on the street, or tending to a tiny newborn and her homeless teenage mother, all were profound experiences. But so too did the experience change the way she interacted with her students on campus.
"Seeing their individual humanity in action, and the way they struggle with life's big questions has made me more open to all of my students as individuals with unique backgrounds and histories," Howerton-Fox said. "It has made me realize that Iona is a place where people come to serve and learn how to live in service to others."
English Professor Christina Carlson has taken part on four trips, including two to Brownsville, Texas where she and a group of students witnessed the immigration crisis at the border. While there, they visited a school, respite center, and immigration facility where they delivered meals, clean clothes and vital supplies. The trips enable students to address immediate need of people who are in crisis. But so too do they provide lasting lessons that will help graduates in any profession or career path.
"You don't have to become a social justice crusader. You can make a difference and be a more responsible accountant, speech pathologist or dental hygienist," Carlson said. "Part of the education that filters down to them is simply being more just and empathetic people in their profession and their lives. The hope is that these kids will be moved and changed by the experience."
Immersion trips are offered during summer, winter and spring breaks, and closer to campus during long weekends. There are also trips designated for alumni.
To learn more about upcoming Iona in Mission programs visit its home on iona.edu.
ABOUT IONA
Founded in 1940, Iona College is a master's-granting private, Catholic, coeducational institution of learning in the tradition of the Edmund Rice Christian Brothers. Iona's 45-acre campus is just 20 miles north of Midtown Manhattan. With a total enrollment of nearly 4,000 students and an alumni base of over 50,000 around the world, Iona is a diverse community of learners and scholars dedicated to academic excellence and the values of justice, peace and service. Iona is highly accredited, offering undergraduate degrees in liberal arts, science, and business administration, as well as Master of Arts, Master of Science and Master of Business Administration degrees and numerous advanced certificate programs. Iona's LaPenta School of Business is accredited by AACSB International, a prestigious recognition awarded to just five percent of business schools worldwide. The Princeton Review recognized Iona's on-campus MBA program as a "Best Business School for 2020." Iona College also recently launched a new, fully online MBA program for even greater flexibility.