Iona Neurodiversity Club Challenges Stereotypes by Smashing Pumpkins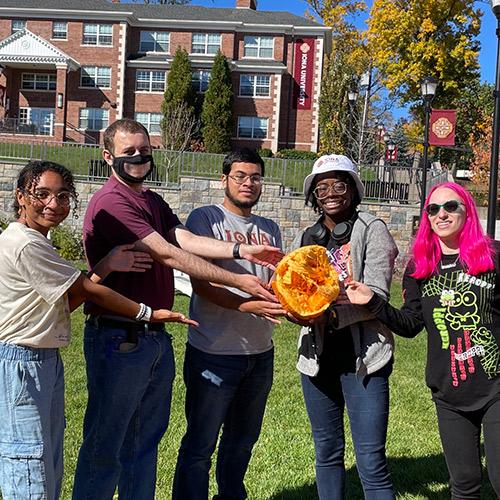 This article was contributed by Jocelyn Arroyo-Ariza '24, Ionian News Editor  
The Iona University Neurodiversity Club hosted a pumpkin smashing event to challenge stereotypes at the Murphy Green on October 27. Students had the chance to write stereotypes pertaining to neurodiversity and other subject matters on their chosen pumpkins. Yes, the Smashing Pumpkins were playing in the background. 
Starting at noon, a line formed at the Murphy Green for Gaels to select their orange victim. A range of pumpkins were offered from ones that could fit in to the palm of your hand, to ones that weigh more than your head. With a sharpie, common misconceptions surrounding neurodiversity were written on the rough exterior of the pumpkin. 'Weird,' 'Quirky,' 'Stupid' and 'Attention Seeking' were all written in bold letters. 
At the beginning, the crowd was shy about throwing their pumpkins and stomping. What is the proper way to throw a pumpkin? Is there a particular method that guarantees the maximum mess? There were many questions, but little answers.  However, once the first person flung their pumpkin, the rest soon followed.  
Soon enough, the confusion attracted passers-by wondering what was occurring at the Murphy Green. Hearing loud claps and cheers, eager students were excited to try it out for themselves. Some watched as pumpkin after pumpkin met its fate.  
About 30 people contributed to the chaos on the Murphy Green. Everyone was cheering and laughing together as they came up with new ideas to crush pumpkins. Friends took pictures in the spirit of the season as well as discussed their upcoming Halloween weekend plans. Some even informed their friends to come on down and share a laugh.  
Between scribbling phrases, students shared their experiences and stories about hurtful comments, taking back agency of their narrative.   
Among trial and error, there were many lessons learned. Smaller pumpkins are actually harder to break than larger ones. Be careful with pumpkin fragments, they are quite sharp. Finally, when throwing a pumpkin there is a chance that the stem might go through the pumpkin in the air.  
Most importantly, Gaels walked away with more knowledge about neurodiversity. Many had questions concerning what neurodiversity is and how to make Iona a more inclusive environment. Club members gladly answered their inquiries.  
Michael Levine, Iona's Neurodiversity Club president, gave some insight about the event and how it is important to have events like these on campus.  
JA: What was the purpose of 'Smashing Stereotypes'?  
ML: The purpose of this event was twofold. The first part was to raise awareness for what neurodiversity is. In its simplest definition, neurodiversity basically means "brain diversity" and is an alternative to the disability model that seeks to empower those whose needs aren't met by the outdated disability model. Many conditions, including (but not limited to) Autism, AD(H)D, anxiety, dyslexia, Tourette's Syndrome, and essentially any diagnosable long-term mental condition, fall under the umbrella of neurodiversity. Neurodiversity is something that directly affects 1 in 5 people, but its impacts are felt broadly by everyone. 
The second, and perhaps most important, part of the event was to allow students the chance to freely write stereotypes related to neurodiversity on pumpkins, which served as the physical vessel to smash the stereotypes. This not only afforded neurodivergent students an opportunity to vent out their frustrations with the stereotypes they hear most commonly, but to encourage the entire campus to think deeply about generalizations, misconceptions, misperceptions and stereotyping (mainly about neurodiversity), which forced them to think outside their comfort zones and open up to new ways of thinking that they previously wouldn't have considered. 
JA: How did the idea develop?  
ML: As an autistic student and the club's founder, I have spent a lot of my free time at Iona fostering this constructively challenging way of thinking, teaching and even learning for my own benefit by creating engaging campus activities that challenge the student body's ways of thinking, empowering students who would otherwise have been excluded by the disability model, and hallmarking the inclusion of students of all perceived or actual cognitive abilities and help get them involved in campus activities and extracurricular organizations, and encouraging others to develop a safe space for Iona's neurodiverse students throughout student life as a whole. 
Iona's Neurodiversity Club generally meets every two weeks with more events expected through the remainder of the semester. 
ABOUT IONA
Founded in 1940, Iona University is a master's-granting private, Catholic, coeducational institution of learning in the tradition of the Edmund Rice Christian Brothers. Iona's 45-acre New Rochelle campus and 28-acre Bronxville campus are just 20 miles north of Midtown Manhattan. With a total enrollment of nearly 4,000 students and an alumni base of over 50,000 around the world, Iona is a diverse community of learners and scholars dedicated to academic excellence and the values of justice, peace and service. Iona is highly accredited, offering undergraduate degrees in liberal arts, science, and business administration, as well as Master of Arts, Master of Science and Master of Business Administration degrees and numerous advanced certificate programs. Iona's LaPenta School of Business is accredited by AACSB International, a prestigious recognition awarded to just five percent of business schools worldwide. The Princeton Review recognized Iona's on-campus MBA program as a "Best Business School for 2023." Iona University also recently launched a new, fully online MBA program for even greater flexibility. In July 2021, Iona University and NewYork-Presbyterian announced the establishment of the NewYork-Presbyterian Iona School of Health Sciences, to be principally located on the University's new campus in Bronxville, N.Y. Supported by a $20 million gift from NewYork-Presbyterian, the NewYork-Presbyterian Iona School of Health Sciences offers a new vision for collaborative health care education, modern workforce development, and community care. On July 1, 2022, Iona officially changed its status from College to University, reflecting the growth of its academic programs and the prestige of an Iona education.