Iona University Announces Advanced Certificate in Marketing Analytics
Interdisciplinary program helps to open new career pathways in growing field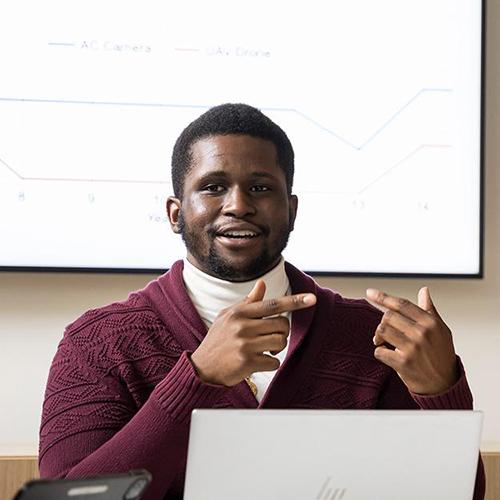 New Rochelle, N.Y. – As companies aim to identify trends, analyze consumer behavior and better measure the performance of their marketing campaigns, Iona University is proud to announce a new interdisciplinary Advanced Certificate in Marketing Analytics to help meet the demand in this rising field.
Whether you are a marketing professional seeking to enhance your analytical skills or someone eager to enter the field, this program can open interesting new career pathways.
Applications for the Fall 2023 semester are open now! Click here to learn more or contact Suzana Pavisic, director of Graduate Admissions for the LaPenta School of Business, at spavisic@iona.edu.
"More data is available to companies than ever before and marketing analytics allows organizations to gain insights from this data to improve their marketing efforts, thereby more efficiently reaching their target customers with the right message," said Eric Hamerman, Ph.D., associate professor and chair of the Marketing Department in the LaPenta School of Business. 
Iona's Advanced Certificate program covers marketing research methods, marketing models, and related analytical techniques that can be applied to various aspects of marketing. This program will equip you to leverage emerging analytics technologies to enhance marketing efforts and gain a competitive edge.
Students in this program learn how to:
Apply various analytical tools and techniques to manage sales, promotions and other marketing functions.
Develop data-driven strategies to improve marketing performance.
Present recommendations on marketing strategies.
As part of the LaPenta School of Business, you will also have access to networking events that allow students to interact with marketing professionals and potential employers. Additionally, you will become part of an alumni network that has a proven track record of success at world-renowned companies such as Visa, Coca-Cola, Morgan Stanley and many more.
Students also have the option to integrate their coursework into a broader degree program, such as an MBA with a concentration in marketing, business analytics or another related field.
"This advanced certificate is ideal for marketers who want to leverage business analytics to enhance their marketing performance," said Heechang Shin, Ph.D., associate professor and chair of the Business Analytics and Information Systems Department in the LaPenta School of Business. "Various analytical tools and techniques will be presented to help them achieve their desired outcomes in marketing."
Learn more about Iona's Advanced Certificate in Marketing Analytics today!
ABOUT IONA
Founded in 1940, Iona University is a master's-granting private, Catholic, coeducational institution of learning in the tradition of the Edmund Rice Christian Brothers. Iona's 45-acre New Rochelle campus and 28-acre Bronxville campus are just 20 miles north of Midtown Manhattan. With a total enrollment of nearly 4,000 students and an alumni base of more than 50,000 around the world, Iona is a diverse community of learners and scholars dedicated to academic excellence and the values of justice, peace and service. Iona is highly accredited, offering undergraduate degrees in liberal arts, science and business administration, as well as Master of Arts, Master of Science and Master of Business Administration degrees and numerous advanced certificate programs. Iona students enjoy small class sizes, engaged professors and a wide array of academic programs across the School of Arts & Science; LaPenta School of Business; NewYork-Presbyterian Iona School of Health Sciences; and Hynes Institute for Entrepreneurship & Innovation. Iona is widely recognized in prestigious rankings, including The Princeton Review's 2024 national list of "The Best 389 Colleges" and The Wall Street Journal/College Pulse's "2024 Best Colleges in America," which ranked Iona at #66 in the nation overall and #8 in the nation among Catholic schools. Iona's LaPenta School of Business is also accredited by AACSB International, a recognition awarded to just five percent of business schools worldwide. In addition, The Princeton Review recognized Iona's on-campus MBA program as a "Best Business School for 2023." Iona also offers a fully online MBA program for even greater flexibility. In July 2021, Iona announced the establishment of the NewYork-Presbyterian Iona School of Health Sciences, which is now principally located on Iona's Bronxville campus in collaboration with NewYork-Presbyterian. Connecting to its Irish heritage, the University also recently announced it is expanding abroad with a new campus in County Mayo, Ireland. A school on the rise, Iona officially changed its status from College to University on July 1, 2022, reflecting the growth of its academic programs and the prestige of an Iona education.