Iona University Announces New Master of Science Degree in Nursing with a Focus on Healthcare Organizational Leadership
Applications open for the Fall 2023 semester!
New Rochelle and Bronxville, N.Y. – Continuing to build upon the success of its NewYork-Presbyterian Iona School of Health Sciences, Iona University today announced the addition of a new Master of Science degree in Nursing with a focus on healthcare organizational leadership.
"We are proud to introduce this new master's degree as we continue to educate the next generation of health care leaders at Iona University," said President Seamus Carey, Ph.D. "Our nursing program attracts highly motivated and talented students who feel called to serve others, and we know this advanced degree is in high demand."  
Iona is accepting applications for the program immediately. Classes are scheduled to begin in the Fall 2023 semester. Learn more about the program online, or contact Daniel Gallagher, director of Graduate Admissions for the NewYork-Presbyterian Iona School of Health Sciences, at dgallagher@iona.edu or (914) 637-7770. You may also apply directly online by clicking here.
About Nursing HealthCare Organizational Leadership (MS)
A Master of Science degree in Nursing with a focus on healthcare organizational leadership is specially designed for nurses who want to pursue advanced leadership roles within the health care system. The program will prepare students to:
Lead within complex health care systems to design and implement equitable health care access and solutions.
Create collaborative relationships and trusting work environments.
Serve as a change agent through innovation.
Apply knowledge of human resources and fiscal management for health care.
Lead collaboratively within the interprofessional team.
Acquire professional leadership behaviors that reflect moral courage, ethical principles, human dignity, social justice and uphold accountability to the individual, society and the profession.
A Dynamic, Hands-On Curriculum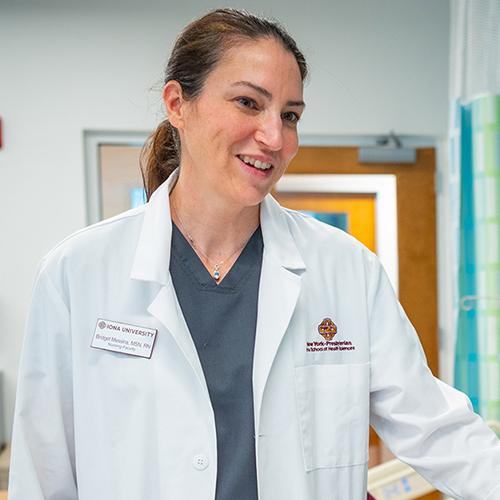 Iona's 38-credit curriculum integrates advanced nursing role concepts and executive leadership-focused theories, principles and strategies into core and program-specific courses.
The curriculum includes theoretical courses and leadership-focused clinical practicums. The theoretical courses are offered in an executive hybrid format, providing the opportunity for in-person instruction and asynchronous coursework.
Throughout their studies, students will examine organizational and leadership theories, financial management, human resource management and innovative design thinking.
In addition, students will not only gain 510 hours of valuable clinical practice, but they will do so under the mentorship of leading health care experts. The settings for these practice hours vary in order to give students a well-rounded experience.
Iona nursing students pursue their studies in the new state-of-the art Kelly Center for Health Sciences, the flagship building of the NewYork-Presbyterian Iona School of Health Sciences. Spanning three floors and nearly 32,000 square feet, the Kelly Center features unparalleled access to the latest lab and simulation technologies, giving students access to hands-on learning experiences alongside top faculty and health care practitioners. Get an inside look at the new Kelly Center here.
"We are thrilled to launch our new master's degree program, which will support the future career goals of our students as well as the needs of the workforce," said Sherylyn Watson, Ph.D., MSN, RN, CNE, director of nursing and associate dean. "We encourage anyone who may be interested in learning more to reach out or apply as soon as possible."
Learn more about Iona's Nursing HealthCare Organizational Leadership (MS) program
A Premier New School on the Rise
Established in July 2021, the NewYork-Presbyterian Iona School of Health Sciences offers a variety of degree programs in collaboration with one of the nation's top hospitals, including top clinical placements and full-time employment opportunities after graduation.
Other areas of study include Social Work (BS); Speech-Language Pathology & Audiology (BA); Occupational Therapy (MS); Communication Sciences & Disorders (MA); Marriage & Family Therapy (MS); Mental Health Counseling (MA) and Nursing (BS).
"The NewYork-Presbyterian Iona School of Health Sciences offers a cutting-edge education in some of today's most in-demand fields, providing a highly valuable and engaging program for our students," said Kavita R. Dhanwada, Ph.D., founding dean of the NewYork-Presbyterian Iona School of Health Sciences. "Our academics are rigorous, but we know we are preparing students well for the challenges they will inevitably face in the field."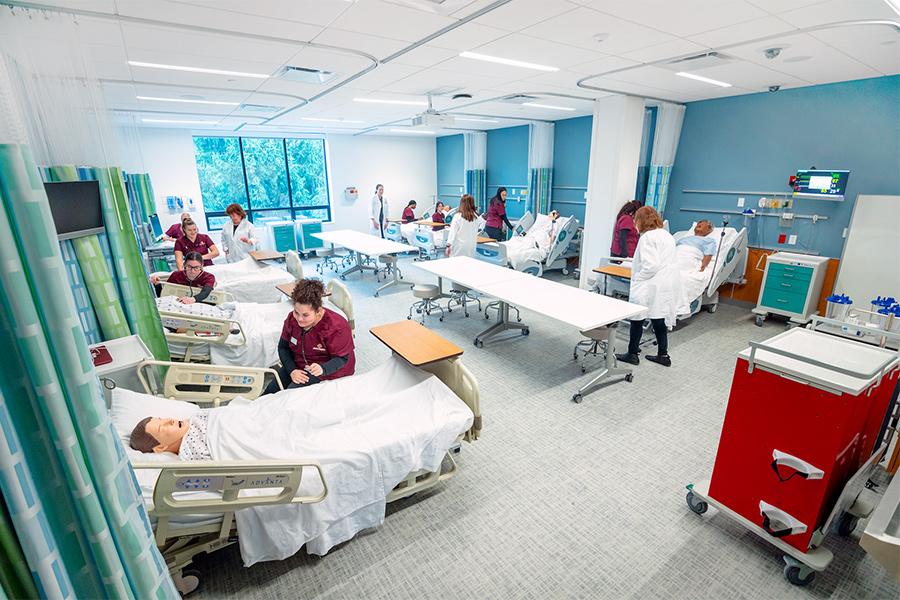 ABOUT IONA
Founded in 1940, Iona University is a master's-granting private, Catholic, coeducational institution of learning in the tradition of the Edmund Rice Christian Brothers. Iona's 45-acre New Rochelle campus and 28-acre Bronxville campus are just 20 miles north of Midtown Manhattan. With a total enrollment of nearly 4,000 students and an alumni base of more than 50,000 around the world, Iona is a diverse community of learners and scholars dedicated to academic excellence and the values of justice, peace and service. Iona is highly accredited, offering undergraduate degrees in liberal arts, science and business administration, as well as Master of Arts, Master of Science and Master of Business Administration degrees and numerous advanced certificate programs. Iona students enjoy small class sizes, engaged professors and a wide array of academic programs across the School of Arts & Science; LaPenta School of Business; NewYork-Presbyterian Iona School of Health Sciences; and Hynes Institute for Entrepreneurship & Innovation. Iona is widely recognized in prestigious rankings, including The Princeton Review's 2024 national list of "The Best 389 Colleges" and The Wall Street Journal/College Pulse's "2024 Best Colleges in America," which ranked Iona at #66 in the nation overall and #8 in the nation among Catholic schools. Iona's LaPenta School of Business is also accredited by AACSB International, a recognition awarded to just five percent of business schools worldwide. In addition, The Princeton Review recognized Iona's on-campus MBA program as a "Best Business School for 2023." Iona also offers a fully online MBA program for even greater flexibility. In July 2021, Iona announced the establishment of the NewYork-Presbyterian Iona School of Health Sciences, which is now principally located on Iona's Bronxville campus in collaboration with NewYork-Presbyterian. Connecting to its Irish heritage, the University also recently announced it is expanding abroad with a new campus in County Mayo, Ireland. A school on the rise, Iona officially changed its status from College to University on July 1, 2022, reflecting the growth of its academic programs and the prestige of an Iona education.