Iona University Dance Team Finishes Among Top 10 in National Championship
Fifteen Gaels competed for the first time on a national stage in Orlando
NEW ROCHELLE, N.Y. — Making a mark in their first ever competition season, the Iona University dance team competed at the UDA (Universal Dance Association) College Nationals at the ESPN Wide World of Sports Complex in Orlando, Fla. Taking the stage on January 14, the Gaels placed 10th nationally in the Division I hip-hop category, and were a national qualifier in the Division I jazz category.
"This team exceeded every expectation in our first competition season," said Kelly McKenna Beyrer '16MA, Iona's inaugural director of performing arts. "Our team is proud to represent Iona on any stage, whether it's a basketball court or national competition – and they give 100 percent every time. This was our first time at the UDA College Nationals, but it won't be our last. I'm very proud of them and it's rewarding to see all of their hard work pay off."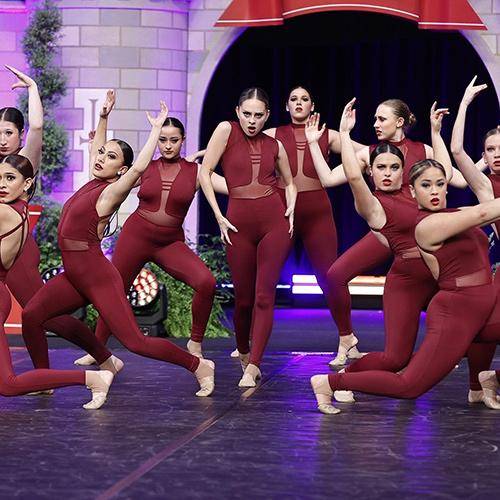 The dance team is comprised of 15 members: Alyssa Lewandowski '23, Victoria Shinnick '23, Ariana Rodriguez-Genao '24, Breanna Baker '25, Leila Capelo '25, Sophia Fragomeni '25, Michela Lepore '25, Samantha Mirasola '25, Sophia Quintero '25, Victoria Biordi '26, Alyssa Colorio '26, Grace Forlenza '26, Sofia Polzella '26, Elizabeth Riccio '26 and Cadence Vizza '26. The team is led by Kristie Botti '17, the dance team's coach and former captain.
"I am so proud of this team," Botti said. "They have worked harder in the last four months than any team I have had the pleasure of coaching. They pushed themselves and each other. I will never forget the moment they ran out of the castle [in Orlando] for the first time in Iona University history. I also want to give credit where credit is due. I can't thank Kelly enough for everything that she did for us to get to this point. She challenged me to be a better coach and mentor and for that I am eternally grateful."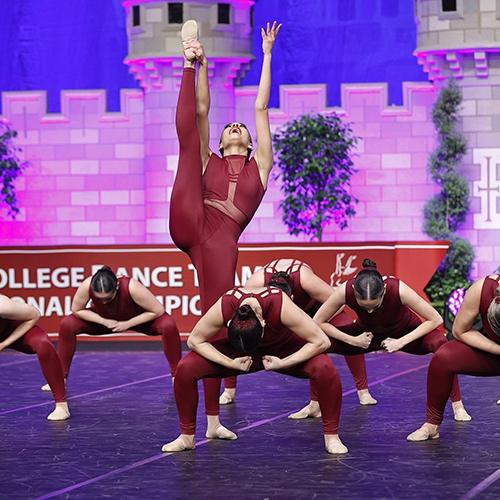 The dance team also competed regionally on January 7 at the Battle of the Northeast Dance Challenge in Philadelphia, Pa. The Gaels placed third regionally in the Division I hip-hop category and placed second in the Division I jazz category.
"If you would've told me three years ago that I would get the opportunity to compete amongst the most prestigious college dance teams in the nation, I would've never believed you," said Lewandowski, senior captain of the dance team. "The growth I have seen in this program since my freshman year has been surreal. To be a part of this and experience it has been incredible. As Kristie said, none of this would be possible without our biggest advocate, Kelly. We also wouldn't be here without our Coach Kristie always believing in us and pushing us harder. I am beyond grateful for them both."
For any Iona student interested in joining the dance team, spring tryouts will take place on Sunday, April 16, 2023 from 9 a.m. – 5 a.m. in the Hegarty Room in Hynes West. Registration is required.
ABOUT IONA
Founded in 1940, Iona University is a master's-granting private, Catholic, coeducational institution of learning in the tradition of the Edmund Rice Christian Brothers. Iona's 45-acre New Rochelle campus and 28-acre Bronxville campus are just 20 miles north of Midtown Manhattan. With a total enrollment of nearly 4,000 students and an alumni base of over 50,000 around the world, Iona is a diverse community of learners and scholars dedicated to academic excellence and the values of justice, peace and service. Iona is highly accredited, offering undergraduate degrees in liberal arts, science, and business administration, as well as Master of Arts, Master of Science and Master of Business Administration degrees and numerous advanced certificate programs. Iona's LaPenta School of Business is accredited by AACSB International, a prestigious recognition awarded to just five percent of business schools worldwide. The Princeton Review recognized Iona's on-campus MBA program as a "Best Business School for 2023." Iona University also recently launched a new, fully online MBA program for even greater flexibility. In July 2021, Iona University and NewYork-Presbyterian announced the establishment of the NewYork-Presbyterian Iona School of Health Sciences, to be principally located on the University's new campus in Bronxville, N.Y. Supported by a $20 million gift from NewYork-Presbyterian, the NewYork-Presbyterian Iona School of Health Sciences offers a new vision for collaborative health care education, modern workforce development, and community care. On July 1, 2022, Iona officially changed its status from College to University, reflecting the growth of its academic programs and the prestige of an Iona education.