Iona University Launches New Sports Business Minor, Teaches Students Ins and Outs of Rising Industry
Beginning Fall 2023, the University will offer innovative courses and internship opportunities to give students a behind-the-scenes look into the business of sports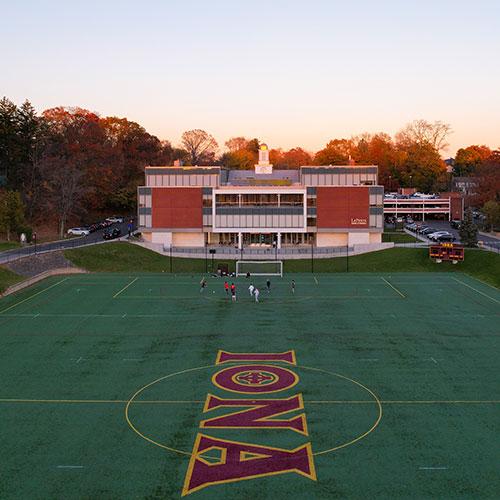 NEW ROCHELLE, N.Y. — The sports industry is on the rise, and Iona University is setting students up for success in the field with its new minor in sports business. Launching in Fall 2023 through Iona's LaPenta School of Business, the new 18-credit sports business minor will offer an interdisciplinary approach, exploring how traditional business fields such as finance and marketing relate to sports.
Students will also participate in a course on facilities and events management, designed by the University's Athletics Department. The sports business minor is open to any student, regardless of their major, as long as they have at least four full-time semesters left for their coursework.
"The business of sports reaches well beyond the games we watch and the athletes we follow," said Eric Hamerman, Ph.D., associate professor and department chair for marketing. "To keep a sports organization solvent at any level—from the biggest professional teams to children's recreational leagues—it takes a group of professionals working in all of the core business functions. With our new minor, we will prepare Iona students to apply these skills to sports, while also providing hands-on, real-world internship experience."
After completing their courses, students enrolled in the sports business minor will complete a supervised internship within a sports-related organization. Each student in the minor will have the option of interning with Iona's Athletics Department or collaborating with Iona's career services, faculty or alumni network, who can help them secure internships with notable sports business companies.
"The Athletics Department is thrilled to have a hand in the new sports business minor," said Director of Athletics Matthew Glovaski. "We look forward to working closely with students as they explore facilities and events management and join us for valuable internship experiences. We know the skills that are needed to succeed in the top sports organizations and we are excited to pass that knowledge on to our students."
There is a proud tradition of Iona alumni who have gone on to work for sports businesses including Adidas, Nike, the New York Yankees, ESPN, Fox Sports and many more. Notably, an Iona alumna had the opportunity to work the Tokyo Olympic Games as an Olympic researcher with NBC Sports and an alumnus rose to the chief growth officer for Overtime, initially starting as an intern.
"Students in this minor will gain exposure to some of the same issues that sports organizations face every day," Hamerman said. "In addition to what they learn in class, completing an internship in sports will give our students a major leg up over the competition as they prepare to enter the workforce."
Learn more about Iona's new sports business minor.
ABOUT IONA
Founded in 1940, Iona University is a master's-granting private, Catholic, coeducational institution of learning in the tradition of the Edmund Rice Christian Brothers. Iona's 45-acre New Rochelle campus and 28-acre Bronxville campus are just 20 miles north of Midtown Manhattan. With a total enrollment of nearly 4,000 students and an alumni base of more than 50,000 around the world, Iona is a diverse community of learners and scholars dedicated to academic excellence and the values of justice, peace and service. Iona is highly accredited, offering undergraduate degrees in liberal arts, science and business administration, as well as Master of Arts, Master of Science and Master of Business Administration degrees and numerous advanced certificate programs. Iona students enjoy small class sizes, engaged professors and a wide array of academic programs across the School of Arts & Science; LaPenta School of Business; NewYork-Presbyterian Iona School of Health Sciences; and Hynes Institute for Entrepreneurship & Innovation. Iona is widely recognized in prestigious rankings, including The Princeton Review's 2024 national list of "The Best 389 Colleges" and The Wall Street Journal/College Pulse's "2024 Best Colleges in America," which ranked Iona at #66 in the nation overall and #8 in the nation among Catholic schools. Iona's LaPenta School of Business is also accredited by AACSB International, a recognition awarded to just five percent of business schools worldwide. In addition, The Princeton Review recognized Iona's on-campus MBA program as a "Best Business School for 2023." Iona also offers a fully online MBA program for even greater flexibility. In July 2021, Iona announced the establishment of the NewYork-Presbyterian Iona School of Health Sciences, which is now principally located on Iona's Bronxville campus in collaboration with NewYork-Presbyterian. Connecting to its Irish heritage, the University also recently announced it is expanding abroad with a new campus in County Mayo, Ireland. A school on the rise, Iona officially changed its status from College to University on July 1, 2022, reflecting the growth of its academic programs and the prestige of an Iona education.