Iona University Named One of the Nation's Best Business Schools by The Princeton Review
Iona's on-campus MBA program recognized among the top nationwide for 2023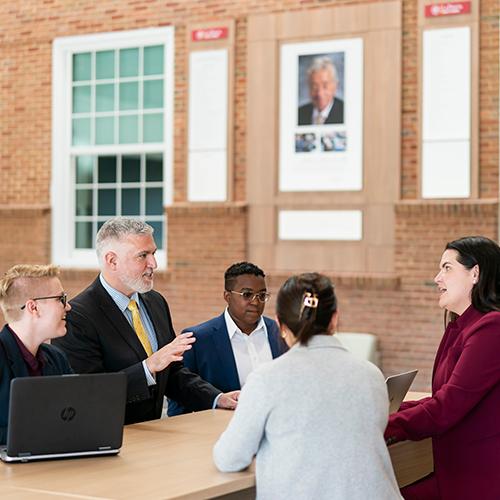 New Rochelle, N.Y. – Reflecting the academic excellence and exceptional student experience at Iona University, the LaPenta School of Business has been named to The Princeton Review's 2023 Best Business Schools for its on-campus MBA program.
Rob Franek, The Princeton Review's editor-in-chief, said schools on the list are "highly" recommended, noting that each institution garnered positive ratings from its students and recent graduates.  
"Since we developed our b-school rankings more than two decades ago, our goal, every year, has been to help applicants choose the MBA programs best for them," Franek said. "[E]very MBA program … that made our lists for 2023 offers outstanding academics, superb experiential components, and impressive career services."
The Iona Experience: Nurturing, Diverse and Engaging
According to The Princeton Review, Iona students reported that the LaPenta School of Business creates a "nurturing learning environment" in which students "can develop personally and academically in comfort." The school also has "a bright and cheerful atmosphere," mostly due to "the diverse student body and courteous professors," and "classes are challenging in a way that makes learning exciting."
In addition, students reported that significant emphasis is placed upon participation, and small classes facilitate that greatly. The professors are "very knowledgeable, friendly, courteous and always willing to help understand the material." Students also said faculty members are always available for additional hours, and "all have 'real-world' experience, and they share their experiences with the [students]."
The Princeton Review also highlighted that Iona students are "engaging [and] willing to help" as well as "self-motivated and focused on acquiring new skills and knowledge to advance their careers." Moreover, they bring a "diverse set of backgrounds" to the table. "I had the pleasure to meet people from all over the world," one student said. All are "willing to help each other towards a common goal, whether it be completing an assignment or through forming a study team."
Mission, Vision & Values
Offering a wide range of undergraduate and graduate programs, including both an on-campus and online MBA program, the LaPenta School of Business is accredited by AACSB International, a prestigious recognition awarded to just 5 percent of business schools worldwide. Its advantageous location just outside of New York City also offers an abundance of learning and career opportunities.
The building itself was completely renovated and renamed in January 2020 in honor of Robert V. LaPenta '67, '00H, an Iona alumnus and Board of Trustee member who laid the foundation for the new school with a transformational gift of $17.5 million, the largest in Iona's history.
Noting the continued momentum at Iona, investor Mario J. Gabelli, founder, chairman and CEO of GAMCO Investors, recently created an endowed professorship in finance at the LaPenta School of Business.
"The LaPenta School of Business is guided by a core set of values that inspire us to serve our students through outstanding learning opportunities while expanding access, promoting respect, building partnerships and encouraging intellectual curiosity," said Lynne Richardson, Ph.D., dean of the LaPenta School of Business. "I am pleased to see these core principles are coming through in our student experiences and outcomes. Thank you to The Princeton Review for once again recognizing our on-campus MBA program as one of the best in nation."
Rankings Survey Data
The Princeton Review's 2023 lists are based on survey data from administrators at 243 business schools in 2021-22, and of more than 20,300 students enrolled at the schools' on-campus MBA programs during the 2021-22, 2020-21 or 2019–20 school years. On average, surveys from 83 students per on-campus MBA program were tallied for the rankings.
The 90-question student survey asked students to rate and/or report on their academics, student body and campus life, as well as their career plans. The 300-question administrator survey asked administrators to report institutional data on their MBA program's academics, selectivity, faculty, technical platforms, career services, and other topics.
ABOUT IONA
Founded in 1940, Iona University is a master's-granting private, Catholic, coeducational institution of learning in the tradition of the Edmund Rice Christian Brothers. Iona's 45-acre New Rochelle campus and 28-acre Bronxville campus are just 20 miles north of Midtown Manhattan. With a total enrollment of nearly 4,000 students and an alumni base of over 50,000 around the world, Iona is a diverse community of learners and scholars dedicated to academic excellence and the values of justice, peace and service. Iona is highly accredited, offering undergraduate degrees in liberal arts, science, and business administration, as well as Master of Arts, Master of Science and Master of Business Administration degrees and numerous advanced certificate programs. Iona's LaPenta School of Business is accredited by AACSB International, a prestigious recognition awarded to just five percent of business schools worldwide. The Princeton Review recognized Iona's on-campus MBA program as a "Best Business School for 2023." Iona University also recently launched a new, fully online MBA program for even greater flexibility. In July 2021, Iona University and NewYork-Presbyterian announced the establishment of the NewYork-Presbyterian Iona School of Health Sciences, to be principally located on the University's new campus in Bronxville, N.Y. Supported by a $20 million gift from NewYork-Presbyterian, the NewYork-Presbyterian Iona School of Health Sciences offers a new vision for collaborative health care education, modern workforce development, and community care. On July 1, 2022, Iona officially changed its status from College to University, reflecting the growth of its academic programs and the prestige of an Iona education.