Iona University Offers Tuition Discount for Educators in the Archdiocese of New York to Pursue a Graduate Degree
Full-time teachers, administrators and guidance counselors employed by Catholic schools in the Archdiocese of New York are eligible for a 33 percent tuition discount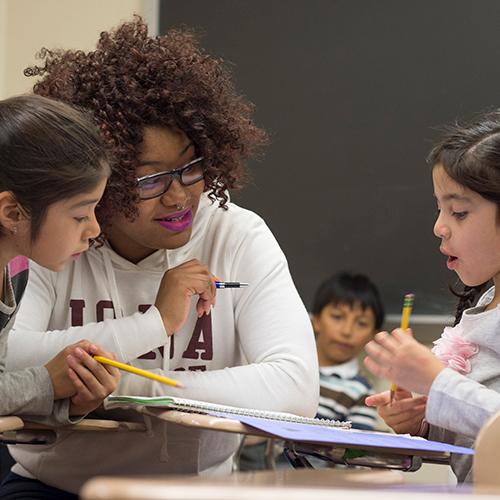 NEW ROCHELLE, N.Y. & BRONXVILLE, N.Y. — Building upon Iona's commitment to justice, opportunity and the liberating power of education, the University is offering a 33 percent tuition discount through its Archdiocesan Scholarship for Graduate Studies award to support current educators pursuing a master's degree. Qualified applicants include full-time teachers, administrators and guidance counselors employed by Catholic elementary and secondary schools in the Archdiocese of New York and neighboring dioceses, as well as members of the clergy.
"With Iona's proud Catholic tradition, and teachings of Blessed Edmund Rice engraved in its history, it's very fitting that we offer a scholarship to empower this current generation of Catholic school educators," said Shantell Smith, director of graduate admissions for the School of Arts and Science. "Now is the perfect time for qualified educators to set themselves apart from the rest with a graduate degree from Iona."
While applicants may enroll in any of Iona's graduate degree programs, the University's Master of Science in Education degree (MSEd) will serve current educators well in reaching the next level of their career. Specifically designed for current teachers with an initial certification in New York, this program covers best practices and new applications taught by professionals who have first-hand experience as teachers, principals and school superintendents.
"All of our programs lead to specific New York State teacher certifications," said Amanda Howerton-Fox, chair of the Education Department. "To better serve our students, Iona also offers advanced programs in special education and literacy. We are thrilled to welcome Catholic school educators in the Archdiocese of New York to Iona as they build the essential skills needed to further their career."
Aligning with Iona's mission to serve the community and foster intellectual inquiry, the Archdiocese of New York serves the pastoral and spiritual needs of 2.5 million Catholics in nearly 300 parishes throughout New York; works with over 400,000 individuals each year through numerous charity initiatives and includes over 53,000 students in 172 Catholic schools.
Notably, the Archdiocese of New York displayed tremendous leadership throughout the COVID-19 pandemic, resulting in many new students and families turning to Catholic schools as they safely and effectively navigated the challenges presented.
Students interested in learning more about Iona University's graduate programs and the Archdiocesan Scholarship for Graduate Studies should email gradadmissions@iona.edu.
ABOUT IONA
Founded in 1940, Iona University is a master's-granting private, Catholic, coeducational institution of learning in the tradition of the Edmund Rice Christian Brothers. Iona's 45-acre New Rochelle campus and 28-acre Bronxville campus are just 20 miles north of Midtown Manhattan. With a total enrollment of nearly 4,000 students and an alumni base of more than 50,000 around the world, Iona is a diverse community of learners and scholars dedicated to academic excellence and the values of justice, peace and service. Iona is highly accredited, offering undergraduate degrees in liberal arts, science and business administration, as well as Master of Arts, Master of Science and Master of Business Administration degrees and numerous advanced certificate programs. Iona students enjoy small class sizes, engaged professors and a wide array of academic programs across the School of Arts & Science; LaPenta School of Business; NewYork-Presbyterian Iona School of Health Sciences; and Hynes Institute for Entrepreneurship & Innovation. Iona is widely recognized in prestigious rankings, including The Princeton Review's 2024 national list of "The Best 389 Colleges" and The Wall Street Journal/College Pulse's "2024 Best Colleges in America," which ranked Iona at #66 in the nation overall and #8 in the nation among Catholic schools. Iona's LaPenta School of Business is also accredited by AACSB International, a recognition awarded to just five percent of business schools worldwide. In addition, The Princeton Review recognized Iona's on-campus MBA program as a "Best Business School for 2023." Iona also offers a fully online MBA program for even greater flexibility. In July 2021, Iona announced the establishment of the NewYork-Presbyterian Iona School of Health Sciences, which is now principally located on Iona's Bronxville campus in collaboration with NewYork-Presbyterian. Connecting to its Irish heritage, the University also recently announced it is expanding abroad with a new campus in County Mayo, Ireland. A school on the rise, Iona officially changed its status from College to University on July 1, 2022, reflecting the growth of its academic programs and the prestige of an Iona education.