Iona University Ranked #66 in The Wall Street Journal's 2024 Best Colleges in America
New ranking emphasizes student outcomes and how much a college boosts salaries after graduation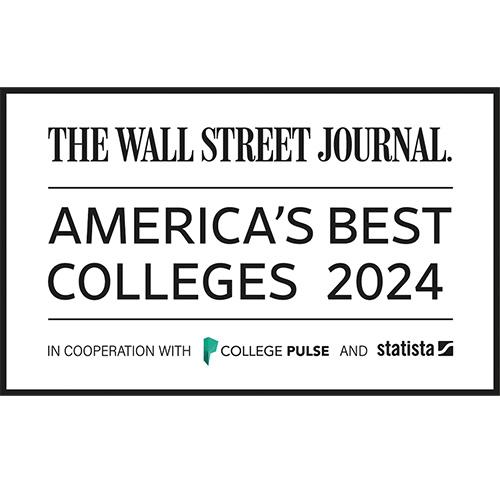 New Rochelle and Bronxville, N.Y. – A new ranking of the 2024 Best Colleges in America highlights Iona University at #66 nationwide based on student outcomes and graduate salaries as well as #1 in New York for student experience.
Released today, The Wall Street Journal/College Pulse ranking placed critical emphasis on how much a college improves a student's chances of graduating on time and how much it boosts the salaries they earn after graduation, among other factors.
Iona also came in at #6 in New York for salary impact – a ranking of schools in order of their impact on graduates' salaries and how this relates to the cost of attending the college – and in the top 100 nationwide for social mobility. Over 1,700 U.S. colleges were eligible to be considered.
All of this continues to reinforce the transformative power of an Iona education and the value it provides for its graduates.
"The value of an Iona education continues to attract highly motivated and talented students who are eager to go out and make a difference in the world," said Iona University President Seamus Carey, Ph.D. "Thank you to The Wall Street Journal for this recognition and my gratitude to all of Iona's faculty, staff and alumni who are so dedicated to our students' success both inside and outside of the classroom."
ABOUT THE RANKING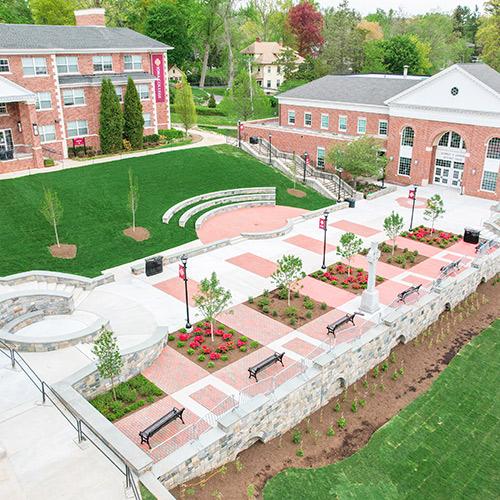 College scores in the WSJ ranking were based on three factors: student outcomes, accounting for 70% of the rankings; the learning environment, at 20%; and diversity, at 10%.
The ranking included one of the largest-ever independent surveys of verified college students in the United States, undertaken by College Pulse. Over 60,000 undergraduates and recent undergraduate alumni were questioned on their college experience, capturing a range of perspectives on student life including perceptions of learning opportunities, career preparation, dining halls and sports facilities, and thoughts on diversity.
Ultimately, the new ranking provides a valuable resource as students and families make one of the biggest decisions – and investments – of their lives.
"For students, we believe this ranking will help them identify which colleges will do the most to help them graduate and make more money," wrote WSJ rankings editor Harry Carr. "What constitutes a good college is almost inevitably subjective and a source of contention. But if you want to prioritize learning environment and career preparation, and choose the college that will do most to make sure you graduate and maximize your earnings, that's the focus of this ranking. We hope that this will be a vital resource—and will help you trust your decisions when considering one of the biggest and most exciting choices of your life."
Learn More: Iona University Rankings
A SCHOOL ON THE RISE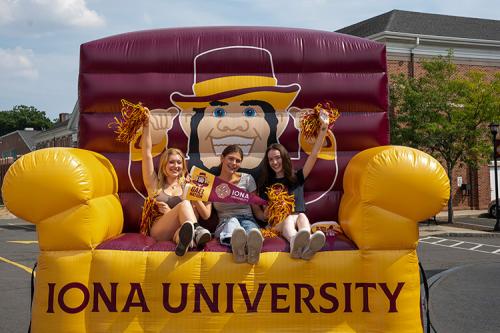 The news comes as Iona continues to grow new student enrollment and expand opportunities both inside and outside the classroom. Since 2019, new student enrollment is up nearly 30 percent at Iona.
In addition to a rigorous academic focus, Iona students enjoy choosing from over 80 clubs and leadership organizations as well as a wide range of performing arts opportunities, 13 club sports and 23 NCAA Division I Athletics programs.
Notably, Iona also recently expanded to a new 28-acre campus in Bronxville, located just three miles from its 45-acre campus in New Rochelle, N.Y.
In addition to adding new athletic facilities and performing arts spaces, the Bronxville campus is now primarily home to the NewYork-Presbyterian Iona School of Health Sciences and the state-of-the-art Kelly Center for Health Sciences. This premier new school offers a variety of undergraduate and advanced degrees in collaboration with one of the nation's top hospitals, including top clinical placements and full-time employment opportunities.
All of this builds upon the longstanding reputation of Iona's School of Arts & Science and the LaPenta School of Business, not to mention the collaborative opportunities offered through the Hynes Institute for Entrepreneurship & Innovation.
STUDENT SUCCESS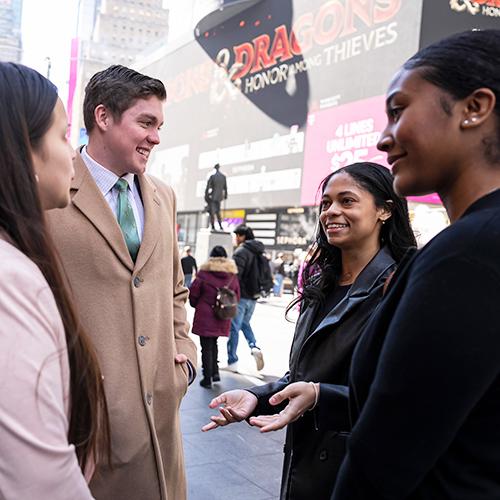 Prior to graduating in May, Iona alumnus Aidan Connolly '23 had already secured a full-time financial analyst position at Citigroup in New York City.
He said Iona not only prepared him academically for the position, but the University was also instrumental in providing the professional networking, interviewing and other skills that were critical to his success. 
"When it was time for me to specialize in an academic field, I knew I would be doing myself an injustice if I didn't choose a career path in business because of the incredible opportunities that the LaPenta School of Business has to offer its students," said Connolly, an economics and entrepreneurship double major who also served as president of the Student Government Association. "From becoming more familiar with the Bloomberg Trading Terminals to utilizing the interactive classroom space, being a student of the LaPenta School of Business enhanced my educational experience tenfold… I can attest after four short years that I made one of the best decisions in my educational career."
Explore programs, schedule a visit and learn more about Iona today!