A Life in Public Service: 'Iona is Where it All Started'
Iona Alumnus Brings 'Fight the Good Fight' to Life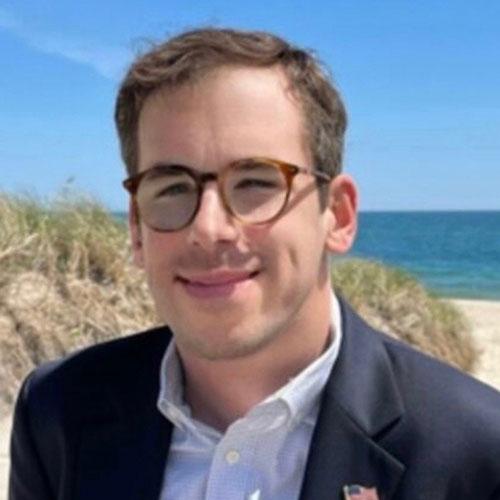 If you've ever wondered what it means to Fight the Good Fight, look no further than the life story of Joseph McLoughlin '13, a Southampton, N.Y., native.
From birth, Joseph was diagnosed with cerebral palsy and underwent over 13 surgeries. A miracle baby, doctors didn't expect him to survive. However, the hardship of his early life served as an inspiration that he could overcome any obstacle, and that is exactly what he continues to do not just for himself, but for all those he represents through his career in public service.
A media & strategic communication major, Joseph was heavily involved with Iona's student-run television club, ICTV, and produced a show named "Critical Issue," which featured a panel of students discussing the news of the day. He also had the opportunity to take several classes in political science, sparking his interest in public service.
"After I graduated Iona, I wanted to conquer the world," Joseph said. "I moved back home to Southampton and knew that I had what it took to made a difference there. I loved the news and politics – I just had to find the right role for me."
Joseph's public service experience began in 2017 as a member of the Southampton Village Planning Commission, where he brought a fresh perspective as the Commission's youngest member at the time. In this role, Joseph implemented various community programs such as wastewater treatments, which converted wastewater into water that can be discharged back into the environment.
In 2020, Joseph was elected to serve on the Southampton Village Board of Trustees, the result of an unprecedented voter turnout that earned him 938 votes – 300-plus more votes than the opposing candidates. Most notably during his time in office, Joseph continued to make impactful strides toward making his community a more environmentally-friendly place to live, including partnering with other governmental bodies to protect water quality infrastructure for better sustainability. He also spearheaded several initiatives aimed at making Southampton more affordable for younger generations to live. Joseph credits his desire to give back and serve the community to his time spent at Iona.
"Iona is where it all started. In addition to the impact of my classes, my closest friends were involved in the Office of Mission & Ministry and Pi Kappa Phi," he said. "That's when I knew I always wanted to surround myself with people who also want to give back."
It was at Iona that Joseph made lifelong friends, discovered his passions and fueled his desire to change the world. Up next, he is looking forward to exploring new opportunities that will allow him to make a difference as he continues to embark on his career of public service.
ABOUT IONA
Founded in 1940, Iona University is a master's-granting private, Catholic, coeducational institution of learning in the tradition of the Edmund Rice Christian Brothers. Iona's 45-acre New Rochelle campus and 28-acre Bronxville campus are just 20 miles north of Midtown Manhattan. With a total enrollment of nearly 4,000 students and an alumni base of over 50,000 around the world, Iona is a diverse community of learners and scholars dedicated to academic excellence and the values of justice, peace and service. Iona is highly accredited, offering undergraduate degrees in liberal arts, science, and business administration, as well as Master of Arts, Master of Science and Master of Business Administration degrees and numerous advanced certificate programs. Iona's LaPenta School of Business is accredited by AACSB International, a prestigious recognition awarded to just five percent of business schools worldwide. The Princeton Review recognized Iona's on-campus MBA program as a "Best Business School for 2023." Iona University also recently launched a new, fully online MBA program for even greater flexibility. In July 2021, Iona University and NewYork-Presbyterian announced the establishment of the NewYork-Presbyterian Iona School of Health Sciences, to be principally located on the University's new campus in Bronxville, N.Y. Supported by a $20 million gift from NewYork-Presbyterian, the NewYork-Presbyterian Iona School of Health Sciences offers a new vision for collaborative health care education, modern workforce development, and community care. On July 1, 2022, Iona officially changed its status from College to University, reflecting the growth of its academic programs and the prestige of an Iona education.