Patrick Dunican Elected Chair of the Iona College Board of Trustees
Outgoing Chair James P. Hynes will serve as Vice Chair, continuing his distinguished service since first joining the Board in 1995.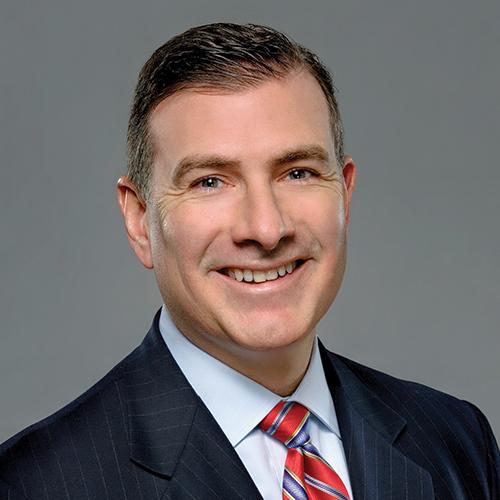 Outgoing Chair James P. Hynes will serve as Vice Chair, continuing his distinguished service since first joining the Board in 1995.
NEW ROCHELLE, N.Y. — Iona College is proud to announce that Patrick Dunican '88, chairman and managing director of Gibbons P.C., will serve as Chair of the Iona College Board of Trustees, effective July 1, 2020. He will assume the position from James P. Hynes '69, '01H, who has served on the Board since 1995, including as Chair since 2008.
Mr. Dunican, who was unanimously elected on May 6, 2020, has served in various capacities on the College's Board of Trustees since 2013. Positions include Vice Chair of its Executive Committee and a member of its Academic Committee as well as its Committee on Trustees/Governance. Additionally, he chaired the Audit Compliance and Risk Committee, which is responsible for the periodic appraisal of the college's financial control and accounting systems, as well as oversight and coordination of its external auditors' service delivery, and campuswide compliance with a vast range of laws and regulations governing academic institutions, recommending improvements in all areas as necessary.
Mr. Dunican also previously served on the Planning Committee for the 25th Reunion of the Class of 1988. Iona has honored him with its 2013 Legacy Award and 2008 Loftus Award.
Kathleen Hurlie, Chair of the Committee on Trustees and Governance, informed Mr. Dunican of his election, noting, "This is a difficult time in our world, in our country, and at our beloved institution and I believe I speak for the Board as I thank you for your service during this time. You undoubtedly have the full support of the Board as we go through this together and we all look forward to the future as you lead us through the good times as well."
Several members of Mr. Dunican's family are fellow Iona alumni, including his father, Patrick C. Dunican (deceased) '57; sister, Mary Spallanzani '86; brother-in-law, Lawrence Spallanzani '84; and nephews, Lawrence Spallanzani Jr. '17 and Jack Dunican '21.
Outgoing Chair Mr. Hynes, who has served as Board Chair for twelve years, built his career in the telecommunications industry as an entrepreneur for the past 30 years, and has been active in the Iona community since graduating in 1969. He has assumed numerous roles in leadership, governance and fundraising, himself giving generously to the college.
In 2006, the Hynes Athletics Center became a reality because of his record-breaking gift, and the facility was dedicated in recognition of his leadership and support. In 2017, the Hynes Institute for Entrepreneurship & Innovation was established thanks to the generosity and again record-breaking gift of more than $15 million from James and Anne Marie Hynes, who became the largest lifetime donors to the College. The Hynes Institute, which opened in 2019 in a new and modern home at the heart of campus, enhances the legacy of the Hynes family for decades to come. Mr. Hynes will continue to serve on the Board of Trustees as Vice Chair.
"Iona College was founded upon and continues to be driven by a mission of service. Jim Hynes has embodied that mission in every sense of the word. On behalf of the Iona community, I want to thank Jim for his many years of exemplary leadership as Chair of the Board of Trustees and beyond," said Seamus Carey, Ph.D., president of Iona College. "If ever there was a time for proven and effective leadership, it is now. Iona College is incredibly fortunate to have Mr. Dunican take over the position of Chair. I look forward to his stewardship as we continue to establish Iona as the leading institution of higher education in the region."
Mr. Dunican has been featured by The Irish Voice on its "Irish Education 100" list of the country's most influential professionals of Irish descent involved in higher education. In addition to his longstanding work with Iona College, Mr. Dunican remains active with Seton Hall University School of Law, where he earned his J.D. in 1991, serving as a past Chair of its Board of Visitors and Co-Chair of its Strategic Planning Committee. He previously co-chaired the Seton Hall Law Rising fundraising campaign, which exceeded its $25 million goal. During his tenure as Chairman and Managing Director, Gibbons endowed $1 million to Seton Hall Law to establish the Gibbons Institute of Law, Science & Technology, to provide funding to assist the law school in educating and training the next generation of attorneys in the technology and scientific communities. Seton Hall Law recognized Mr. Dunican with its 2011 distinguished alumnus award and its 2015 Saint Thomas More Medal.
In addition, Mr. Dunican is a Trustee of the Independent College Fund of New Jersey (ICFNJ), a nonprofit initiative of corporate and academic leaders established to help its 14 member institutions – independent colleges and universities throughout the state – find corporate and philanthropic partners to secure critical financial support and fulfill their mission to educate all qualified students. As a Trustee, Mr. Dunican helps ensure that the Fund cultivates productive relationships and makes appropriate strategic investments in programs, scholarships, and education that focus on quality, access, and affordability while also promoting the broader benefits and contributions of its members.
Mr. Dunican is a nationally recognized legal industry leader. He has been named by Law360 as one of the nation's most innovative law firm managing partners; New Jersey Law Journal as one of the state's "Distinguished Leaders" in the legal industry; Essex County Bar Association and New Jersey Commission on Professionalism in the Law as their selection for the 2017 "Professional Lawyer of the Year Award"; NJBIZ, for its "Power 100" list of the most powerful people in New Jersey business, for 10 consecutive years; and, for three straight years, ROI-NJ, for its "Influencers Power List." Under his leadership, Gibbons has become a major force in the Mid-Atlantic legal market, listed among the Am Law 200, National Law Journal's inaugural "Midsize Hot List," and Law360's "New Jersey Regional Powerhouses." His focus on marketing and branding initiatives earned Gibbons a place as the only law firm featured in Steve Adubato's book, You Are the Brand. A litigation attorney, Mr. Dunican is listed in both the New Jersey and New York editions of Super Lawyers for business litigation and in Best Lawyers® for commercial litigation. He is a Fellow of the American Bar Foundation and was named to "40 Under 40" lists in both NJBIZ and New Jersey Law Journal.
ABOUT IONA
Founded in 1940, Iona College is a master's-granting private, Catholic, coeducational institution of learning in the tradition of the Edmund Rice Christian Brothers. Iona's 45-acre campus is just 20 miles north of Midtown Manhattan. With a total enrollment of nearly 4,000 students and an alumni base of over 50,000 around the world, Iona is a diverse community of learners and scholars dedicated to academic excellence and the values of justice, peace and service. Iona is highly accredited, offering undergraduate degrees in liberal arts, science, and business administration, as well as Master of Arts, Master of Science and Master of Business Administration degrees and numerous advanced certificate programs. Iona's LaPenta School of Business is accredited by AACSB International, a prestigious recognition awarded to just five percent of business schools worldwide. The Princeton Review recognized Iona's on-campus MBA program as a "Best Business School for 2020." Iona College also recently launched a new, fully online MBA program for even greater flexibility.