Pursue Your Passions, Celebrate Your Achievements at 12th Annual Iona Scholars Day
Sign up to present at virtual event taking place April 22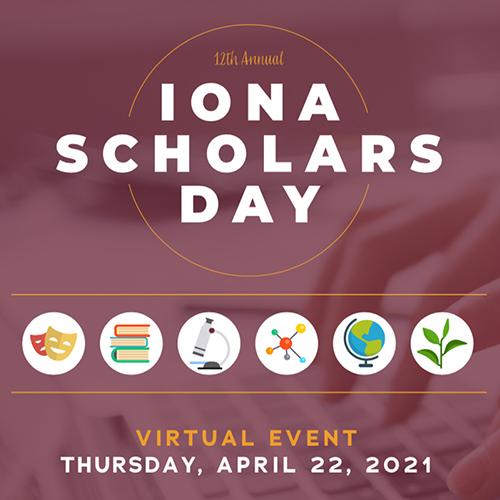 NEW ROCHELLE, N.Y. – Whether you're conducting groundbreaking research, delving into comparative literature or performing on a stage, Iona Scholars Day is the perfect opportunity to pursue your passions and share them with others who are eager to celebrate your interests.
Now in its 12th year, Iona Scholars Day brings together a showcase of student and faculty work, inviting presentations from all majors and class years. Typically, students showcase their work with poster presentations and other in-person events, but due to COVID-19, Iona Scholars Day has transformed into a virtual format.
Iona Scholars Day will take place April 22, 2021. To learn more, please visit Iona Scholars Day. The sign up form to present your work will be open through March 1, 2021.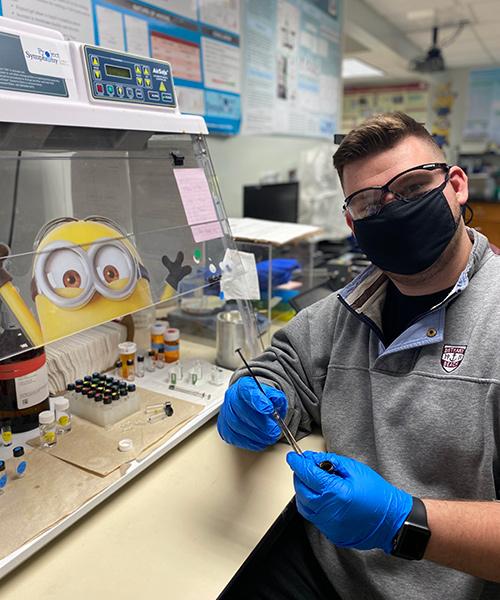 For Lynnie Chong '21 and AJ Liles '21, Iona Scholars Day has been an amazing opportunity to share their research. As biochemistry majors, Lynnie and AJ are immersed in their laboratory work. But Iona Scholars Day offers an opportunity to learn outside the lines and discover what their peers in other majors are doing, they said.
"It's amazing to be able to be outside of a classroom setting, but still learn so much about what's going on at Iona and in the world," Lynnie said. "It's just really incredible to be able to learn something from one of your peers, not just a professor."
Both Lynnie and AJ recorded videos to present their research last year, and they found benefits in transitioning to this format. Lynnie recorded the experiment she was observing through her microscope, which she included in her video so others could see what she observed in the lab. She said this helped to explain her research while also making it more engaging for those watching. AJ's research analyzes a sequence, so he didn't record a video in the same way. However, he said a major benefit of the virtual format was the ability for it to be accessible to all students and faculty.
"Even for students who may not be presenting scientific data like we are, it's still an amazing opportunity to hone our public speaking skills and gain a new experience," AJ said.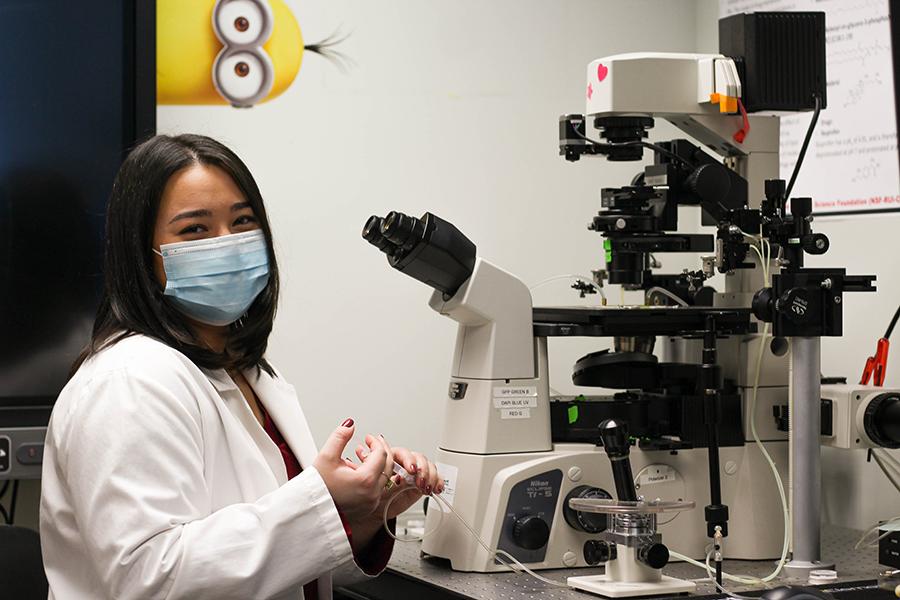 Iona Scholars Day is just one part of the Iona Month of Excellence in Scholarly & Creative Activities. Featuring performances, lectures, presentations, alumni talks and much more, the exhibition celebrates achievements and speakers from across a variety of disciplines. Featured guest speakers are scheduled to talk about "Secrets and Hints to Help You Succeed," "Turning Your Great Idea into Reality," "Successful Transformations to the Workplace" and much more. See the schedule of events here.
While participating in Iona Scholars Day may seem overwhelming for students who have never presented their work before, Lynnie urges her peers to take advantage of this unique opportunity.
"My high school principal said to make sure you do every single thing that you want to get done in these four years, and don't look back your senior year thinking 'wow, I really wish I did this one thing,'" Lynnie said. "I took that with me through college."
Need even more inspiration? Watch last year's presentations. Again, the presenter sign up form will be open through March 1, 2021, so visit Iona Scholars Day today for additional details. More information will be shared with participants upon signing up to present.
ABOUT IONA
Founded in 1940, Iona College is a master's-granting private, Catholic, coeducational institution of learning in the tradition of the Edmund Rice Christian Brothers. Iona's 45-acre campus is just 20 miles north of Midtown Manhattan. With a total enrollment of nearly 4,000 students and an alumni base of over 50,000 around the world, Iona is a diverse community of learners and scholars dedicated to academic excellence and the values of justice, peace and service. Iona is highly accredited, offering undergraduate degrees in liberal arts, science, and business administration, as well as Master of Arts, Master of Science and Master of Business Administration degrees and numerous advanced certificate programs. Iona's LaPenta School of Business is accredited by AACSB International, a prestigious recognition awarded to just five percent of business schools worldwide. The Princeton Review recognized Iona's on-campus MBA program as a "Best Business School for 2020." Iona College also recently launched a new, fully online MBA program for even greater flexibility.