Saving Beauty: The Contemporary Icons of Threatened and Endangered Species of Angela Manno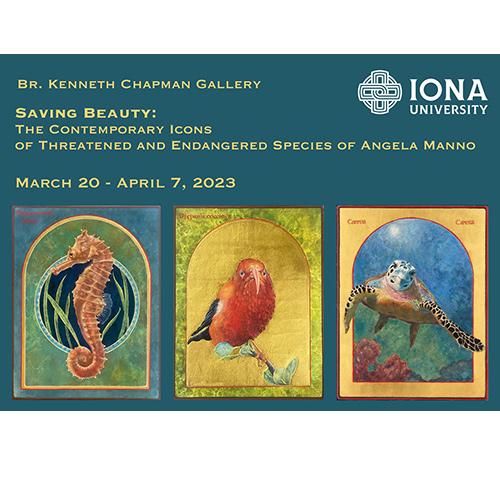 NEW ROCHELLE, N.Y. - Saving Beauty: The Contemporary Icons of Threatened and Endangered Species of Angela Manno is the latest exhibit in the Br. Kenneth Chapman Gallery and will run from March 20 - April 7. This exhibit will feature works of non-human species depicted in a traditionally religious form - the icon. This series of Contemporary Icons of Threatened and Endangered Species focuses on the holocaust of Nature we are witnessing, in particular species extinction, at a rate of 10,000-100,000 per year - one thousand times the natural rate. Based on these statistics, biologist E.O. Wilson estimates that if current trends continue, half of Earth's animal and plant species will be extinct by the end of this century.
It is clear that the Western mind is divorced from Nature, the primary condition that has led to the current ecological catastrophe. The artist feels that the only way back - indeed our own survival - depends on nothing less than a re-enchantment with the Earth as a living reality.
In creating these works she seeks to elevate non-human species to their rightful and equal place in the community of being. In the words of Thomas Aquinas:
Because the divine could not image itself forth in any one being, it created the great diversity of things so that what was lacking in one would be supplied by the others and the whole universe together would participate in and manifest the divine more than any single being.
These works merge art, scientific understanding and religious sensibilities for the purpose of fostering a more integral, diverse and beautiful world.
50% of the proceeds from the sale of these originals benefit the Center for Biological Diversity, an organization devoted to protecting species great and small hovering on the brink of extinction.
Learn More about this Exhibit & Special Events
About Angela Manno
Award-winning artist Angela Manno is a graduate of Bard College. She studied art at the San Francisco Art Institute, Parsons School of Design and l'Ecole des Arts in Lacoste, France. She trained with master iconographer, Vladislav Andrejev in the ancient liturgical art of Byzantine-Russian iconography.
A three-time grant recipient from the Xerox Corporation, Manno's art has been featured in numerous solo and group exhibitions including the National Museum of Women in the Arts in Washington, D.C, the Smithsonian Institution, the American Museum of Natural History in New York City, and other museums around the world. Her works reside in many private collections throughout the Americas, the Middle East, Europe and Southeast Asia and in distinguished public collections including NASA and the Smithsonian Institution's National Air & Space Museum
In May, 2022, Manno was commissioned by the Ecology Task Force of the Vatican Dicastery on Integral Human Development to create an audio-visual program to open Laudato Si' Week 2022, the seven-year anniversary of Pope Francis' groundbreaking encyclical. The program, Responding to the Cry of the Earth featured images from her series Contemporary Icons of Endangered Species and appeared on computer screens around the world as part of the global event, No More Biodiversity Collapse: Rebalancing Social Systems with Nature.
Manno's artwork has been noted in numerous publications, including The National Catholic Reporter, The Progressive, Sojourners, ART News, Treehugger, Smithsonian Magazine, Kosmos, Newsday and a nine-page spread in The Artful Mind, the premier art magazine of the Berkshires. Her art is also featured in two coffee table books, Visions of Space and In the Stream of Stars: The Soviet American Space Art Book and on the cover of Doors of Understanding: Conversations in Global Spirituality in Honor of Ewert Cousins.
ABOUT IONA
Founded in 1940, Iona University is a master's-granting private, Catholic, coeducational institution of learning in the tradition of the Edmund Rice Christian Brothers. Iona's 45-acre New Rochelle campus and 28-acre Bronxville campus are just 20 miles north of Midtown Manhattan. With a total enrollment of nearly 4,000 students and an alumni base of over 50,000 around the world, Iona is a diverse community of learners and scholars dedicated to academic excellence and the values of justice, peace and service. Iona is highly accredited, offering undergraduate degrees in liberal arts, science, and business administration, as well as Master of Arts, Master of Science and Master of Business Administration degrees and numerous advanced certificate programs. Iona's LaPenta School of Business is accredited by AACSB International, a prestigious recognition awarded to just five percent of business schools worldwide. The Princeton Review recognized Iona's on-campus MBA program as a "Best Business School for 2023." Iona University also recently launched a new, fully online MBA program for even greater flexibility. In July 2021, Iona University and NewYork-Presbyterian announced the establishment of the NewYork-Presbyterian Iona School of Health Sciences, to be principally located on the University's new campus in Bronxville, N.Y. Supported by a $20 million gift from NewYork-Presbyterian, the NewYork-Presbyterian Iona School of Health Sciences offers a new vision for collaborative health care education, modern workforce development, and community care. On July 1, 2022, Iona officially changed its status from College to University, reflecting the growth of its academic programs and the prestige of an Iona education.