Family of Founding President Visits Iona College
Family members of Br. William Barnabas Cornelia, the College's founding president, recently visited Iona for a tour of the campus their ancestor helped shape.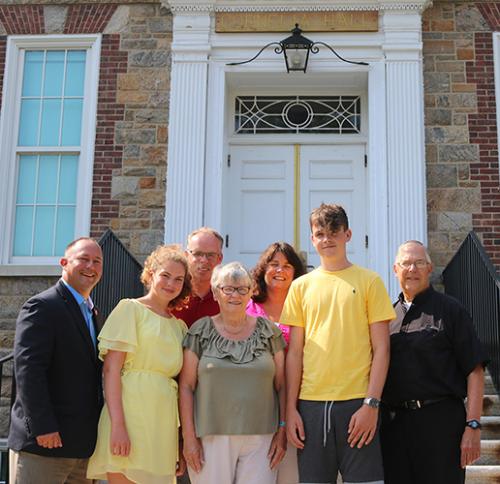 NEW ROCHELLE, N.Y. - Family members of Br. William Barnabas Cornelia, the College's founding president, recently visited Iona for a tour of the campus their ancestor helped shape.
Florence (née Cornelia) and Blanaid Gavin (Br. Cornelia's grandniece and great-grandniece) along with Blanaid's husband Tom Feeney and their children Euan and Freya (Cornelia's great-great-grandniece and nephew) toured campus with Br. Robert Novak, Ph.D., professor emeritus of physics, and currently a member of Advancement & External Affairs, on July 16.
Brother William Barnabas Cornelia came to Iona in 1940 when the Christian Brothers decided to act on their longstanding wish to establish a men's college in New York. As the first president, he lined up courses, hired faculty and recruited students. Iona College opened on September 19, 1940, with 83 students. Br. Cornelia (1885-1955), a Dublin native and professor of Romance and Classical Languages, convened the new students and faculty, challenging them to strive to high ideals both in their commitments to secular learning and to virtuous living.
A man of many talents, Br. Cornelia held a master's degree in chemistry from the National University in Ireland and a doctorate in Romance languages from Columbia University. At St. Mary's College, Nova Scotia, he started an engineering department and later became president. Besides his diverse academic interests and his love of sports, Br. Cornelia was known for his student-centered approach to education.
Former student, Christopher Grant, once queried, "What did he possess that others lacked? He was gifted but so were others. He was thorough but so were others. He was fair and just but others were also. To me the answer seems to be that he cared. He cared, and he cared tremendously about us and our problems. And, because he cared, we went to him. He did not seek us out; we went to him because we always had the feeling that he understood and that he cared."
Brother Cornelia's family, visiting from Ireland, toured the grounds and buildings of Iona, including Cornelia Hall, which was named for Iona's first president. Built in 1940 as a science building for Iona Prep, it was seized in a friendly take-over by the brand-new College – making it the first Iona College building.
Br. Cornelia retired as president of Iona College in 1946, and in 1947, he returned to teach. He died in 1955. In later years, the College created the Brother William B. Cornelia Founders Award for Outstanding Service to Iona in his honor.
Before visiting the Iona campus, Br. Cornelia's relatives visited his grave at the Christian Brothers Cemetery in West Park, N.Y.
Florence Gavin and her family found the visit gratifying. They had heard so much about their uncle and the important work he did at Iona, and they were pleased to see how much the campus had grown, how successful the College had become, and how significantly Iona impacts the lives of its students.
ABOUT IONA
Founded in 1940, Iona College is a master's-granting private, Catholic, coeducational institution of learning in the tradition of the Edmund Rice Christian Brothers. Iona's 45-acre campus is just 20 miles north of Midtown Manhattan. With a total enrollment of nearly 4,000 students and an alumni base of over 50,000 around the world, Iona is a diverse community of learners and scholars dedicated to academic excellence and the values of justice, peace and service. Iona is highly accredited, offering undergraduate degrees in liberal arts, science, and business administration, as well as Master of Arts, Master of Science and Master of Business Administration degrees and numerous advanced certificate programs. Iona's LaPenta School of Business is accredited by AACSB International, a prestigious recognition awarded to just five percent of business schools worldwide. The Princeton Review recognized Iona's on-campus MBA program as a "Best Business School for 2020." Iona College also recently launched a new, fully online MBA program for even greater flexibility.