Historic Day in New York as Iona College Becomes Iona University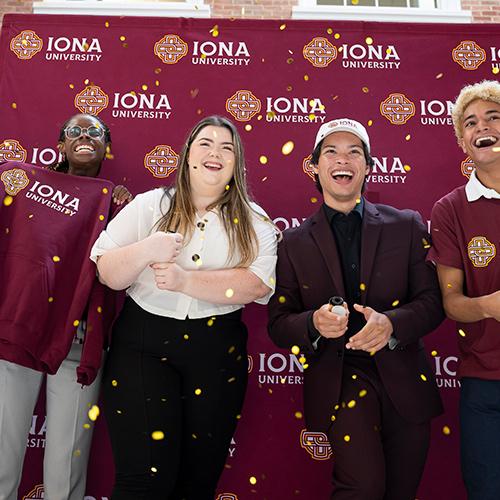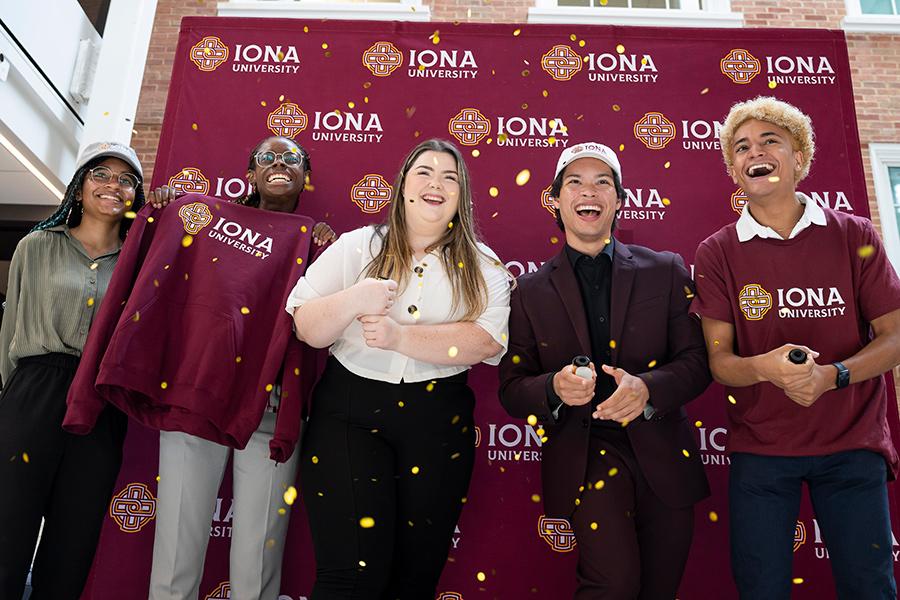 New Rochelle, N.Y. – It was a historic day as one of New York's most influential colleges announced it had officially become Iona University. Founded in 1940 with more than 50,000 alumni around the world, Iona University celebrated the news with an unveiling on its New Rochelle campus.
In making the announcement, Iona University President Seamus Carey, Ph.D., said the change not only reflected the quality and prestige of an Iona education, but also that it will support the institution's continued growth as it attracts top talent from across the globe. He was joined at the official reveal by students, faculty, staff, alumni and members of the Board of Trustees, as well as local community partners.
"While this change reflects the growth, structure and direction of Iona, it also carries forward the legacy we have inherited," Carey said. "Our name is different, but our mission and values are the same."
Founded by the Christian Brothers and inspired by the legacy of Blessed Edmund Rice and St. Columba, Iona's success comes despite the headwinds facing many others in higher education.
In March 2020, Iona was on the front lines when COVID-19 hit New Rochelle – the epicenter of the pandemic. Hailed as the "first to close, first to reopen," Iona nevertheless pushed ahead on its path of innovation under Carey's leadership. Today, Iona University has emerged as an anomaly in higher education.
Not only has freshman enrollment spiked 35 percent in three years, but Iona has even acquired a second campus in nearby Bronxville, N.Y., to help expand its programming both inside and outside of the classroom.
Most notably, Iona launched a premier new school of health sciences to develop the next generation of health care professionals in collaboration with NewYork-Presbyterian. Supported by a $20 million gift, the NewYork-Presbyterian Iona School of Health Sciences will open its new state-of-the-art facilities in Bronxville this January. Meanwhile, Iona continues to add new academic programs across the LaPenta School of Business and the School of Arts & Science, in addition to expanding club sports, performing arts and other activities that empower students to "Learn Outside the Lines" of the classroom.
"Just as St. Columba, Blessed Edmund Rice and the Christian Brothers looked beyond their own interests to address the pressing needs of their times, we understand that our mission has never been more important," Carey said. "Class by class, year by year, we help students realize why it is in their best interest to choose a life of responsible citizenship driven by care and compassion over narrow self-interest. To the extent that we are effective, we not only fulfill our duty as teachers and administrators, but we also meet our social responsibility of contributing to an educated citizenry. These are the values that will continue to be the lifeblood of Iona University in the future."
With a total enrollment of nearly 4,000 students, Iona is highly accredited, offering a diverse range of undergraduate and graduate degree programs. The change to Iona University was effective as of July 1, 2022.
Reflecting on his college journey through a pandemic, Aidan Connolly '23, president of the Student Government Association, said: "While other college communities were shaken to the core with campuses either closing for extended periods of time or in the worst cases, indefinitely, Iona beat all odds… I am more excited than ever to be a Gael. I can attest that being a student at Iona feels like home. Our tightknit community and our commitment to fighting the good fight while learning outside the lines has allowed the campus to blossom. As a representative of the student body, I am confident in saying that the institution and community is prepared, excited and ready to become Iona University!"
Michael Hegarty '66, Iona University Board of Trustees chair, said: "There is an exciting, palpable momentum at Iona. Becoming a University is the culmination of the excellent work of the faculty and leadership, as well as the launch into the next era of Iona continuing to serve as a premier institute of higher learning where students enjoy an unparalleled academic and extracurricular experience. Congratulations to all Iona Gaels on this proud day."
Bro. Kevin Griffith, CFC '83, Edmund Rice Christian Brothers North America, Province Leader, and Iona University Trustee said: "When the Christian Brothers founded Iona College in 1940, it was hoped that Iona would become a leader in providing a quality faith-based education in the New York-metropolitan area. Today's announcement of Iona College becoming Iona University is a great tribute to all those who have called Iona home during these past 82 years. Congratulations to Iona's President, Dr. Seamus Carey, and his administrative team for their steadfast leadership in helping Iona receive this prestigious university status."
Dr. Steven J. Corwin, president and CEO of NewYork-Presbyterian, said: "We are thrilled to congratulate Iona University on this momentous occasion in their history. NewYork-Presbyterian is proud to collaborate with Iona to shape the next generation of outstanding health care professionals who will help us lead the way in serving our patients and communities."
George Latimer, Westchester County Executive, said: "Iona has a long and proud history of graduating curious, eager and caring students who contribute a great deal to our communities – including our own Deputy County Executive Ken Jenkins. Congratulations to all as Iona University embarks on a new journey while still fulfilling the principles established upon its founding."
Noam Bramson, New Rochelle Mayor, said: "Congratulations to the entire Iona community of students, parents, faculty, staff and alumni on this exciting new chapter. Iona has been an integral part of the fabric of New Rochelle for over 80 years. In many ways, the City and Iona have grown together. So your pride is shared by many here, and we wish you continued success on the path ahead."
Mary Marvin, Bronxville Mayor, said: "What an exciting time for Bronxville to welcome Iona to our community. Fueled by the power and promise of education, we look forward to building on our partnership and ushering in the next chapter with the NewYork-Presbyterian Iona School of Health Sciences."
Marsha Gordon, The Business Council of Westchester president and CEO, said: "Congratulations to Iona University on this exciting milestone. Higher education is a vital industry in New York, and the BCW is proud to partner with Iona on a number of important initiatives. Now more than ever, the intellectual capital, skilled workforce, leadership and future businesses created by the next generation of innovators and entrepreneurs is absolutely critical. I know the best is still yet to come for Iona University!"  
ABOUT IONA
Founded in 1940, Iona University is a master's-granting private, Catholic, coeducational institution of learning in the tradition of the Edmund Rice Christian Brothers. Iona's 45-acre New Rochelle campus and 28-acre Bronxville campus are just 20 miles north of Midtown Manhattan. With a total enrollment of nearly 4,000 students and an alumni base of over 50,000 around the world, Iona is a diverse community of learners and scholars dedicated to academic excellence and the values of justice, peace and service. Iona is highly accredited, offering undergraduate degrees in liberal arts, science, and business administration, as well as Master of Arts, Master of Science and Master of Business Administration degrees and numerous advanced certificate programs. Iona's LaPenta School of Business is accredited by AACSB International, a prestigious recognition awarded to just five percent of business schools worldwide. The Princeton Review recognized Iona's on-campus MBA program as a "Best Business School for 2023." Iona University also recently launched a new, fully online MBA program for even greater flexibility. In July 2021, Iona University and NewYork-Presbyterian announced the establishment of the NewYork-Presbyterian Iona School of Health Sciences, to be principally located on the University's new campus in Bronxville, N.Y. Supported by a $20 million gift from NewYork-Presbyterian, the NewYork-Presbyterian Iona School of Health Sciences offers a new vision for collaborative health care education, modern workforce development, and community care. On July 1, 2022, Iona officially changed its status from College to University, reflecting the growth of its academic programs and the prestige of an Iona education.