How an Iona Mission Trip to Jamaica Changed Lives Forever
Iona in Mission Gives Iona University Students an Opportunity to Provide Care, Comfort and Companionship to Children and Adults with Disabilities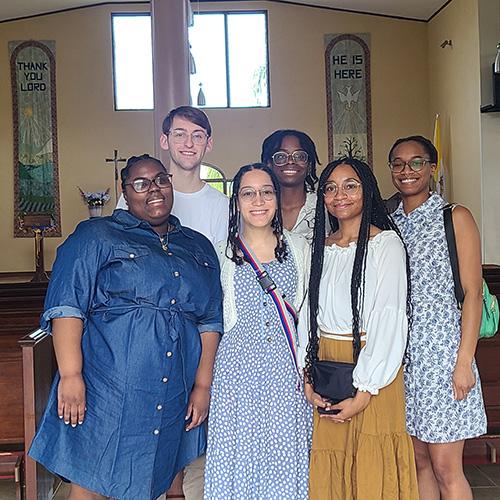 New Rochelle, N.Y. – Motivated by a mission to serve, Iona University students traveled to Jamaica over winter break and returned forever transformed by the experiences they shared with residents of Jacob's Ladder, which provides residential care for some of the most vulnerable populations of society.
Assisting with everything from cooking meals, doing laundry, painting facilities and spending quality time singing, dancing and engaging with the residents, Iona students said they cannot wait to return next year.
"As a Jamaican, I took great pride and joy in helping my people," said Toni Fullerton '24. "This mission trip has changed my life for the better. I have learned how to focus on what I can do for others instead of what they can do for me. With that in mind, I will continue to shed light on the work of Mustard Seed Communities, as well as help raise funds for their mission."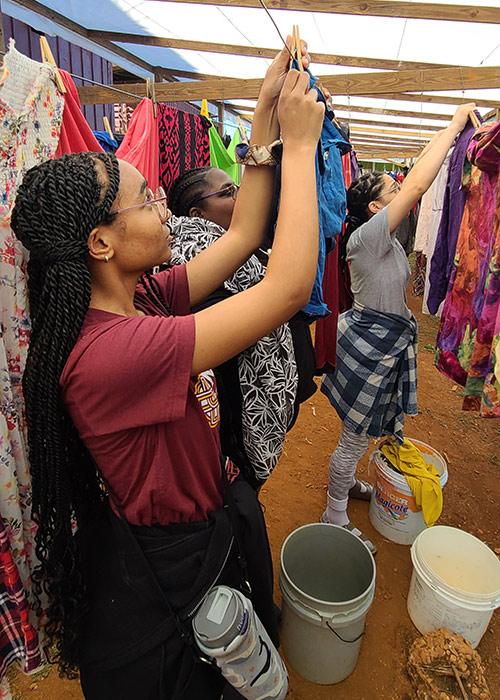 Jacob's Ladder is part of Mustard Seed Communities, a nonprofit organization that began in 1978 as a home for children with disabilities on the outskirts of Kingston, Jamaica. It has since expanded to Nicaragua, Dominican Republic, Zimbabwe and Malawi, serving over 600 residents worldwide.
Most programs are dedicated to the residential care of children and adults with a range of developmental and physical disabilities, as well as children affected by HIV. In Jamaica, the organization also manages a home for young mothers in crisis so that they have a place to transition safely into motherhood.
Reflecting on the experience, Alesandra Payne '24 said at first, she worried she wouldn't be able to help the residents or that they would see her as a stranger and be uncomfortable with her presence in their home. Yet those fears were quickly assuaged by the warm and vibrant energy of the residents, she said.
"Everyone we met at Jacob's Ladder was very welcoming and excited to interact with us. We were told that we were one of the first groups to visit in the past two years due to the pandemic, and since most of the residents never leave the village, they were eager to see new faces again," Payne said. "Every day we were greeted with smiles and hugs as residents invited us to play kickball with them or to simply sit together and hold hands. These interactions made a lasting impact on me and I will never forget the people I met there. This mission trip taught me what it truly means to serve and I look forward going back next year."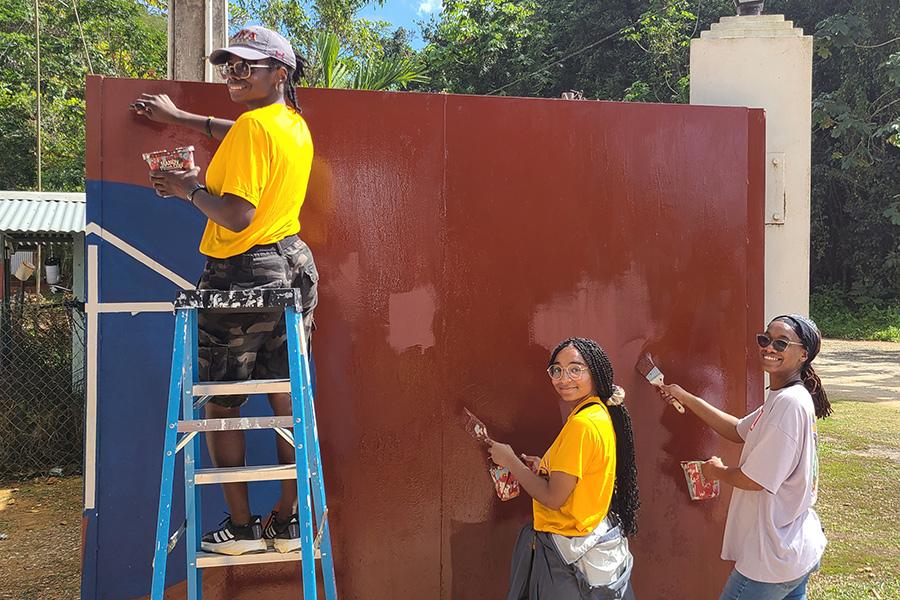 Will Quincy '26 added: "My time in Jamaica taught me how to embrace people who cannot communicate the same as you and I. While in Jamaica, I made so many great memories and friends. I would definitely take any chance to experience this again. These times with the community at Mustard Seed changed my life forever."
Eager to return, Iona students are already fundraising to help support their trip. To donate, please visit www.ionaconnection.com/give and select "Campus Ministry" in the drop-down menu labeled "Designation" and write "IIM Jamaica" in the comments field. This is important to make sure the donation goes to support the trip.
Organized through the Office of Mission & Ministry, the trip was a prime example of what it means to Learn Outside the Lines of the classroom in service to others, which is a core tenet of the Iona experience.
With a variety of service opportunities available both domestically and around the world, Iona in Mission trips offer short-term immersion experiences to students, faculty, staff and alumni. Through mission trips, participants engage in service with the poor and marginalized while being immersed in different cultures. Upon returning to Iona, participants share their experiences and the social reality of the host communities to foster action and deepen relationships of solidarity. All is done, meanwhile, through a lens of integrating mind, body and spirit through service and reflection, following in the footsteps of Blessed Edmund Rice.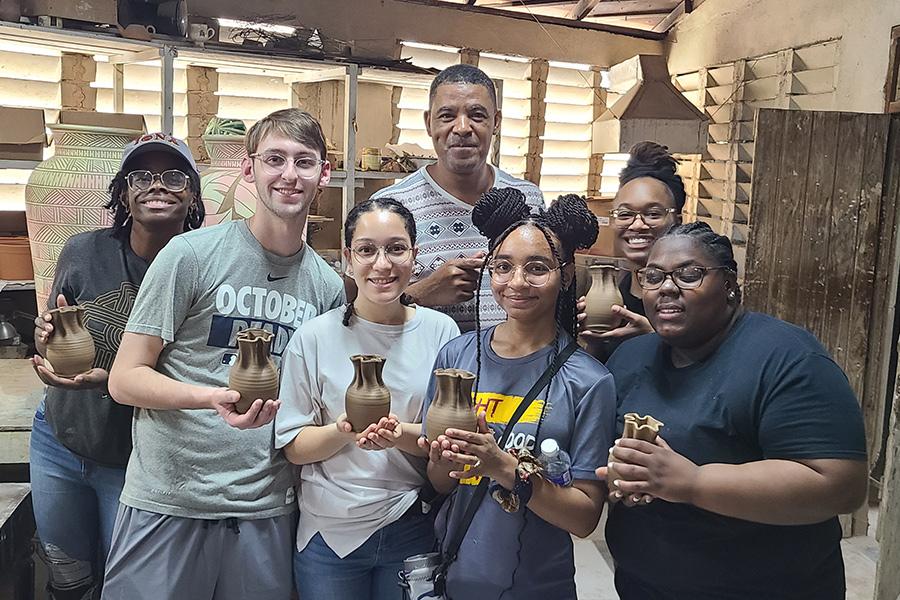 Laura Fairchild, mission trip moderator and associate director of Mission & Ministry, said the immersion in Jamaica was a powerful experience. It was the first time Iona visited this particular community and she described it as a reciprocal experience, where the Iona team learned from the residents as well as served alongside them.
"The staff at Jacob's Ladder embodied their mission to empower residents and ensure they have dignified lives. As volunteers, they graciously showed us how to share in the beauty, dignity and joy of residents' lives," Fairchild said. "This was a learning experience that allowed us to begin to understand how to protect human dignity and how to take seriously the gifts and contributions people with disabilities have to share. And, most importantly, how we can be active allies by acknowledging, celebrating and making room for those gifts. As the staff moderator, I took great pride in witnessing my students' worlds and hearts open up."
Shakinah Silverberg '24, who served as team leader for the trip, said going to Jamaica was something she's wanted to do her entire life.
"I grew up surrounded by Jamaicans who would rave about the beauty of their home country. Now that I've gone, I finally understand the beauty of the landscape, people and culture," Silverberg said. "The friends that I've made will stay with me throughout my whole life in the way I interact with others going forward. I am so grateful to Iona and the Office of Mission & Ministry for allowing my teammates and I to have this opportunity to grow outside of the lines in a way that would never have been possible otherwise. My heart has never been fuller than while in Jamaica surrounded by acceptance and those with a genuine admiration of life."
Dnasia Anglin '26 added: "Being in Jamaica gave me new opportunities and opened my eyes to see how other people live. It made me realize that I take certain privileges in my life for granted and that I need to appreciate the little things more. While at Jacob's Ladder, I wanted to do anything to make the residents as happy as possible. I enjoyed singing and dancing with them and just sitting and having conversations with them about how they were doing. I loved the mission trip and I would definitely enjoy going back again."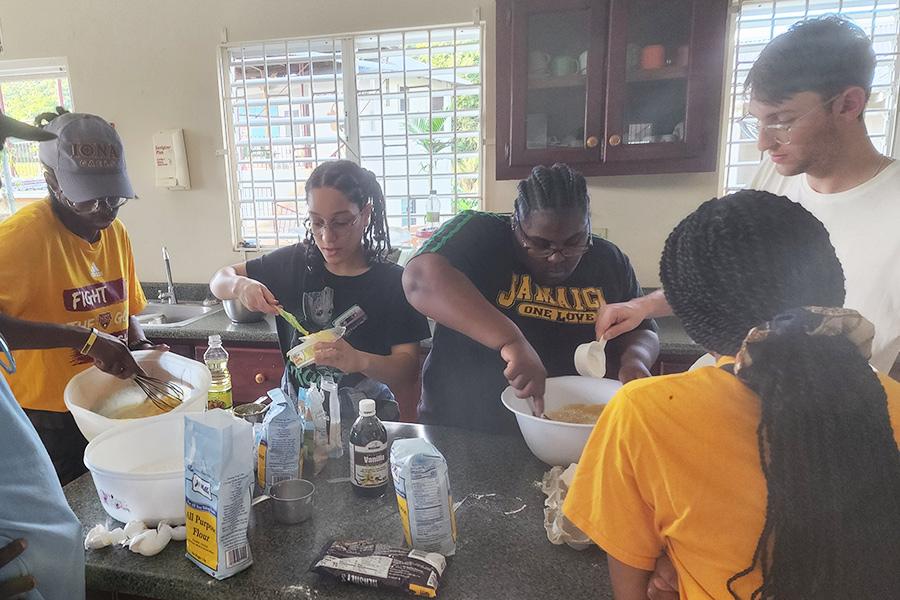 ABOUT IONA
Founded in 1940, Iona University is a master's-granting private, Catholic, coeducational institution of learning in the tradition of the Edmund Rice Christian Brothers. Iona's 45-acre New Rochelle campus and 28-acre Bronxville campus are just 20 miles north of Midtown Manhattan. With a total enrollment of nearly 4,000 students and an alumni base of over 50,000 around the world, Iona is a diverse community of learners and scholars dedicated to academic excellence and the values of justice, peace and service. Iona is highly accredited, offering undergraduate degrees in liberal arts, science, and business administration, as well as Master of Arts, Master of Science and Master of Business Administration degrees and numerous advanced certificate programs. Iona's LaPenta School of Business is accredited by AACSB International, a prestigious recognition awarded to just five percent of business schools worldwide. The Princeton Review recognized Iona's on-campus MBA program as a "Best Business School for 2023." Iona University also recently launched a new, fully online MBA program for even greater flexibility. In July 2021, Iona University and NewYork-Presbyterian announced the establishment of the NewYork-Presbyterian Iona School of Health Sciences, to be principally located on the University's new campus in Bronxville, N.Y. Supported by a $20 million gift from NewYork-Presbyterian, the NewYork-Presbyterian Iona School of Health Sciences offers a new vision for collaborative health care education, modern workforce development, and community care. On July 1, 2022, Iona officially changed its status from College to University, reflecting the growth of its academic programs and the prestige of an Iona education.