Iona College Celebrates $154 Million Iona Forever Fundraising Campaign
"True to our past, committed to our future"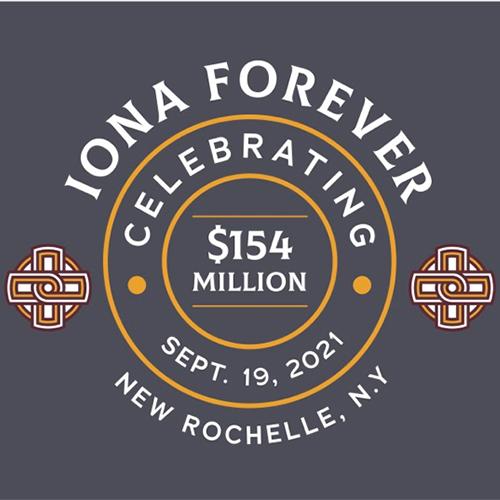 NEW ROCHELLE, N.Y. — Iona College is proud to announce the successful completion of its $150 million fundraising campaign, which paved the way for transformational changes across campus and directly supported student scholarships, faculty enrichment and innovative new programs.
Launched in 2015, the Iona Forever campaign promised to:
support accessibility and affordability through scholarships;
attract, develop and advance a faculty that would provide a world-class academic experience;
enhance support for academic centers and institutes; and
responsibly develop campus infrastructure to provide the best learning and living environments.
On September 19, 2021 – Iona's 81st birthday – the College celebrated the fulfillment of those promises and the conclusion of the most successful campaign in Iona's history.
"For decades, Iona has carried forward the educational vision of Blessed Edmund Rice, preparing students to become leaders in their communities and in their professions," said President Seamus Carey, Ph.D. "The work we do would not be possible without the generosity and steadfast support of our incredible alumni, friends and family."
"As Br. Rice understood, education is the most powerful means of personal liberation, especially for first-generation students," Carey continued. "These gifts made to Iona not only impact the lives of students; they impact families for generations to come."
The Iona story began with one person, Blessed Edmund Rice, whose faith, generosity and vision gave rise to a network of academic institutions and an educational philosophy that extends beyond the classroom to enrich every facet of a student's life. In 1940, Iona College opened its doors with a mission to open new paths to economic and social advancement for the next generation of New York's working class – a mission that continues to present day.
Paul J. Sutera, senior vice president for Advancement & External Affairs, offered his gratitude to the more than 15,000 individuals, corporate and foundation partners who contributed to the campaign.
"Looking at the impact Iona Forever has had on our students, faculty and campus is both exciting and humbling," he said. "From student scholarships, faculty enrichment and cutting-edge degrees to new buildings, modern infrastructure and engaging student programs, the impact of the Iona Forever campaign can be seen and felt all across campus thanks in large part to our 50,000-person alumni network."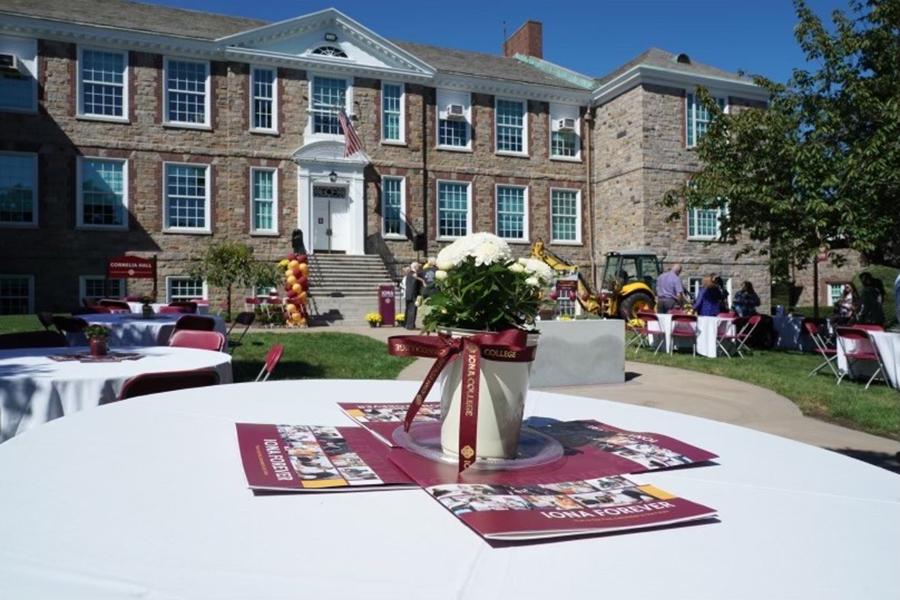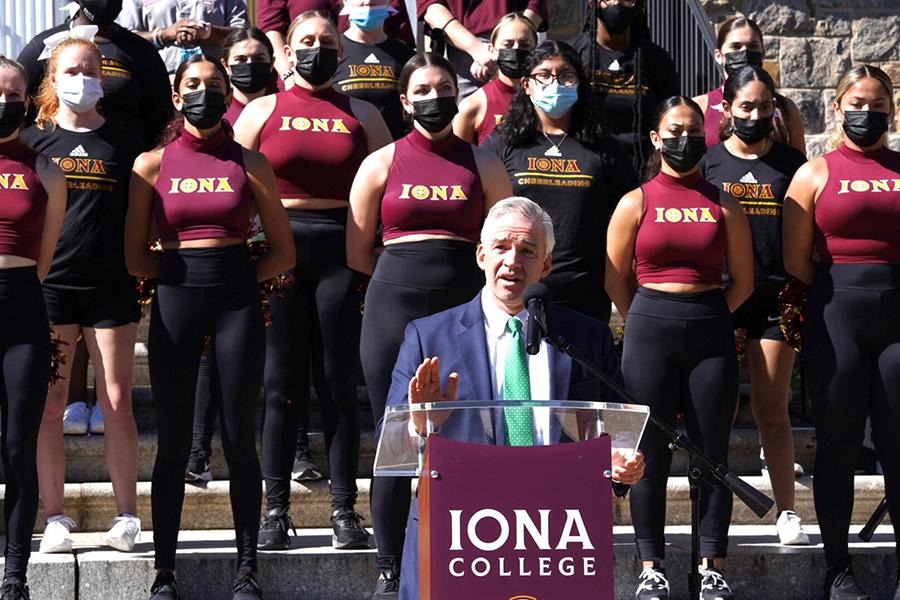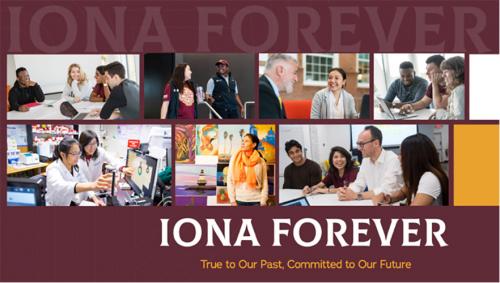 TRANSFORMATIONAL OPPORTUNITIES
Kevin Anzurez '19 is just one of countless students whose lives have been transformed by the Iona Forever campaign. For Kevin, attending college seemed like an unattainable dream.  As a high school student, he didn't even consider applying as he knew it was financially impossible for his hardworking parents who had emigrated from Mexico. Ready to give up, he was planning to work with his father in construction or join the military. "Then, an Iona alumna visited my high school and encouraged me to apply, saying there might be scholarships available. For the first time, I felt a spark of hope that I could attend college."
Through the assistance of an endowed scholarship, Kevin began his Iona journey. He took leadership roles in the Hispanic Organization for Latin Awareness and the Computer Science Club, among other positions. Kevin graduated from the LaPenta School of Business with a degree in information systems in 2019 and quickly launched his career as a financial services representative and credit union teller.
"I am extremely grateful to all the donors who made my scholarship possible. I am very proud to be the first in my family, and extended family, to earn a college degree. It is with great pride that I plan to provide my family with a more prosperous life."
Meanwhile, for Tiara Griffith '20, the Hynes Institute for Entrepreneurship & Innovation was the first stop along her journey to landing a dream job at Facebook. Made possible by the historic efforts of the Iona Forever campaign, the Hynes Institute enabled Tiara to serve as founding president of the Entrepreneurship Club, participate in the Iona Innovation Challenge and even study abroad at the European Innovation Academy in Turin, Italy. She was also one of two students selected to be on the search committee to assist with finding the Hynes Institute's founding director. "The Hynes Institute quickly became a second home to me, and as a commuter student, I spent a lot of time there," she said.
The culmination of these experiences allowed dreams to become reality for Tiara when she accepted a full-time position at Facebook. She currently works as a rotational product manager, collaborating with a cross-functional team consisting of engineers, data scientists and product designers to ideate and develop new features for Facebook and its family of products. "I am so excited to be working at Facebook," she said. "The journey to this point was very long and challenging, but I am grateful to all of the people that helped me get to where I am today."
IMPACT BY THE NUMBERS:  
$154 million in total commitments. This does not include the recent $20M gift from the NewYork-Presbyterian partnership
$53 million endowment support for student scholarships, faculty and programs
$40 million in learning and living infrastructure projects
$34 million annual giving providing funding for financial aid, student clubs/programs and faculty enrichment
$27 million in foundation and government grants to support research and special projects
15,260 alumni, friends, parents, foundations and corporations contributed to the campaign
28 donors contributed gifts of $1 million or more
$2,105 average gift
280% increase in endowment ($52.5 million to $200 million)
45 new endowed scholarships providing access to opportunity for students
4 new endowed faculty positions
94 alumni and friends included Iona in their estate plans, sustaining Iona's mission for years to come.
IMPACT AROUND CAMPUS:
North Avenue Residence Hall (2016)
South Hall renamed Hales Hall (2017)
New Multimedia Digital Lab and Radio Booth (2017)
Cornelia Hall Lab renovations (2020)
Mazzella Field resurfaced (2017)
Hynes Institute for Entrepreneurship & Innovation (2019)
Hynes Institute Endowed Professor (2017)
Arrigoni Hall of Fame and Hynes Athletic Center renovations (2019)
LaPenta School of Business (2020)
Murphy Green (Spring 2022)
Occupational Therapy and Nursing Programs launched (2019, 2020)
Kathleen Deignan, CND Institute for Earth and Spirit established (2019)
JoAnn Mazzella Murphy '98H Arts Center (2021)
Gardiner Endowed Assistant Professor of History (2018)
Dolce Postdoctoral Psychology Fellowship (2017)
Board of Trustees Endowed Professor of Chemistry (2012)
Charles F. O'Donnell, Ph.D., '60 Endowed Lecture Series (2017)
Hank '58 & Peggy Vosswinkel Mission Endowment (2020)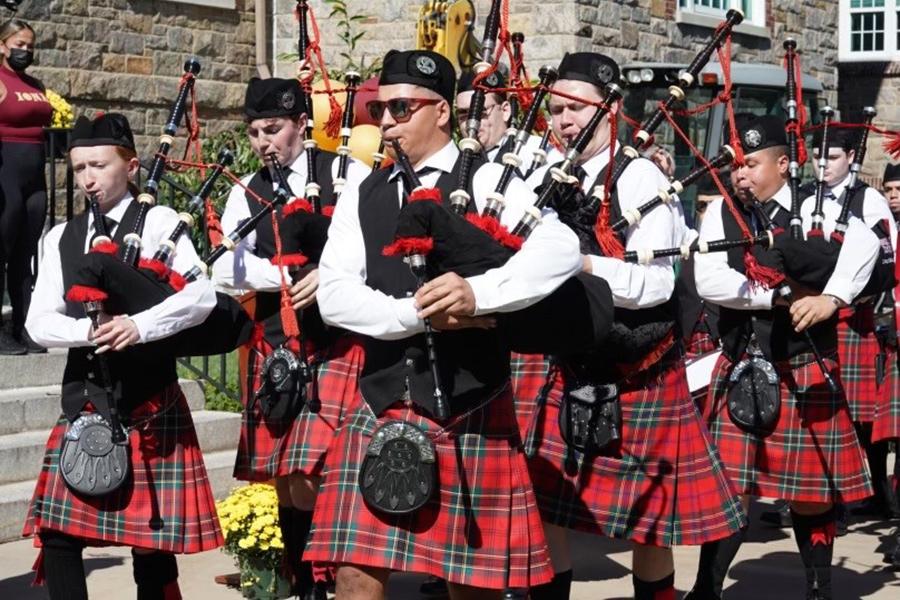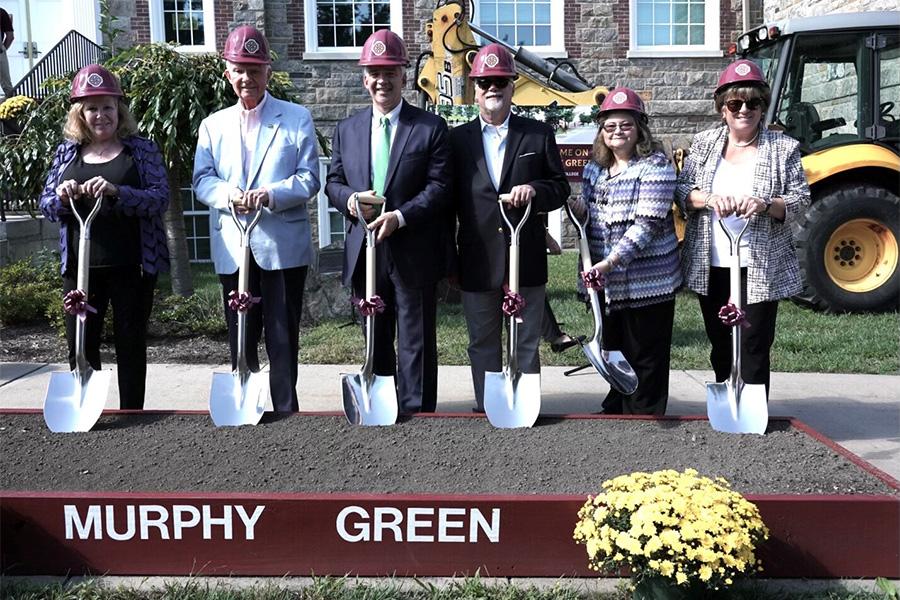 ABOUT IONA
Founded in 1940, Iona University is a master's-granting private, Catholic, coeducational institution of learning in the tradition of the Edmund Rice Christian Brothers. Iona's 45-acre New Rochelle campus and 28-acre Bronxville campus are just 20 miles north of Midtown Manhattan. With a total enrollment of nearly 4,000 students and an alumni base of over 50,000 around the world, Iona is a diverse community of learners and scholars dedicated to academic excellence and the values of justice, peace and service. Iona is highly accredited, offering undergraduate degrees in liberal arts, science, and business administration, as well as Master of Arts, Master of Science and Master of Business Administration degrees and numerous advanced certificate programs. Iona's LaPenta School of Business is accredited by AACSB International, a prestigious recognition awarded to just five percent of business schools worldwide. The Princeton Review recognized Iona's on-campus MBA program as a "Best Business School for 2021." Iona University also recently launched a new, fully online MBA program for even greater flexibility. In July 2021, Iona University and NewYork-Presbyterian announced the establishment of the NewYork-Presbyterian Iona School of Health Sciences, to be principally located on the University's new campus in Bronxville, N.Y. Supported by a $20 million gift from NewYork-Presbyterian, the NewYork-Presbyterian Iona School of Health Sciences offers a new vision for collaborative health care education, modern workforce development, and community care. On July 1, 2022, Iona officially changed its status from College to University, reflecting the growth of its academic programs and the prestige of an Iona education.