Iona College Institutes Rigorous Testing, Health Monitoring, and Safety Protocols to Welcome Students
Iona's 'Return to Campus Plan' Reflects Months of Planning Informed by New York State Health Guidelines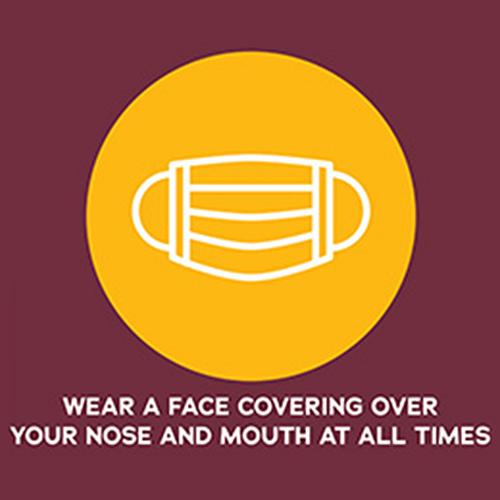 NEW ROCHELLE, N.Y. – As the COVID-19 pandemic quickly spread throughout Westchester County and New York State, Iona College was one of the first institutions of higher learning to take swift and decisive action to protect its students, faculty, and staff.
In March 2020, when the first cases were identified in New Rochelle, N.Y., Iona made the decision to accelerate its spring break to send its students home early, began ramping up for online learning for its spring semester, and formed a task force that met daily to stay abreast of the rapidly evolving healthcare crisis.
Now, as Iona College is one of the first to welcome its students back to campus for in-person learning, it has once again taken swift and decisive action—instituting a "Return to Campus" plan informed by New York State public health guidelines. The Return to Campus Plan is a comprehensive operational plan that details new safety policies, testing and monitoring procedures, student and staff supports and more to support a healthy and successful semester. In addition to circulating its Return to Campus Plan to its entire community, Iona hosted a series of webinars for current and prospective students and parents detailing what to expect this semester.
To date, actions taken by Iona College to support a safe return to on-campus learning include:
Classes began on August 10 online due to testing delays. In-person commenced on Monday, August 17.
Every member of the Iona community is required to be tested for COVID-19 within 14 days of returning to campus. Free testing is offered through Montefiore Hospital in New Rochelle.
Students were permitted to choose either in-person or remote learning for the semester.
Fall semester will end before Thanksgiving break to minimize student travel and exposure.
Traditional fall break has been canceled and classes will be held on Labor Day, Columbus Day, and Veterans Day.
All classrooms are outfitted to support students attending in-person or online: classroom seating is spaced for social distancing; professors will teach behind plexiglass shields; instruction will be live streamed for those learning online.
Occupancy in residence halls is a maximum of two students per room.
Elevators, restrooms, kitchens, lounges, and laundry areas will have reduced capacity.
Offices, waiting rooms, and highly trafficked spaces have been reconfigured.
Face masks are required at all times on campus.
Every student has been provided a PPE pack which includes two reusable face coverings, hand sanitizer, a reusable thermometer, face shield, lanyard, and reminders of hygiene protocols and instructions on what to do if students experience symptoms.
Students and employees are required to conduct a daily symptom check using the Gael Care app.
Anyone experiencing symptoms will not be allowed on campus.
Hand sanitizer stations are available inside campus buildings and at the Gael Express shuttle stop, with posted reminders to wash hands and/or sanitize regularly.
Restrooms, lobbies, lounges, lunchrooms, stairways and common areas are sanitized regularly throughout the day. An electrostatic sprayer will be used daily for disinfection in all common areas and bathrooms. Event spaces will be sanitized before each use.
Classrooms, common spaces and elevators will be sanitized each night. Disinfecting wipes will be provided in each classroom and students and faculty will be asked to wipe down their spaces before and after use.
Protocols have been established for continued testing, tracking, quarantining, and isolation.
Gaels Take Care of Gaels: By the Numbers
15,000 disposable masks were ordered; 2 cloth masks were distributed to each student.
1,000 Iona branded masks were made by the Facilities Team.
6,000+ health and safety signs are on display throughout campus, reminding all to wear masks, keep safely distanced from each other, frequently wash hands, and engage in other safe practices.  
4,000 "Welcome Back" kits were created for all students, including two masks, hand sanitizers, a face shield and a thermometer.
80 gallons of hand sanitizer are in stock.
275 additional hand sanitizer stations have been installed on campus.
Over 700 desks were removed from classrooms.
Over 2,500 floor decals were placed to indicate physical distances.
120 plastic shields were built for professors to teach behind.
5,000 face shields were distributed.
375 wipe dispensers were added and 400 surface-cleaner bottles were deployed on campus.
Over 100 student leaders have received training on effective ways to act as ambassadors for campus health and safety. 
ABOUT IONA
Founded in 1940, Iona College is a master's-granting private, Catholic, coeducational institution of learning in the tradition of the Edmund Rice Christian Brothers. Iona's 45-acre campus is just 20 miles north of Midtown Manhattan. With a total enrollment of nearly 4,000 students and an alumni base of over 50,000 around the world, Iona is a diverse community of learners and scholars dedicated to academic excellence and the values of justice, peace and service. Iona is highly accredited, offering undergraduate degrees in liberal arts, science, and business administration, as well as Master of Arts, Master of Science and Master of Business Administration degrees and numerous advanced certificate programs. Iona's LaPenta School of Business is accredited by AACSB International, a prestigious recognition awarded to just five percent of business schools worldwide. The Princeton Review recognized Iona's on-campus MBA program as a "Best Business School for 2020." Iona College also recently launched a new, fully online MBA program for even greater flexibility.