Iona College Students Help Local Business, Nonprofit Navigate COVID-19
Hynes Institute for Entrepreneurship & Innovation Empowers Students to Learn Outside the Lines of the Classroom in Service to Community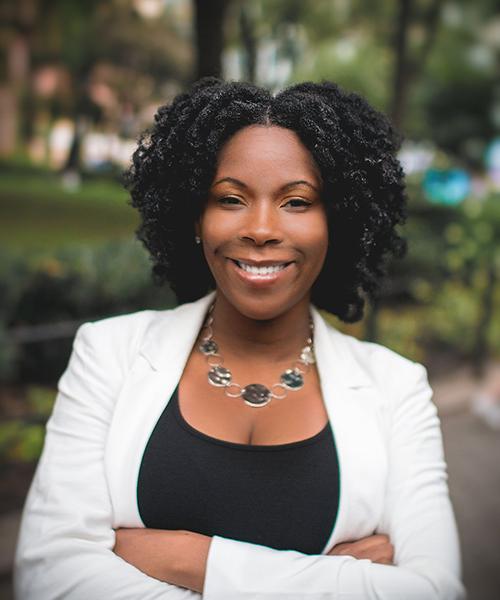 NEW ROCHELLE, N.Y. — Iona College's Dr. Rasheda L. Weaver dreams of establishing a social impact lab at the Hynes Institute for Entrepreneurship & Innovation, where students can "Learn Outside the Lines" of the classroom and help solve real-world challenges in the community. It's a dream that successfully started to form this semester as Iona students partnered with two local organizations to help them navigate business challenges arising during the COVID-19 pandemic.
"It's all about service-learning. Yes, we teach students in the classroom, but we're connecting them to a real community problem, and we're expecting them to move the needle on the problem," said Weaver, assistant professor of entrepreneurship and innovation. "The first step is belief. You have to believe you can do something."
Eleven students are currently enrolled in Weaver's Social Entrepreneurship, Civic Engagement and Community Development class. Working in teams, the students have been tasked with helping two local organizations identify and solve challenges related to connecting with customers during COVID-19.
The two partner organizations are Impact100 Westchester, which has raised over $1.8 million for high-impact, nonprofit grants in the county; and Nurish, a social enterprise that aims to build community for parents with young children (ages 0-6) while helping them tackle parenting challenges through a mobile app. Students are currently conducting market research, surveying customers and working in close collaboration with both organizations to prepare key findings and strategic recommendations.
"Our goal is to blur the lines between classroom learning and real-world experiences to empower our students to positively impact our community through their actions," said Christoph Winkler, Ph.D., endowed professor and founding program director at the Hynes Institute. "Dr. Weaver engages our students in powerful ways, adding another vital element to our growing interdisciplinary entrepreneurship program."
Chyanne Blakey '22, a double major in business marketing and entrepreneurship from Queens, N.Y., said that when she first came to Iona, "it was almost like I was doing a 360, because I had to discover what I was interested in on campus." She always knew she wanted to be a business major, but when she took her first marketing class, she "just immediately fell in love because it is the most creative business class – in my opinion at least," she said with a laugh.
Blakey's first course in entrepreneurship – Introduction to Entrepreneurship – was with Weaver in 2019. Today, Blakey is not only taking Weaver's Social Entrepreneurship class, but she's also assisting with the professor's first book, Social Entrepreneurship: A Practical Introduction to Social Enterprise. The book aims to be the go-to source for people seeking to combat societal issues like poverty, racism, climate change, hunger and more, using entrepreneurial techniques. Blakey is composing case studies on different social enterprises across the globe to present at numerous scientific conferences, including Iona Scholars Day and the EMES International Research Network's Social Enterprise Conference in Spain.
"I tell my students, 'You can be your own hero. You can be the change.' And you can see the light bulb going off in their heads. You can see them becoming more empowered," Weaver said. "When I educate someone in my classroom, they take that education with them for the rest of their lives. That's the power of education."
That's also the power of example.
"I'm at the point where she's really a mentor for me. The goals I see her obtaining in her life are some of the goals I want in my life, and it's amazing that I get to see that unfold. It's like fate," Blakey said. "The highlight of my day is going to my courses. It's so transformative that even online, the engagement we get is just amazing."
Want to learn more? Weaver and her students presented as part of Iona Scholar's Day, which is available for viewing online. Explore all that the Hynes Institute has to offer at iona.edu/hynesinstitute.
EXPLORE THE HYNES INSTITUTE
Established in 2017, the Hynes Institute is an interdisciplinary hub for the development of creativity and leadership skills critical for success in a global economy. The Hynes Institute was established through a record-setting $15 million gift from James P. Hynes '69, '01H and Anne Marie Hynes. Located at the center of campus at Spellman Hall, the Hynes Institute is a 3,800-square-foot, state-of-the-art coworking space offering a modern and sustainable home for creativity on campus and beyond.
In addition to its Entrepreneurship & Innovation minor, the Hynes Institute this year also launched its first two majors – a Bachelor of Arts in Entrepreneurial Leadership and a Bachelor of Business Administration in Entrepreneurship. It also added an online advanced certificate in Entrepreneurship & Innovation.
Explore the Hynes Institute and get in touch to learn more today! 
ABOUT IONA
Founded in 1940, Iona College is a master's-granting private, Catholic, coeducational institution of learning in the tradition of the Edmund Rice Christian Brothers. Iona's 45-acre campus is just 20 miles north of Midtown Manhattan. With a total enrollment of nearly 4,000 students and an alumni base of over 50,000 around the world, Iona is a diverse community of learners and scholars dedicated to academic excellence and the values of justice, peace and service. Iona is highly accredited, offering undergraduate degrees in liberal arts, science, and business administration, as well as Master of Arts, Master of Science and Master of Business Administration degrees and numerous advanced certificate programs. Iona's LaPenta School of Business is accredited by AACSB International, a prestigious recognition awarded to just five percent of business schools worldwide. The Princeton Review recognized Iona's on-campus MBA program as a "Best Business School for 2021." Iona College also recently launched a new, fully online MBA program for even greater flexibility.