Iona College Irish Dance Team Places First in Villanova Intercollegiate Irish Dance Festival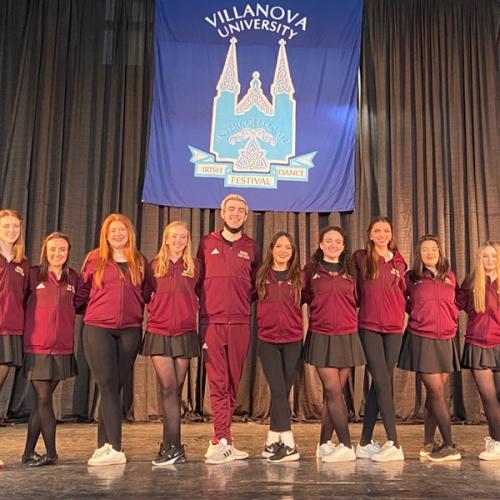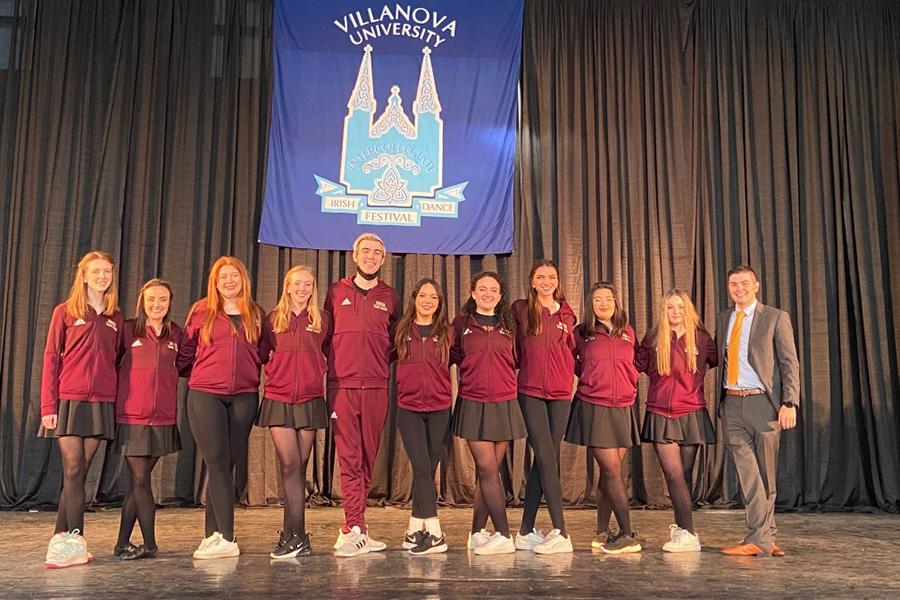 VILLANOVA, PA. - All eyes were on the new Iona University Irish Dance team as they took the stage by storm at the 2021 Villanova Intercollegiate Irish Dance Festival. A display of creativity and athleticism, the festival featured Irish Dance teams from across the country to compete in a series of events to showcase their craft.
In the 4-hand and 8-hand competitions (group dances performed to traditional Irish music), the Gaels came out on top – placing first out of 34 entries for the 4-hand event and second out of 12 entries in the 8-hand. For the treble reel competitions, or traditional solo dances, Caitlin Ward '22, Katie Feeney '22 and Brendan Broesler '23 placed first and Bridget Goodman '25 came in third. The team's fun number, a group Wizard of Oz-themed performance, placed fifth of 13 colleges in an incredibly fierce competition.
"I am very proud of the team and their efforts," said Rory Beglane, Irish Dance team coach. "We were able to place and win against teams that have been established for years and we've only had a few months to prepare since our team is so new. The future is bright for these Gaels."
Familiar to competing in the Irish Dance sector, team member Caitlin Ward was ranked as a Top 10 National Dancer and also competed at Worlds for seven years, finishing 13th in the international competition. A three-time Oireachtas Regional Champion, she also toured with Cherish the Ladies, one of the top Celtic groups in the country, and danced alongside The Chieftains.
"It was amazing to compete with my fellow Gaels," said Ward. "Our spirit and Iona pride were definitely present that day. We work so hard and I'm extremely happy with how far we've come. I can't wait to show the world what we've got in store next!"
Launched earlier this year as part of Iona's vision to expand extracurricular opportunities and engage students beyond the classroom, the Irish Dance team formed to give students the opportunity to continue dancing in a competitive format throughout their college career. Auditions are held each semester, and anyone with prior Irish Dance experience is encouraged to attend. The team also hosts workshops for students with no prior Irish Dance experience. To learn more, please visit iona.edu/irish-dance.
ABOUT IONA
Founded in 1940, Iona University is a master's-granting private, Catholic, coeducational institution of learning in the tradition of the Edmund Rice Christian Brothers. Iona's 45-acre New Rochelle campus and 28-acre Bronxville campus are just 20 miles north of Midtown Manhattan. With a total enrollment of nearly 4,000 students and an alumni base of more than 50,000 around the world, Iona is a diverse community of learners and scholars dedicated to academic excellence and the values of justice, peace and service. Iona is highly accredited, offering undergraduate degrees in liberal arts, science and business administration, as well as Master of Arts, Master of Science and Master of Business Administration degrees and numerous advanced certificate programs. Iona students enjoy small class sizes, engaged professors and a wide array of academic programs across the School of Arts & Science; LaPenta School of Business; NewYork-Presbyterian Iona School of Health Sciences; and Hynes Institute for Entrepreneurship & Innovation. Iona is widely recognized in prestigious rankings, including The Princeton Review's 2024 national list of "The Best 389 Colleges" and The Wall Street Journal/College Pulse's "2024 Best Colleges in America," which ranked Iona at #66 in the nation overall and #8 in the nation among Catholic schools. Iona's LaPenta School of Business is also accredited by AACSB International, a recognition awarded to just five percent of business schools worldwide. In addition, The Princeton Review recognized Iona's on-campus MBA program as a "Best Business School for 2023." Iona also offers a fully online MBA program for even greater flexibility. In July 2021, Iona announced the establishment of the NewYork-Presbyterian Iona School of Health Sciences, which is now principally located on Iona's Bronxville campus in collaboration with NewYork-Presbyterian. Connecting to its Irish heritage, the University also recently announced it is expanding abroad with a new campus in County Mayo, Ireland. A school on the rise, Iona officially changed its status from College to University on July 1, 2022, reflecting the growth of its academic programs and the prestige of an Iona education.