Iona College Joins with Syracuse University's IVMF to Help "Vetpreneurs" with New $5 Million Federal Grant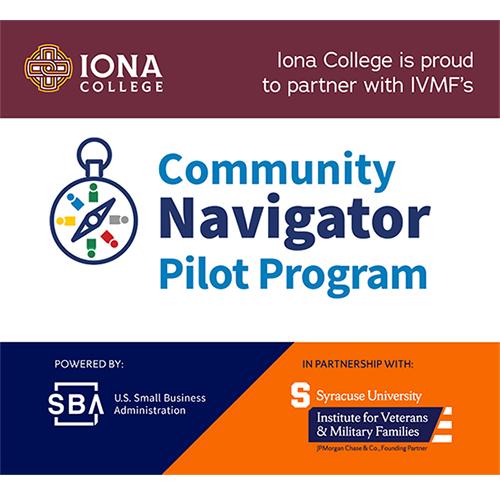 Iona College's Hynes Institute for Entrepreneurship & Innovation was selected by Syracuse University's Institute for Veterans and Military Families (IVMF) to support their Community Navigator Pilot Program, funded by the U.S. Small Business Administration.
The $5 million grant will support veteran and military spouse businesses with entrepreneurship education, small business technical assistance, loan preparation, access to capital and capital readiness, corporate and federal contracting and networking. Iona College received over $350,000 in funding and will work with the IVMF in support of the veteran entrepreneurship community both locally and nationally.
"Supporting our veteran and military spouse businesses through entrepreneurship training and technical assistance is core to our mission at Iona College. We are honored to join the IVMF as a partner to do this important work over the next two years," said Christoph Winkler, Ph.D., Endowed Professor and Founding Program Director of the Hynes Institute for Entrepreneurship & Innovation at Iona College.
IVMF was named as one of only eight Tier 1 grantees, selected as part of the Biden-Harris Administration's $100 million Community Navigator Pilot Program. The competitive grant program, established as part of the American Rescue Plan Act of 2021, will assist small businesses hit hard by the pandemic.
"This is truly exciting for IVMF and Iona College. Over the next two years, this program has the potential to impact thousands of veterans and families we serve," said Michael Haynie, Ph.D., Vice Chancellor for Strategic Initiatives & Innovation, Barnes Professor of Entrepreneurship and IVMF Executive Director. "It is also a wonderful recognition of IVMF's and Iona College's partnership to provide veteran entrepreneurship education programs. Joining with a network of local providers like the Hynes Institute allows for individual attention that understands the nuances of operating in the Westchester community and beyond. This broadens our national impact, having developed a vast network of alumni and partners who are dedicated to meeting the unique needs of veterans and military-connected families."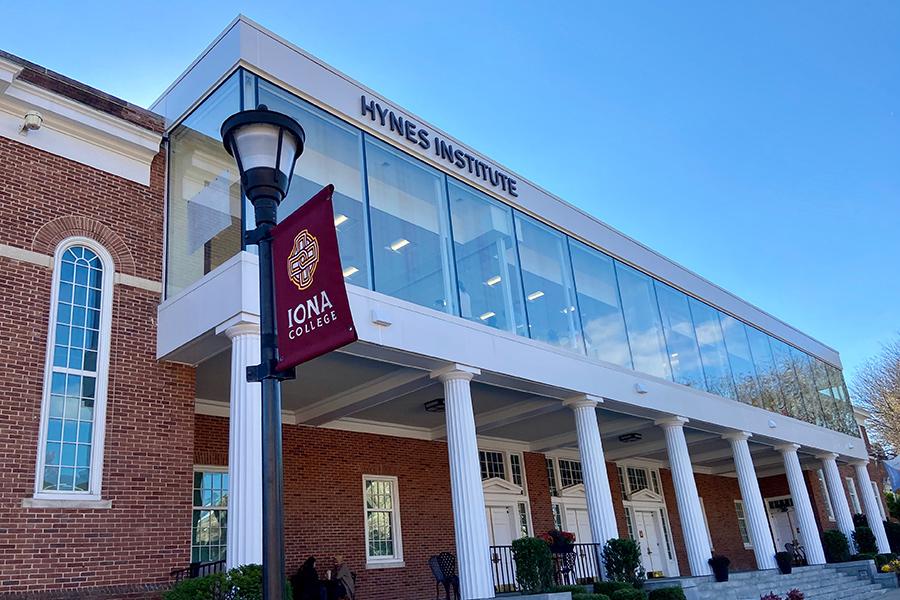 The Hynes Institute will be able to draw on IVMF's best practices delivering cost-free entrepreneurship programs like Boots to Business (B2B), Veteran Women Igniting the Spirit of Entrepreneurship (V-WISE), and the Entrepreneurship Bootcamp for Veterans (EBV), among others, that have assisted more than 75,000 participants.
During the pandemic, the IVMF launched two new virtual entrepreneurship programs. EBV Spark and R.I.S.E. (Resilience, Innovate, Sustain, Evaluate) help veteran and military spouse entrepreneurs adapt their businesses to the pandemic economy.
In applying for the grant, the IVMF noted strong partnerships with businesses that can help veterans achieve success. In addition to Iona College, the IVMF will work with Texas A&M, Florida State University, St. Joseph's University, Dog Tag Bakery and StreetShares, among others. Whether through direct technical support, training or networking, the entrepreneurs assisted by IVMF programs have demonstrated resilience and success; 92% are still operating their business today.
Haynie said IVMF research highlights how veterans face an array of barriers in launching businesses, including a fragmented ecosystem, capital readiness, difficulty navigating resources, certification process hurdles and lack of assistance from medical and disability service providers. He believes the new pilot program offers a unique solution that provides a navigation and support mechanism to strengthen the ecosystem, nurture entrepreneurial aspirations and sustain growth and success.
"The goal is for military-connected clients to receive efficient, timely, and comprehensive access to the services and resources they need, where they are and when they need them in their entrepreneurial journey," said Haynie.
ABOUT THE HYNES INSTITUTE
The Hynes Institute for Entrepreneurship & Innovation was established in 2017 through a record-setting $15 million gift from James P. Hynes '69, '01H and Anne Marie Hynes. It is an interdisciplinary program that fosters the development of creativity, leadership and entrepreneurship skills critical for success in a global economy. The Hynes Institute offers two undergraduate majors – a Bachelor of Arts in Entrepreneurial Leadership and a Bachelor of Business Administration in Entrepreneurship, as well as an advanced certificate in Entrepreneurship & Innovation. Located at the center of campus, the Hynes Institute is housed in a 3,800-square-foot, state-of-the-art coworking space offering a modern and sustainable home for creativity on campus and beyond. In addition, the Hynes Institute operates its GaelVentures Incubator at 748 North Avenue. Explore the Hynes Institute and get in touch to learn more today! 
ABOUT IONA
Founded in 1940, Iona College is a master's-granting private, Catholic, coeducational institution of learning in the tradition of the Edmund Rice Christian Brothers. Iona's 45-acre campus is just 20 miles north of Midtown Manhattan. With a total enrollment of nearly 4,000 students and an alumni base of over 50,000 around the world, Iona is a diverse community of learners and scholars dedicated to academic excellence and the values of justice, peace and service. Iona is highly accredited, offering undergraduate degrees in liberal arts, science, and business administration, as well as Master of Arts, Master of Science and Master of Business Administration degrees and numerous advanced certificate programs. Iona's LaPenta School of Business is accredited by AACSB International, a prestigious recognition awarded to just five percent of business schools worldwide. The Princeton Review recognized Iona's on-campus MBA program as a "Best Business School for 2021." Iona College also recently launched a new, fully online MBA program for even greater flexibility. In July 2021, Iona College and NewYork-Presbyterian announced the establishment of the NewYork-Presbyterian Iona School of Health Sciences, to be principally located on the College's new campus at 171 White Plains Road, Bronxville, N.Y. Supported by a $20 million gift from NewYork-Presbyterian, the NewYork-Presbyterian Iona School of Health Sciences is expected to offer a new vision for collaborative health care education, modern workforce development, and community care.