Iona College Launches "Designer-in-Residence" and Makerspace Program
Rob Kissner, Westchester Entrepreneur, Will Create a Makerspace Experience for Students at Iona's Hynes Institute for Entrepreneurship & Innovation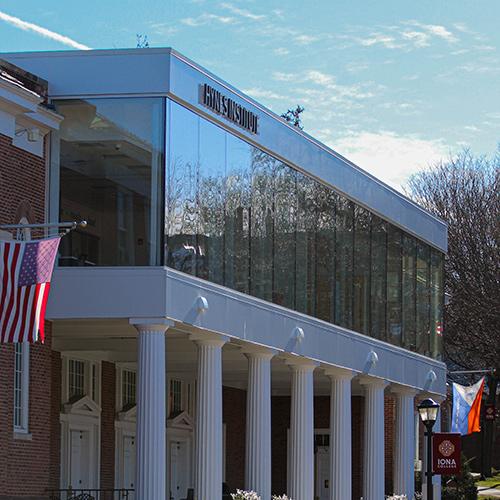 NEW ROCHELLE, N.Y. —Iona College is delighted to announce that Rob Kissner, founder and president of the Digital Arts Experience, has joined the Hynes Institute for Entrepreneurship & Innovation as its inaugural designer-in-residence (DIR). As DIR, Kissner will work on creating a dynamic Makerspace Experience at the Hynes Institute where students can tinker, design, create and build prototypes for new ideas as they strive to solve real-world challenges.
Iona's Makerspace Experience will commence during the spring semester, including a dedicated makerspace at the Hynes Institute's 3,800-square-foot, state-of-the-art coworking and learning space. Pop-up makerspace experiences across campus will also introduce Iona students to the power of making and creating to foster creativity, innovation and entrepreneurship.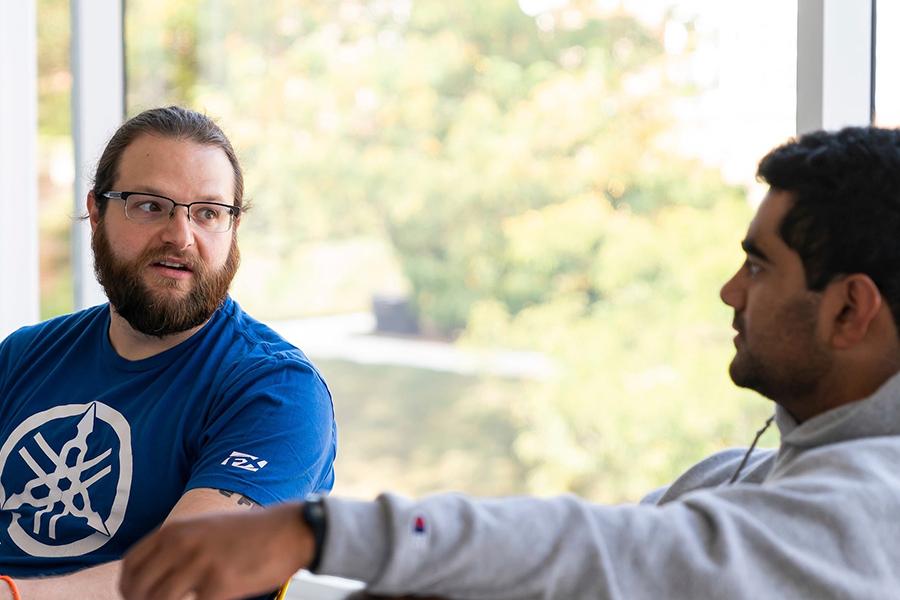 Photo: Rob Kissner, left, founder and president of the Digital Arts Experience, working with Iona College graduate Vishnu Mackenchery '20 in the Hynes Institute for Entrepreneurship & Innovation. Kissner has been named the inaugural designer-in-residence (DIR) of the Hynes Institute. Photo taken by Ben Hider pre-COVID-19.
"We are truly delighted to bring these prototyping capabilities to our space on Iona's campus," said Christoph Winkler, Ph.D., endowed professor and founding program director at the Hynes Institute. "Having Rob on board as DIR will help us build an exciting experiential program for our students as we continue to establish ourselves as the leading interdisciplinary entrepreneurship and innovation program in the region."
Kissner, who started with the Hynes Institute as an adjunct lecturer in 2018, said he has been extremely impressed with the opportunities that the program has provided to Iona students.
"It has truly been an honor to be a part of this incredible place and involved in its growth," Kissner said. "The new DIR position brings a whole new level of opportunity to Iona students, providing them with space, tools and support in their exploration of prototyping and making. I think this will play an integral role in providing real-world entrepreneurial experiences and in preparing students to launch their own businesses. I am extremely excited to be taking on this role."
Building on his work during the spring semester, Kissner will also teach a new course this summer. Titled Making and Hacking for Creative Problem Solving, the course will introduce students to the mindset of the maker culture by exposing them to making and hacking with simple materials such as Play-Doh, LEGO® and paper and tape, as well as 3D printing, physical computing, and several other mediums. Making and hacking empowers students to tackle challenges or solve real-world problems with a sense of playfulness and creativity, allowing students to actualize any idea in a fun, collaborative and stress-free way.
In 2012, Kissner founded the Digital Arts Experience, whose mission is to offer kids and teens in the community with access and exposure to the world of creative technology in a fun and safe environment. It provides programming to hundreds of local kids and teens in their Scarsdale location and in schools and libraries all over Westchester and Southern Connecticut.
Kissner is also an adjunct lecturer at the Hynes Institute, teaching courses on entrepreneurial mindset, ideation and design thinking.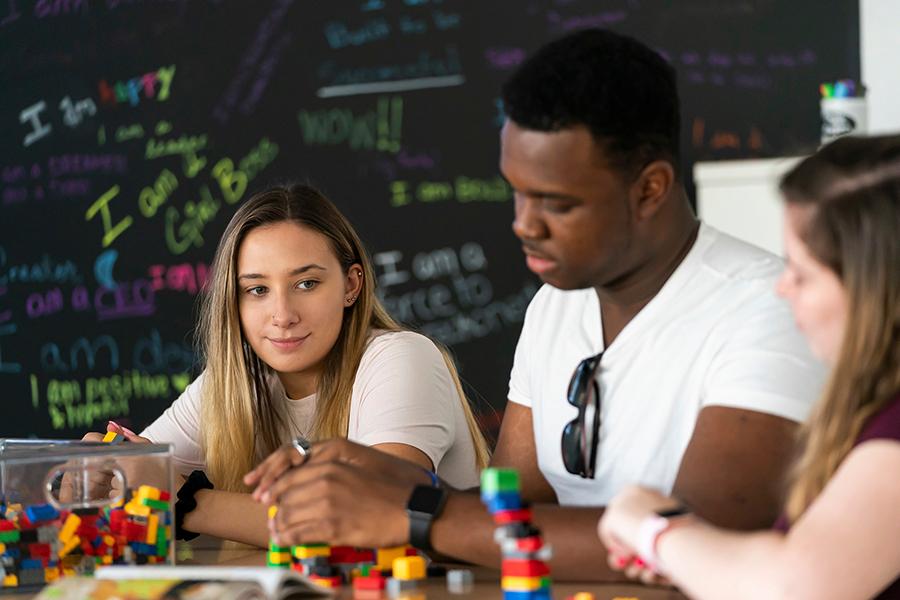 Photo: Iona College students explore the mindset of the maker culture in the Hynes Institute for Entrepreneurship & Innovation by tinkering with LEGO. Photo taken by Ben Hider pre-COVID-19.
EXPLORE THE HYNES INSTITUTE
Established in 2017, the Hynes Institute is an interdisciplinary hub for the development of creativity and leadership skills critical for success in a global economy. The Hynes Institute was established through a record-setting $15 million gift from James P. Hynes '69, '01H and Anne Marie Hynes. Located at the center of campus at Spellman Hall, the Hynes Institute is a 3,800-square-foot, state-of-the-art coworking space offering a modern and sustainable home for creativity on campus and beyond.
In addition to its Entrepreneurship & Innovation minor, the Hynes Institute this year also launched its first two majors – a Bachelor of Arts in Entrepreneurial Leadership and a Bachelor of Business Administration in Entrepreneurship. It also added an online advanced certificate in Entrepreneurship & Innovation.
Explore the Hynes Institute and get in touch to learn more today! 
ABOUT IONA
Founded in 1940, Iona College is a master's-granting private, Catholic, coeducational institution of learning in the tradition of the Edmund Rice Christian Brothers. Iona's 45-acre campus is just 20 miles north of Midtown Manhattan. With a total enrollment of nearly 4,000 students and an alumni base of over 50,000 around the world, Iona is a diverse community of learners and scholars dedicated to academic excellence and the values of justice, peace and service. Iona is highly accredited, offering undergraduate degrees in liberal arts, science, and business administration, as well as Master of Arts, Master of Science and Master of Business Administration degrees and numerous advanced certificate programs. Iona's LaPenta School of Business is accredited by AACSB International, a prestigious recognition awarded to just five percent of business schools worldwide. The Princeton Review recognized Iona's on-campus MBA program as a "Best Business School for 2021." Iona College also recently launched a new, fully online MBA program for even greater flexibility.