Iona College Launches Virtual Incubator to Support Early-Stage Business Development
Hynes Institute for Entrepreneurship & Innovation's GaelVentures program nurtures student businesses from concept to launch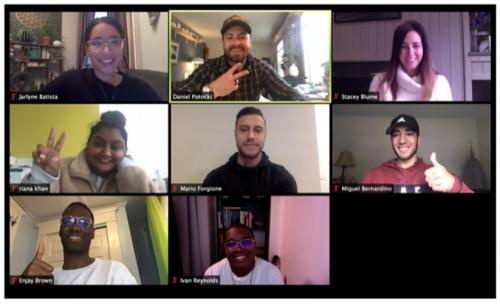 NEW ROCHELLE, N.Y. — The Hynes Institute for Entrepreneurship & Innovation at Iona College today announced the GaelVentures Virtual Incubator, a 10-week immersive program for early-stage businesses. A select group of students and recent alumni are working side-by-side with Iona's entrepreneur-in-residence, as well as business mentors and a wide range of industry experts, to nurture their businesses from concept to launch.
"Even during the COVID-19 pandemic, the Hynes Institute continues to build on its comprehensive portfolio, inspiring students to Learn Outside the Lines and solve real-world issues," said Christoph Winkler, Ph.D., endowed professor and founding program director of the Hynes Institute. "This is a wonderful way to engage students in a virtual setting, drawing on the expert guidance of our faculty, staff and professional partners to help develop an entrepreneurial mindset while learning everything it takes to bring a business idea to the marketplace."
The program, which includes three businesses comprised of Iona undergraduates, graduates and recent alumni, will teach proven business incubation methods, and will culminate on December 8 with a Demo Day. Lessons include:
Story Development – Develop the impact statement for your idea or venture.
Financial Planning – Build a cash flow for your venture's Pro Forma document.
Customer Discovery – Learn interview techniques to better understand users.
Prototype Development – Create a viable product or service to test with users.
Go-to-Market Strategy – Conduct research to identify target users.
Brand Iteration – Define your identity to develop your marketing collateral.
Mentor Swarm – Meet with mentors to collect feedback and improve your business model.
Sales & Fundraising – Create a customer outreach plan for a digital campaign.
Practice Pitch – Present to mentors to gain feedback on your venture.
Demo Day – Present to investors and the larger community.
MEET THE TEAMS
BLK Media
Ivan Reynolds '21MBA, Co-Founder & CEO
Riana Khan '22, Co-Founder & Creative Director
BLK is a media enterprise that captures what it means to be a person of color in America. Our goal is to document the experiences of BPOC from all communities and redefine what has been pre-determined as identity. Using photos, interviews, podcasts, long- and short-form videos and community participation, we will showcase the true diversity of BPOC identities. We are a platform for BPOC creatives to shine.
That's Life!
Miguel Bernardino '21
Life is complicated. When things are complicated, we talk things through with our friends and family to try and understand ourselves. But, with all the technology barriers, and even a pandemic slowing down the conversation, we no longer interact with others like we used to. I want to bring this back. So, I created the boardgame called, "That's Life!", which deeply discusses our values and beliefs that are broken down into four categories: Family, Love-Life, Career, and Money.
Bar U
Mario Forgione '19
The age-old question, "Where is everyone going tonight?", is finally answered. Bar U allows all nightlife-goers to easily find their friends, or the hottest spot in town, before leaving the house. Bar U also rewards users with points to their favorite establishments in return for advertising on behalf of the establishment. Bar U will revolutionize the nightlife industry and change the way you decide where to go.
Miguel Bernardino '21 said that as an accounting major, he had always placed security over risk, and so he knew entering an entrepreneurial setting was going to be very different. While he always believed in his abilities, he needed the help and experience of professionals to help guide him through the entrepreneurial process.
"I have learned that the Incubator is less of a tool, but more of a change of mentality and perspective," said Bernardino, a graduate of Yonkers High School. "I can say firmly that this experience has been challenging, but I look forward to taking on that challenge as I continue to grow my business. The harder the climb the better the view! That's what keeps me going."
MEET THE PARTNERS
The Hynes Institute has partnered with mentors and subject-matter experts in the Hynes Mentor Network to provide content and advising. Lisa Tretler, principal/founder of Business Boosters Consulting and a board member of the Women's Enterprise Development Center (WEDC), for example, is leading a session and WEDC will make the organization's virtual training resources available to participants.
In addition, Adam Franchella, senior project manager with Kiwi Tech, a mobile and web development firm, will host a product development session. Jeff Werner, partner and CEO of The Field Group, a business consulting and accelerator company, will also lead an incubator training. Other business partners will offer guidance across marketing, branding, finance and sales.
Anne M. Janiak, WEDC CEO, said: "We are so pleased to be a partner in launching this exciting new initiative, GaelVentures Virtual Incubator at Iona College, and especially pleased that WEDC board member Lisa Tretler has led the first training session for this group focused on Story & Pitch Development. We look forward to partnering in other ways to serve entrepreneurs in our community."
Partners to date include:
Lisa Tretler, WEDC
Jeff Werner, The Field Group
Adam Franchella, Kiwi Tech
Danny Potocki, Accel7
Tony DiMarco, GCSEN
Stacey Blume, Elastafuse Tech
Jarlyne Batista, Iona College
Arber Eftimiu, Sterling National Bank
"The strength of our business and community partners is a testament to both the reputation of the Hynes Institute, and the character of our students and alumni," said alumnus Danny Potocki '06, Iona's entrepreneur-in-residence and managing director of Accel7, an accelerator that invests in and advises founders and teams building environmental, social and governance (ESG) companies. "We are so grateful for their partnership. This is exactly the type of innovation and support that the Hynes family envisioned in building the Hynes Institute."
EXPLORE THE HYNES INSTITUTE
Established in 2017, the Hynes Institute is an interdisciplinary hub for the development of creativity and leadership skills critical for success in a global economy. The Hynes Institute was established through a record-setting $15 million gift from James P. Hynes '69, '01H and Anne Marie Hynes. Located at the center of campus at Spellman Hall, the Hynes Institute is a 3,800-square-foot, state-of-the-art coworking space offering a modern and sustainable home for creativity on campus and beyond.
In addition to its Entrepreneurship & Innovation minor, the Hynes Institute this year also launched its first two majors – a Bachelor of Arts in Entrepreneurial Leadership and a Bachelor of Business Administration in Entrepreneurship. It also added an online advanced certificate in Entrepreneurship & Innovation.
Explore the Hynes Institute and get in touch to learn more today! 
ABOUT IONA
Founded in 1940, Iona College is a master's-granting private, Catholic, coeducational institution of learning in the tradition of the Edmund Rice Christian Brothers. Iona's 45-acre campus is just 20 miles north of Midtown Manhattan. With a total enrollment of nearly 4,000 students and an alumni base of over 50,000 around the world, Iona is a diverse community of learners and scholars dedicated to academic excellence and the values of justice, peace and service. Iona is highly accredited, offering undergraduate degrees in liberal arts, science, and business administration, as well as Master of Arts, Master of Science and Master of Business Administration degrees and numerous advanced certificate programs. Iona's LaPenta School of Business is accredited by AACSB International, a prestigious recognition awarded to just five percent of business schools worldwide. The Princeton Review recognized Iona's on-campus MBA program as a "Best Business School for 2020." Iona College also recently launched a new, fully online MBA program for even greater flexibility.