Iona College President Talks with NJTV's Steve Adubato about Innovation in the Age of COVID-19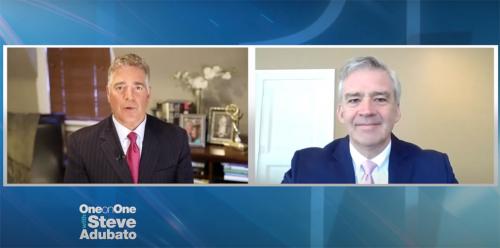 NEW ROCHELLE, N.Y. — Iona College President Seamus Carey, Ph.D., sat down with NJTV's Steve Adubato for a virtual one-on-one interview to discuss college in the age of COVID-19, highlighting how innovation will be critical to the future of liberal arts higher education.
"We had already put in place the groundwork for innovation – to be able to deliver our coursework, our content, in alternative modes. This [served] us very well through COVID. Our enrollment is up 15 percent this year, which is unheard of in this environment," Carey said during the interview, which aired on NJTV and WNET and can now be viewed on YouTube. "We feel like this is an opportunity as well as a challenge."
Part of that innovation is reflected through Iona's revamped courses and new degrees. In particular, Iona this year launched a new bachelor's degree in nursing, which welcomed its first class of 18 students this fall. With both a traditional four-year program and an accelerated, second-degree program, the nursing degree adds to Iona's growing presence in the health sciences – with a distinctive Iona edge.
"One of the things that I feel will be unique to our program here at Iona – as you probably know, Iona is well-known for its business acumen and its business education," Carey said. "We've also started the Hynes Institute for Entrepreneurship & Innovation, and our nurses are going to be learning in the Hynes Institute… So they will have the support to think through different situations, and to be innovative within their own career. I feel that's going to be a real distinguishing factor to our nursing program."
Although the interview first aired on September 18, it was filmed in July, as Iona was preparing its return-to-campus plans. Among other actions, the College:
required every student, faculty and staff member to submit a negative COVID-19 test result before returning to campus;
started the fall semester three weeks early, on August 10, so that finals would conclude before Thanksgiving to limit holiday travel;
began surveillance testing on August 19, randomly testing 250 students for COVID-19 each week;
instituted detailed quarantine and isolation procedures to help contain any potential spread;
required the campus community to wear masks and monitor daily health symptoms on the Gael Care mobile app; and
reinforced the Iona credo that "Gaels Take Care of Gaels."
When asked about planning through uncertainty, Carey went back to the founders of Iona College: Blessed Edmund Rice, founder of the Congregation of Christian Brothers in Ireland, and Saint Columba. While both would become world historical figures, they also both started out facing very specific challenges of providing education and opportunity to the poor and disenfranchised.
"I remind people of that every day. We have to address the situation that's put in front of us. There's always going to challenges. You plan the best you can, and you prepare to adjust," Carey said. "As long as you're following the information and you're guided by the right principles and values, you'll come out on the right side of history."
ABOUT IONA
Founded in 1940, Iona College is a master's-granting private, Catholic, coeducational institution of learning in the tradition of the Edmund Rice Christian Brothers. Iona's 45-acre campus is just 20 miles north of Midtown Manhattan. With a total enrollment of nearly 4,000 students and an alumni base of over 50,000 around the world, Iona is a diverse community of learners and scholars dedicated to academic excellence and the values of justice, peace and service. Iona is highly accredited, offering undergraduate degrees in liberal arts, science, and business administration, as well as Master of Arts, Master of Science and Master of Business Administration degrees and numerous advanced certificate programs. Iona's LaPenta School of Business is accredited by AACSB International, a prestigious recognition awarded to just five percent of business schools worldwide. The Princeton Review recognized Iona's on-campus MBA program as a "Best Business School for 2020." Iona College also recently launched a new, fully online MBA program for even greater flexibility.