Iona College Rises to Top Four Percent Nationwide Based on Return on Investment
Iona College jumps to #205 out of all 4,500 institutions in new Georgetown University Report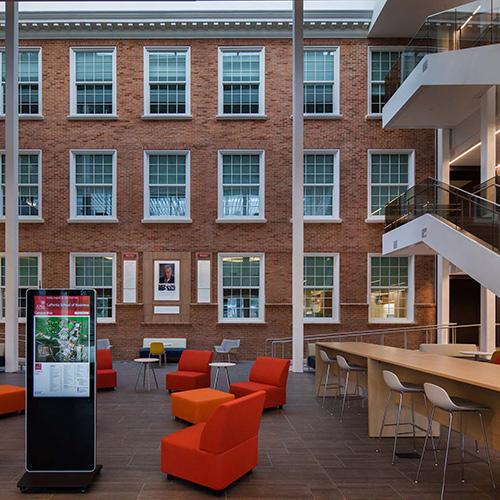 NEW ROCHELLE, N.Y. — When it comes to a college's long-term return on investment, it's tough to beat the value of an Iona College education. That's according to Georgetown University's Center on Education and the Workforce (CEW), which ranked Iona in the top four percent (#205) in its latest report, "Ranking 4,500 Colleges by ROI (2022)."
Iona rose in the ranks from the CEW's original 2019 report, when Iona ranked in the top six percent (#266). Iona still ranks #1 among all colleges with main campuses based in Westchester County, N.Y., for delivering the highest ROI both 40 and 30 years after graduation, the time frames that best reflect a college's value, according to the report.
"Iona has a long and proud reputation for producing graduates who are well prepared for the workforce. Yet just as importantly, this report further proves that an Iona education will serve graduates well as they grow into leadership roles over the course of their careers," said Iona President Seamus Carey, Ph.D. "In today's rapidly evolving workforce, it's not just about having the right skills; you also need to be able to think critically about problems in order to implement smart solutions. As a liberal arts institution, that is absolutely at the core of an Iona education."
The CEW's report relied on average price and earnings data from the U.S. Department of Education's College Scorecard. The data was then used to calculate the Net Present Value (NPV) of a credential from all 4,500 colleges and universities nationwide. Iona also saw an increase in its NPV, going from $1.14 million to $1.40 million over 40 years.
In addition to the CEW report, Iona is also prominently ranked for its value on lists such as Payscale.com's "College Salary Report," where graduates with at least 10 years of experience earned a typical median salary of $111,600; and Money.com's "Most Transformative Colleges," where Iona ranked #19 nationally.
Iona has also implemented a number of new programs and strategic initiatives that will serve to further bolster the earnings power of an Iona degree. In July 2021, for example, Iona launched the NewYork-Presbyterian Iona School of Health Sciences, offering students unparalleled access to clinical placements and full-time career opportunities with New York's #1 hospital, according to U.S. News & World Report. Iona also introduced the Gaels Go Further Mentoring Program, which taps into the College's network of over 50,000 alumni to provide students with career guidance and mentorship.
"Families and students are absolutely justified in asking, 'Is college worth it?'" said Kevin O'Sullivan, senior vice president for Enrollment and Student Affairs. "That's why the Center on Education and the Workforce set out to compile this important ranking in the first place. Iona is doing more now than ever to empower students to become leaders in their chosen careers. The value of an Iona education has never been stronger." 
ABOUT IONA
Founded in 1940, Iona University is a master's-granting private, Catholic, coeducational institution of learning in the tradition of the Edmund Rice Christian Brothers. Iona's 45-acre New Rochelle campus and 28-acre Bronxville campus are just 20 miles north of Midtown Manhattan. With a total enrollment of nearly 4,000 students and an alumni base of over 50,000 around the world, Iona is a diverse community of learners and scholars dedicated to academic excellence and the values of justice, peace and service. Iona is highly accredited, offering undergraduate degrees in liberal arts, science, and business administration, as well as Master of Arts, Master of Science and Master of Business Administration degrees and numerous advanced certificate programs. Iona's LaPenta School of Business is accredited by AACSB International, a prestigious recognition awarded to just five percent of business schools worldwide. The Princeton Review recognized Iona's on-campus MBA program as a "Best Business School for 2022." Iona University also recently launched a new, fully online MBA program for even greater flexibility. In July 2021, Iona University and NewYork-Presbyterian announced the establishment of the NewYork-Presbyterian Iona School of Health Sciences, to be principally located on the University's new campus in Bronxville, N.Y. Supported by a $20 million gift from NewYork-Presbyterian, the NewYork-Presbyterian Iona School of Health Sciences offers a new vision for collaborative health care education, modern workforce development, and community care. On July 1, 2022, Iona officially changed its status from College to University, reflecting the growth of its academic programs and the prestige of an Iona education.