Iona College's Hynes Institute for Entrepreneurship & Innovation Launches its First Undergraduate Major Programs
BA in Entrepreneurial Leadership and BBA in Entrepreneurship are Designed to Prepare Students to Succeed and Lead, Even in Uncertain Times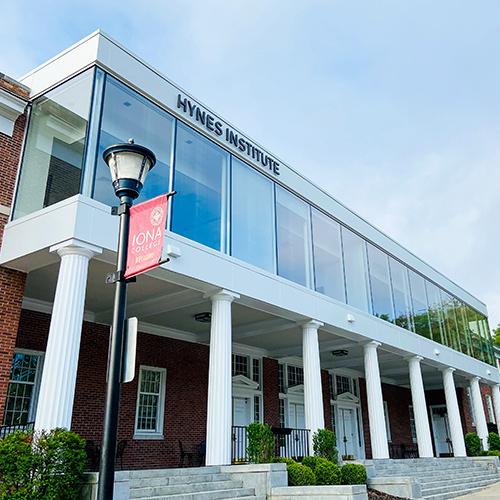 NEW ROCHELLE, N.Y. (June 2020) – Iona College today announced the launch of two dynamic new majors within its Hynes Institute for Entrepreneurship & Innovation. The programs — the Hynes Institute's first two majors — include a Bachelor of Arts in Entrepreneurial Leadership and a Business Bachelor of Arts in Entrepreneurship. Also new to the Hynes Institute is an Online Advanced Certificate in Entrepreneurship & Innovation. All programs have been approved by the New York State Education Department.
"As we face unprecedented uncertainty in the world, these interdisciplinary programs are right for and reflective of the times in which we live," said Christoph Winkler, Ph.D., endowed professor and founding program director of the Hynes Institute. "They will inspire students to be innovative thinkers who can assume leadership roles, regardless of the disciplines they pursue. They will empower students to be agents of change who can identify and solve important problems in the real world."
Iona's Hynes Institute was established in 2017 through a record-setting $15 million gift by James P. Hynes '69, '01H and Anne Marie Hynes with the goal of inspiring and guiding the next generation of entrepreneurs, innovators and leaders. In launching the Hynes Institute, its benefactors had a vision for an interdisciplinary program that would be transformative for students throughout the college.
"We believe the entrepreneurial mindset is not only necessary in starting businesses, it is invaluable in any career or vocation," said James Hynes. "The goal is to give all Iona students the tools, skills, and framework needed to enhance their lives and the lives of others in their communities," said Anne Marie Hynes.
In just a few short years, the Hynes Institute has already been a catalyst for innovative thinking among Iona students. In addition to its annual Iona Innovation Challenge, a "Shark Tank" style competition that encourages students to ideate and pitch their own business ideas, students are finding that an entrepreneurial mindset is coveted by potential employers.
"I would say from all of my internships experiences – from Ralph Lauren to Majestyk Apps to Louis Vuitton – the Hynes institute taught me how to leverage my skills in all industries," said Maimouna Mbacke '20, who minored in Entrepreneurship & Innovation. "It also taught me how to apply the entrepreneurial process to all problems in a variety of settings."
Embedded in Iona College's new programs is an emphasis on social entrepreneurship. Riana Khan '22, a student in the LaPenta School of Business who is currently minoring in Entrepreneurship & Innovation, said: "My experience with the Hynes Institute has been nothing but motivating and inspiring. Two years ago, as a shy freshman, I had the opportunity to take advantage of some of the Institute's programs. The entrepreneurial mindset I developed through classes and entrepreneurial activities has helped shape my career goals. With this mindset, I am able to leverage my skills and resources and solve real-world problems to better the communities around me as well as globally."
Iona's new entrepreneurship majors have also been designed to encourage students to pursue double majors that link entrepreneurship or entrepreneurial leadership with other disciplines. The program is embedded within a campuswide, interdisciplinary program of entrepreneurship and innovation that exposes students to opportunities that foster an entrepreneurial mindset from the first day of freshman year.
"The work that the students are doing in these majors is geared towards taking action," said Dr. Winkler. "An entrepreneurial mindset, whether it's applied to advocacy, social justice or service, empowers students to put the Iona mission into action."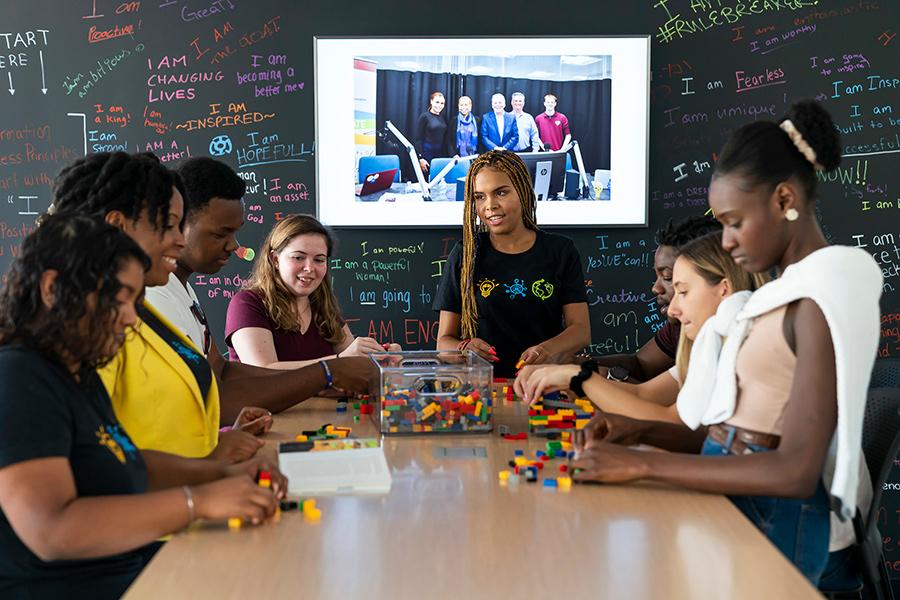 Details on the new entrepreneurship majors include:
BA in Entrepreneurial Leadership
The program in entrepreneurial leadership gives students the opportunity to explore their entrepreneurial leadership potential and develop an entrepreneurial mindset through a series of courses that guide them through the essential building blocks of entrepreneurial leadership. Topics include entrepreneurial mindset, ethics and entrepreneurial leadership, ideation, design thinking, and business modeling, as well as a broad range of interdisciplinary electives in social entrepreneurship, technology, communication and business. The program is experiential and interdisciplinary and culminates with an entrepreneurial internship or entrepreneurship in practice experience.
The BBA program is designed to prepare students for successful careers in a broad range of business fields in an increasingly dynamic and unpredictable economy. Students are given the opportunity to develop and apply an entrepreneurial mindset to solve daily business challenges as entrepreneurs and intrapreneurs. A series of courses guide students through the essential building blocks of successful venture creation as well as what it means to be entrepreneurial within existing ventures. In addition to topics such as ideation, design thinking, and business modeling, students are able to round out their advanced studies in entrepreneurship by choosing from an extensive list of specialized entrepreneurship and related business topics. The program culminates with a capstone internship or "entrepreneurship in practice" course. While the former gives students the ability to work in an entrepreneurial firm or corporation, the latter gives students the ability to launch their entrepreneurial ventures and innovations.
EXPLORE THE HYNES INSTITUTE
Established in 2017, the Hynes Institute is an interdisciplinary hub for the development of creativity and leadership skills critical for success in a global economy. The Hynes Institute was established through a record-setting $15 million gift from James P. Hynes '69, '01H and Anne Marie Hynes. Located at the center of campus at Spellman Hall, the Hynes Institute is a 3,800-square-foot, state-of-the-art coworking space offering a modern and sustainable home for creativity on campus and beyond.
In addition to its Entrepreneurship & Innovation minor, the Hynes Institute this year also launched its first two majors – a Bachelor of Arts in Entrepreneurial Leadership and a Bachelor of Business Administration in Entrepreneurship. It also added an online advanced certificate in Entrepreneurship & Innovation.
Explore the Hynes Institute and get in touch to learn more today! 
ABOUT IONA
Founded in 1940, Iona College is a master's-granting private, Catholic, coeducational institution of learning in the tradition of the Edmund Rice Christian Brothers. Iona's 45-acre campus is just 20 miles north of Midtown Manhattan. With a total enrollment of nearly 4,000 students and an alumni base of over 50,000 around the world, Iona is a diverse community of learners and scholars dedicated to academic excellence and the values of justice, peace and service. Iona is highly accredited, offering undergraduate degrees in liberal arts, science, and business administration, as well as Master of Arts, Master of Science and Master of Business Administration degrees and numerous advanced certificate programs. Iona's LaPenta School of Business is accredited by AACSB International, a prestigious recognition awarded to just five percent of business schools worldwide. The Princeton Review recognized Iona's on-campus MBA program as a "Best Business School for 2020." Iona College also recently launched a new, fully online MBA program for even greater flexibility.