Iona University's Hynes Institute Celebrates Five Years of Entrepreneurial Learning
The Hynes Institute for Entrepreneurship & Innovation helps students grow and develop an entrepreneurial mindset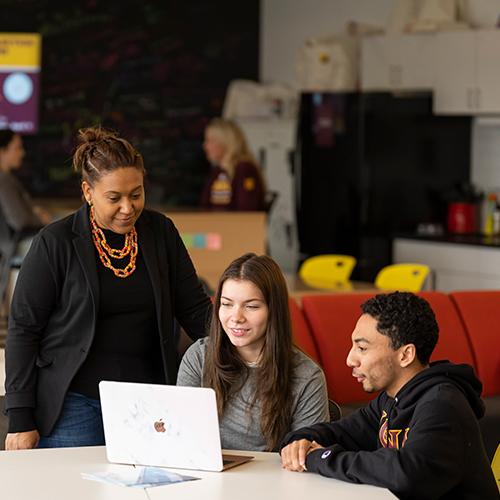 NEW ROCHELLE, N.Y.  — The Hynes Institute for Entrepreneurship & Innovation is celebrating five years of helping students develop an entrepreneurial mindset while solving real-world challenges through innovation.
Founded in 2017 with a $15 million gift from James '69, '01H and Anne Marie Hynes, the Hynes Institute is housed in a state-of-the-art space in the heart of Iona's New Rochelle campus. Since its inception, several hundred students have participated annually in the Hynes Institute's programs and co-working spaces, which are designed to empower students to sharpen their entrepreneurial leadership and creative problem-solving skills. 
"The Hynes Institute inspires students to learn outside the lines and apply their creativity to solving real-world problems," said Iona University President Seamus Carey, Ph.D. "No matter what field a student may pursue, these are the skills that will be needed to excel in the future. We are so grateful to Jim and Anne Marie for their generous support in founding the Hynes Institute, and for their continued commitment to student success at Iona." 
One example of applied learning is the program's annual Iona Innovation Challenge – a two-month competition where students pitch business ideas for $11,000 in cash prizes. Throughout the competition, students analyze problems that they see in the world and mentors from the Hynes Institute help participants strategize and formulate pitches for their business ideas.
Cara du Preez and Lazar Paroski developed this spring's first-place pitch for a business idea for an algae bioreactor bench that turns carbon dioxide into oxygen.
"The event motivated me to be creative and taught me that the best way to sell your product is to know every little detail about it," said du Preez. "I learned that you must be confident that your product will not only be beneficial for you but also for the world, to contribute to a brighter future for everyone."  
Each year, James and Anne Marie Hynes are among the contest's judges, carefully considering, questioning and supporting participants in the Iona Innovation Challenge. 
"It is always encouraging to see the creativity and entrepreneurial vigor with which students tackle the Iona Innovation Challenge," said Anne Marie Hynes.  
"In launching the Hynes Institute, Anne Marie and I wanted to help build a space where students would be able to dream, create and lead us into the future," added James Hynes, who also serves as vice chair of the Iona University Board of Trustees. "In just the first five years, we are off to a tremendous start, and we know this is still just the beginning." 
In addition to the Iona Innovation Challenge, undergraduate senior projects in the Hynes Institute give students the opportunity to pursue an entrepreneurial internship or work on an entrepreneurial idea or business.
"I gained a lot of applicable skills at my internship at WEDC [Women's Enterprise Development Center] that I am applying to my full-time job post-graduation. I strongly believe taking the internship course was the right step for me as I was able to communicate with local business owners, build out my network and grow my skill set," said Riana Khan, who graduated from Iona University in May.
The Hynes Institute also supports an entrepreneurship club, which hosted an on-campus event that featured student-run businesses, selling products that ranged from candles to jewelry and art.
The Hynes Institute has curricular offerings for every type of Iona student, who can then dive deeper into design thinking, business modeling, social entrepreneurship or leadership with an undergraduate minor, one of two undergraduate majors, or a graduate certificate program that can be taken alone or as part of an MBA in the LaPenta School of Business.
"Our overall premise is to provide opportunities for all students at Iona University to explore what it means to think and act entrepreneurially. This is not tied to a specific discipline," said Christoph Winkler, Ph.D., endowed professor and founding program director. "Our program puts the students front and center and challenges them to self-discover and apply themselves to any discipline they would like to pursue."
Learn more about the Hynes Institute at iona.edu/hynesinstitute.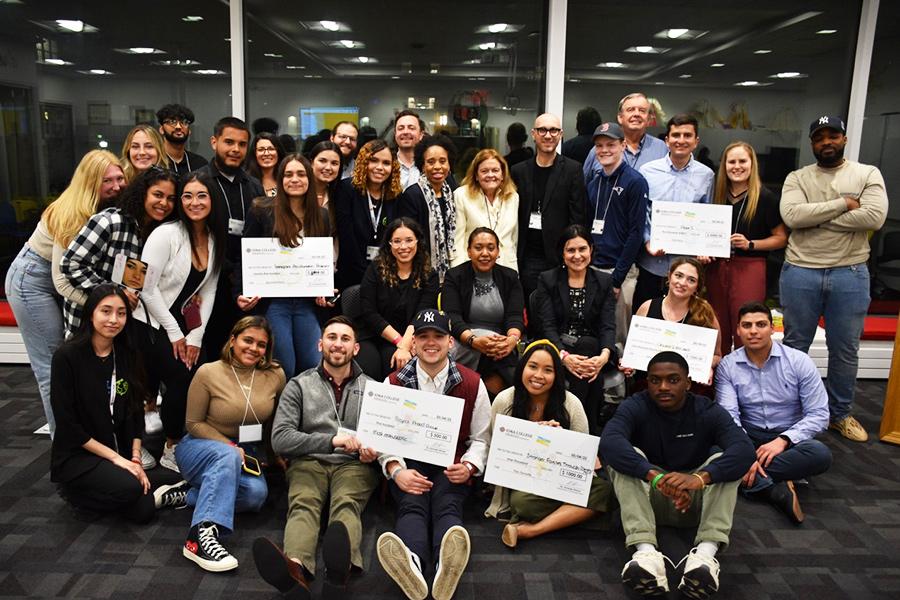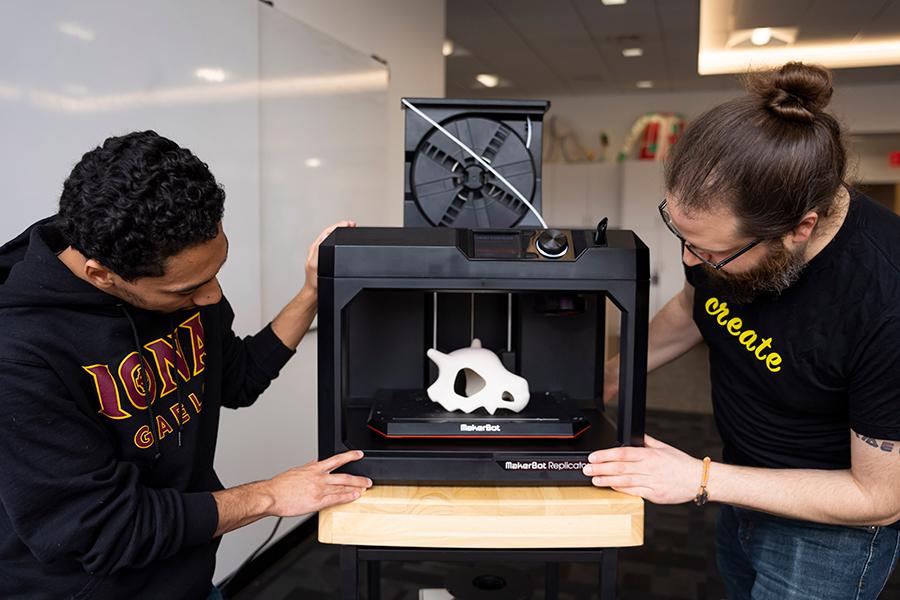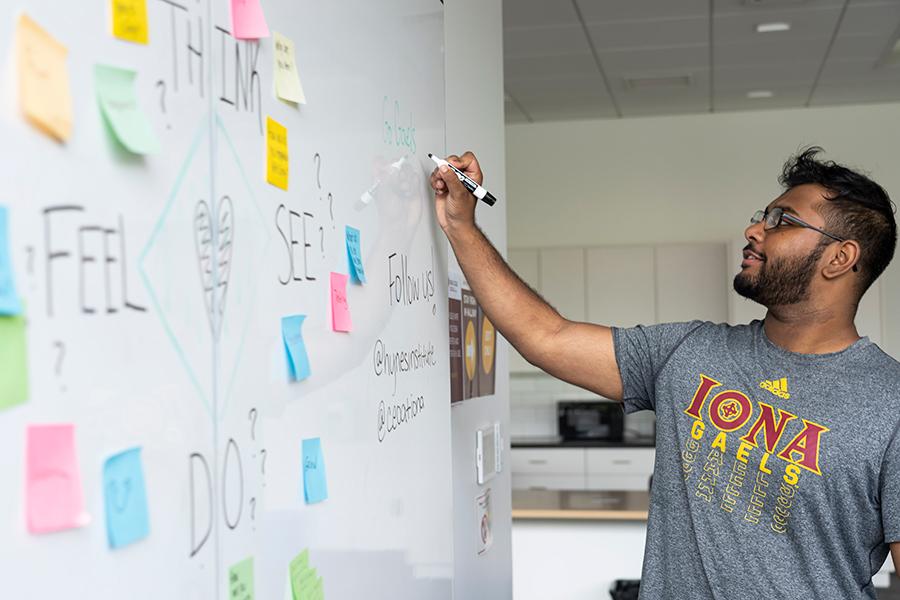 ABOUT THE HYNES INSTITUTE
The Hynes Institute for Entrepreneurship & Innovation was established in 2017 through a record-setting $15 million gift from James P. Hynes '69, '01H and Anne Marie Hynes. It is an interdisciplinary program that fosters the development of creativity, leadership and entrepreneurship skills critical for success in a global economy. The Hynes Institute offers two undergraduate majors – a Bachelor of Arts in Entrepreneurial Leadership and a Bachelor of Business Administration in Entrepreneurship, as well as an advanced certificate in Entrepreneurship & Innovation. Located at the center of campus, the Hynes Institute is housed in a 3,800-square-foot, state-of-the-art coworking space offering a modern and sustainable home for creativity on campus and beyond. In addition, the Hynes Institute operates its GaelVentures Incubator at 748 North Avenue. Explore the Hynes Institute and get in touch to learn more today! 
ABOUT IONA
Founded in 1940, Iona University is a master's-granting private, Catholic, coeducational institution of learning in the tradition of the Edmund Rice Christian Brothers. Iona's 45-acre New Rochelle campus and 28-acre Bronxville campus are just 20 miles north of Midtown Manhattan. With a total enrollment of nearly 4,000 students and an alumni base of over 50,000 around the world, Iona is a diverse community of learners and scholars dedicated to academic excellence and the values of justice, peace and service. Iona is highly accredited, offering undergraduate degrees in liberal arts, science, and business administration, as well as Master of Arts, Master of Science and Master of Business Administration degrees and numerous advanced certificate programs. Iona's LaPenta School of Business is accredited by AACSB International, a prestigious recognition awarded to just five percent of business schools worldwide. The Princeton Review recognized Iona's on-campus MBA program as a "Best Business School for 2023." Iona University also recently launched a new, fully online MBA program for even greater flexibility. In July 2021, Iona University and NewYork-Presbyterian announced the establishment of the NewYork-Presbyterian Iona School of Health Sciences, to be principally located on the University's new campus in Bronxville, N.Y. Supported by a $20 million gift from NewYork-Presbyterian, the NewYork-Presbyterian Iona School of Health Sciences offers a new vision for collaborative health care education, modern workforce development, and community care. On July 1, 2022, Iona officially changed its status from College to University, reflecting the growth of its academic programs and the prestige of an Iona education.