Student Entrepreneurs at Iona College Tackle Real-World Problems in 'Shark Tank'-Style Competition
Despite COVID-19 Challenges, Iona Students Demonstrate A Vision for Driving New Solutions.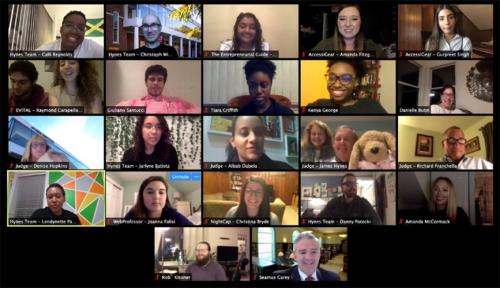 NEW ROCHELLE, N.Y. — Even as COVID-19 forced students to online platforms, entrepreneurs from Iona College's Hynes Institute for Entrepreneurship & Innovation demonstrated a vision for solving real-world problems during the 3rd annual Iona Innovation Challenge (IIC). Held virtually on April 30th, students pitched their ideas in a 'Shark Tank'-style competition to a panel of expert judges selected from corporate, nonprofit, investment, and higher education partners across the region. Winners received cash prizes ranging from $3,000 for first prize and $1,200 for second prize, to $500 for the Fan Favorite. The 2020 winners were:
Top Three Winners:
EVITAL – A company launched by Raymond Carapella '20 and Michaela Ceci (Marist College) that manufactures eco-friendly, decomposable and cost-effective clothing hangers for major retailers.
AccessiGear – A concept presented by Amanda Fitzgerald '22MA and Gurpreet Singh '22MA to bring representation and inclusivity through the form of college branded adaptive apparel to the Iona College community.
Nightcap – A beverage pouring device pitched by Christina Bryde '20MBA to monitor pouring levels for consistency and safety.
"We are so proud of the students' commitment to building their mindset and mission through this experience," said Danny Potocki '06, Entrepreneur-in-Residence, who led the program at Iona College's Hynes Institute for Entrepreneurship & Innovation. "That they were able to bring their ideas to completion and deliver such compelling pitches – even virtually –  perfectly captures the spirit of entrepreneurship. As innovators, we keep going despite, and often because of, the challenges we are presented with." 
The ICC was the culmination of a full-semester of idea development, research and mentorship. Students worked on their ideas by completing a series of milestones that included a video pitch, an executive summary, and a pitch slide deck. Throughout the process, students gained valuable feedback by working with mentors from a variety of fields.
In addition to the top three winners:
The Social Impact Award was presented to 1st place winner, The Entrepreneurial Guide, created by Riana Khan '22. This concept is a cohesive digital guide comprised of proven entrepreneurial sources in one platform. Second place in this category was awarded to Giving Smiles, a technology platform to provide impoverished children with gifts, founded by Amanda McCormack '19, '20MBA. 
"Competing in the Iona Innovation Challenge expanded my understanding of what it means and what it takes to be an entrepreneur of color," Khan said. "It is part of my mission to help build the mindset of other minority entrepreneurs through my company, like the Hynes Institute has helped me over the past several months."
The "Fan Favorite" Award was given to JR10 Corp., which used high-quality fashion to raise awareness for children diagnosed with brain cancer in memory of Jack Egan Reyna, of Bedford, N.Y., who passed away at the age of 13. Presented by Giuliano Santucci, this pitch video received the most likes on Iona College's Instagram. 
In 2017, the Hynes Institute started with a vision to bring new learning opportunities to Iona College by helping students develop an entrepreneurial mindset. Almost three years later, this vision is visibly alive at the intersection of the state-of-the art learning spaces, the students who engage in those spaces, and the programs that support the students in those spaces. With an interdisciplinary undergraduate and graduate program in entrepreneurship and innovation, Iona has emerged as a leader in the region. In doing so, the Hynes Institute continues to build a community of support for its students by bringing together businesses, industry professionals, and other stakeholders with deep and diversified expertise and experience.
Christoph Winkler, Ph.D., endowed professor and founding program director of the Hynes Institute, emphasized that "our students are at the center of everything we do. They are our most valuable asset as we continue to build and grow our program not only for our students, but also with our students. The work that they did, despite the current climate, is a testament to their commitment as leaders and scholars in our community."
EXPLORE THE HYNES INSTITUTE
Established in 2017, the Hynes Institute is an interdisciplinary hub for the development of creativity and leadership skills critical for success in a global economy. The Hynes Institute was established through a record-setting $15 million gift from James P. Hynes '69, '01H and Anne Marie Hynes. Located at the center of campus at Spellman Hall, the Hynes Institute is a 3,800-square-foot, state-of-the-art coworking space offering a modern and sustainable home for creativity on campus and beyond.
In addition to its Entrepreneurship & Innovation minor, the Hynes Institute this year also launched its first two majors – a Bachelor of Arts in Entrepreneurial Leadership and a Bachelor of Business Administration in Entrepreneurship. It also added an online advanced certificate in Entrepreneurship & Innovation.
Explore the Hynes Institute and get in touch to learn more today! 
ABOUT IONA
Founded in 1940, Iona College is a master's-granting private, Catholic, coeducational institution of learning in the tradition of the Edmund Rice Christian Brothers. Iona's 45-acre campus is just 20 miles north of Midtown Manhattan. With a total enrollment of nearly 4,000 students and an alumni base of over 50,000 around the world, Iona is a diverse community of learners and scholars dedicated to academic excellence and the values of justice, peace and service. Iona is highly accredited, offering undergraduate degrees in liberal arts, science, and business administration, as well as Master of Arts, Master of Science and Master of Business Administration degrees and numerous advanced certificate programs. Iona's LaPenta School of Business is accredited by AACSB International, a prestigious recognition awarded to just five percent of business schools worldwide. The Princeton Review recognized Iona's on-campus MBA program as a "Best Business School for 2020." Iona College also recently launched a new, fully online MBA program for even greater flexibility.