Veteran Entrepreneurs Turn to Iona University's Hynes Institute for Expertise
Veteran-owned companies, Honey Baked Ham and Bedside Glow, partnered with Iona for free resources and valuable insight to elevate their businesses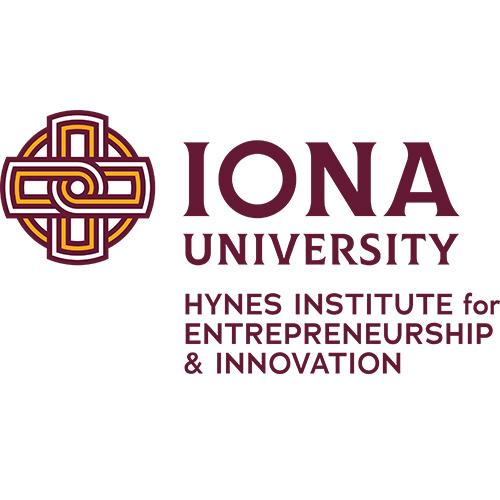 NEW ROCHELLE, N.Y.— Iona University's Hynes Institute for Entrepreneurship & Innovation is providing free one-on-one business counseling for veterans pursuing entrepreneurship, thanks to Syracuse University's Institute for Veterans and Military Families (IVMF). In November 2021, the Hynes Institute was selected as a "spoke" to support their Community Navigator Pilot Program, generously funded by a $5 million grant from the U.S. Small Business Administration (SBA). 
IVMF research found that military-owned business owners face a range of barriers, including difficulty navigating networks and resources. The Hynes Institute swiftly began working on ways to tackle these issues, transforming businesses such as The Honey Baked Ham Company and Bedside Glow candle company.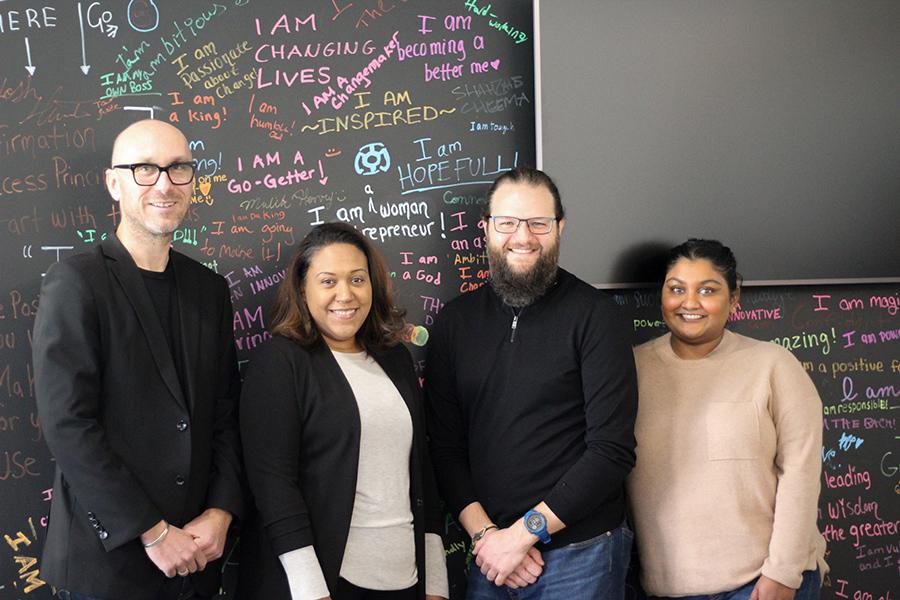 Honey Baked Ham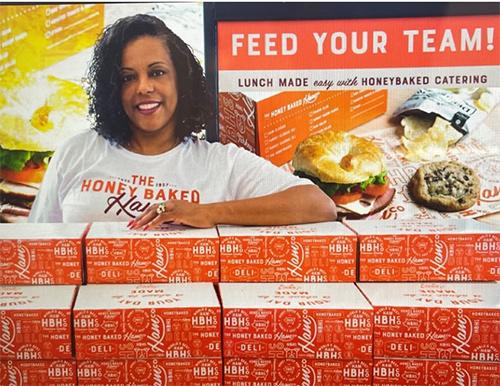 After spending 30 years in the military, stationed in Korea, Germany, Kuwait, Afghanistan, the Pentagon and other locations, Rosa Ramirez decided that entrepreneurship was the path she wanted to follow next. Ramirez landed on The Honey Baked Ham Company franchise and opened her own brick-and-mortar on 57 North Central Avenue in Hartsdale, N.Y. Her business specializes in holiday meals, offering whole hams, turkeys, sides, and desserts. Year-round, Ramirez's business provides sandwiches, catering, and boxed lunches for events, business meetings, birthdays and other special occasions. 
During the pandemic, Ramirez decided to use her business to support her fellow soldiers, partnering with Feeding Westchester to provide meals to the National Guard. She also created a donation system, where customers can assist with providing boxed lunches for hospital and nursing staff, police, firefighters, and other first responders. 
"To quote Ross Perot, 'most people give up just when they're about to achieve success,'" Ramirez said. "That was me until the Community Navigator Pilot Program provided all the tools, connections, access to funding, coaching and mentorship that I needed. Since starting the program and working with the Hynes Institute, sales have grown by 30 percent."
The Hynes Institute connected Ramirez with Bowers and Company, a "spoke" in the Community Navigator Pilot Program, who assisted with her accounting needs. 
Bedside Glow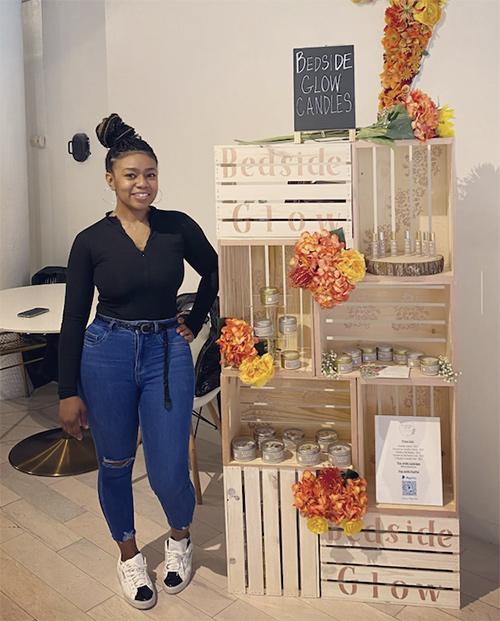 Following her service in the U.S. Navy, Dr. Nydia Dixon and her son, Princeton, co-created Beside Glow, an artisan, Black, woman and veteran-owned and operated candle studio dedicated to aligning one's chakras. Each candle is hand-poured using the highest quality soy wax and fragrances, providing a clean burning candle that contains no toxins, carcinogens, or pollutants; the company also expanded to include oil rollers for use on the go, incense and more. Bedside Glow's success also led to a feature in Oprah Daily's roundup of the "Best 25 Candles from Black-Owned Companies." 
As a doctor of Chinese medicine, Dixon has a strong desire to help improve the health of others, and she also has an affinity for beautiful scents. As a first-time mom, Dixon would sleep in close quarters with her son and light a candle near the bedside. The glow of the candle soothed him and helped him sleep throughout the night, inspiring the name Bedside Glow.  
"When I started Bedside Glow, one of the greatest challenges I faced was not having a blueprint of how to run an eCommerce business," Dixon said. "The Hynes Institute provided me with the training and counseling I needed to take my company to where I wanted it to be."  
The Hynes Institute's small business advisors provided free one-on-one business counseling services to help Dixon in developing strategies that would grow her business.  
If you are a veteran, military connected, or small business looking to start or grow your business, our business advisors will get to know you and your business goals to provide guidance and access to free services to set you up for long-term success. Anyone interested in booking a free one-on-one business counseling session can simply visit the Hynes Institute online to register. 
ABOUT IONA
Founded in 1940, Iona University is a master's-granting private, Catholic, coeducational institution of learning in the tradition of the Edmund Rice Christian Brothers. Iona's 45-acre New Rochelle campus and 28-acre Bronxville campus are just 20 miles north of Midtown Manhattan. With a total enrollment of nearly 4,000 students and an alumni base of over 50,000 around the world, Iona is a diverse community of learners and scholars dedicated to academic excellence and the values of justice, peace and service. Iona is highly accredited, offering undergraduate degrees in liberal arts, science, and business administration, as well as Master of Arts, Master of Science and Master of Business Administration degrees and numerous advanced certificate programs. Iona's LaPenta School of Business is accredited by AACSB International, a prestigious recognition awarded to just five percent of business schools worldwide. The Princeton Review recognized Iona's on-campus MBA program as a "Best Business School for 2023." Iona University also recently launched a new, fully online MBA program for even greater flexibility. In July 2021, Iona University and NewYork-Presbyterian announced the establishment of the NewYork-Presbyterian Iona School of Health Sciences, to be principally located on the University's new campus in Bronxville, N.Y. Supported by a $20 million gift from NewYork-Presbyterian, the NewYork-Presbyterian Iona School of Health Sciences offers a new vision for collaborative health care education, modern workforce development, and community care. On July 1, 2022, Iona officially changed its status from College to University, reflecting the growth of its academic programs and the prestige of an Iona education.