Why Earn a Master's in Nursing Education?
Iona University's Master of Science (MS) in Nursing Education program empowers nurses to advance their careers by combining their clinical experience with preparation to teach nursing practice. Through intensive instruction, students graduate ready to assume leadership roles as nurse educators in higher education, staff development and community health programs.
Why Study Nursing Education at Iona?
Enjoy a Flexible, Hybrid Learning Format
To accommodate our students' busy schedules, Iona offers the master's in nursing education degree in an executive hybrid format. Students benefit from in-person instruction with the flexibility of completing coursework asynchronously. Students have in-person class up to five times per semester in the core courses and up to three times per semester for the specialty courses. Additionally, nursing students can enroll in part- or full-time study, allowing them to continue working while they earn their master's in nursing degree in two to three years.
Choose From Six Clinical Interests
Our program empowers students to tailor their MS in Nursing degree by choosing a specialization, which not only further develops their clinical knowledge, but also makes them competitive candidates for nurse educator careers.
To specialize their nursing expertise, graduate students select an area of clinical interest for the advanced clinical practicum:
Adult/gerontology health

Community health

Parent-child health

Behavioral health

Critical care

Perioperative care
Begin Your Professional Preparation and Gain Valuable Experience
As a part of our integrative master's program, students enroll in three pedagogical practicums. These experiences allow students to precept alongside an expert and gain hands-on practice in staff development and academic settings. Students select their final practicum focus while completing their comprehensive capstone project.
Create an Evidence-Based Practice Change Project
The nursing education program's culminating components include three parts that consist of completing an evidence-based practice change project, a supporting paper and a poster presentation.
Through this project, students apply and integrate knowledge from previous coursework and literature. Students identify their change project topic as they complete their final practicum of 60 hours under a nurse educator either in the academic institution or a health care agency.
Study at the Kelly Center for Health Sciences
During their time in the nursing education program, students learn in Iona's newly opened, state-of-the-art Kelly Center for Health Sciences. Spanning three floors and nearly 32,000 square feet, the Kelly Center features cutting-edge, collaborative spaces that promote interdisciplinary learning. Designed with a focus on holistic wellness, the Kelly Center allows nursing students to experience an immersive, hands-on graduate education.
---
Nurse Educator Careers and Outcomes
Over the course of their studies, graduate students acquire the necessary knowledge, skills, and attributes to excel in the role of a nurse educator. Equipped with a solid pedagogical foundation and valuable clinical skills, our students graduate with exceptional qualifications that set them apart from their peers and set them up for success.
With an MS in Nursing Education, nurses can pursue careers as professional development coordinators or nursing instructors, also known as nurse educators, teaching nursing students in academic and clinical settings. Nurse educators work in many industries, including colleges and universities, general medical and surgical hospitals, technical and trade schools and local government.
Along with these higher-level positions comes an increased earning potential. The U.S. Bureau of Labor Statistics reports that nurse educators' annual salary can range from $85,900 to $132,200, depending on their industry.
Job Titles
Nurse Educator
Academic Professor
Adjunct Instructor
Staff Development Coordinator
Nurse Professional Development Manager
Pursuing A Career in Nursing Education
Hear directly from Iona University and NewYork-Presbyterian leadership on the benefits of earning your MS in Nursing Education from Iona. Learn more about how you can work in NYP settings while completing your clinical hours.
What You'll Learn
Iona's MS in Nursing Education offers a comprehensive graduate experience that strengthens their clinical practice, pedagogical knowledge and overall professional development. Equipped with these in-demand and highly transferable skills, our nursing students qualify for leadership positions in academic or staff development settings.
The nursing education program is grounded in the competencies of various national organizations, including the American Association of Colleges of Nursing (AACN), National League for Nursing (NLN) and Association for Nursing Professional Development (ANPD), formed for nurse educators, professional development practitioners and advanced nursing roles.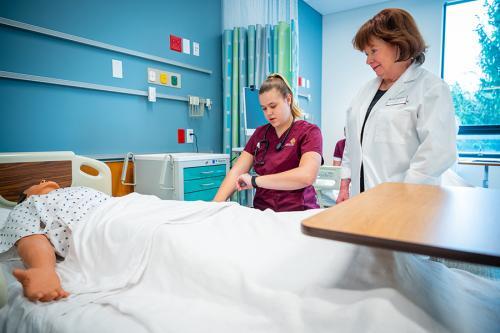 The nursing education program prepares students to:
Apply clinical expertise in the health care environment.

Create learning environments effective for diverse populations.

Engage in scholarship to foster evidence-based practice and advanced nursing practice.

Serve as a change agent through innovation.

Lead collaboratively within an interprofessional team.

Acquire professional leadership behaviors that reflect moral courage, ethical principles, human dignity and social justice, and uphold accountability to the individual, society and the profession.
Program Highlights
Strengthen Mentored Clinical Practice Hours
Through our partnership with NewYork-Presbyterian Hospital — a nationally recognized institution for their research, medical education and patient-centered care — nursing students receive personalized mentorship from leading academic and professional development educators. As they complete their 510 clinical practice hours, our students work alongside industry leaders in academic and service settings, growing their clinical skills and continuing their professional development.
Receive an Accredited Nursing Education Degree
To ensure our students receive a leading-edge nursing education and quality training, our clinical and practicum requirements align with the new nursing standards from the American Association of Colleges of Nursing (AACN).
Learn Comprehensive Pedagogical Approaches
The nursing education degree prepares students to be well-rounded educators by teaching them how to incorporate a variety of pedagogical approaches. Iona specially designed these teaching strategies for simulation, clinical instruction, leading a classroom and developing an educational program for staff nurses.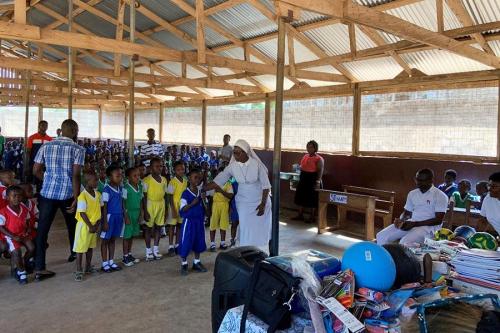 Global Nursing Education Experience
In alignment with Iona's dedication to cultivating global educational experiences, our students have the exciting opportunity to dive into global immersion practicums during their graduate studies. Nursing students travel abroad to work and study in the field, where they examine diversity, social justice and healthcare professions and see global health issues and healthcare systems firsthand. Through this transformative experience, students expand their global understanding and acquire valuable professional and personal insight.
MS in Nursing Education Admission Requirements
Admission to the master's in nursing education program is competitive. In addition to meeting Iona's general prerequisites, applicants must also fulfill the following program-specific criteria to ensure they are qualified candidates:
Earned a Bachelor of Science in Nursing from an accredited program with a minimum GPA of 3.0 or a Master of Science in Nursing with a non-nursing baccalaureate degree with a minimum GPA of 3.0.
Hold an unencumbered RN New York State License or be eligible to obtain licensure by the beginning of the program.
Complete a graduate-level statistics course and earn a grade of B or better.
We encourage prospective students with admission-related questions to reach out to our graduate admissions counselors. Iona's counselors are ready to share their knowledge and connect students with valuable resources so they can reach their goal of becoming nurse educators.
Application Materials
In addition to Iona's online application, prospective students must submit:
Transcripts from all previously attended colleges and universities.
Personal statement.
Résumé or curriculum vitae.
Two letters of recommendation.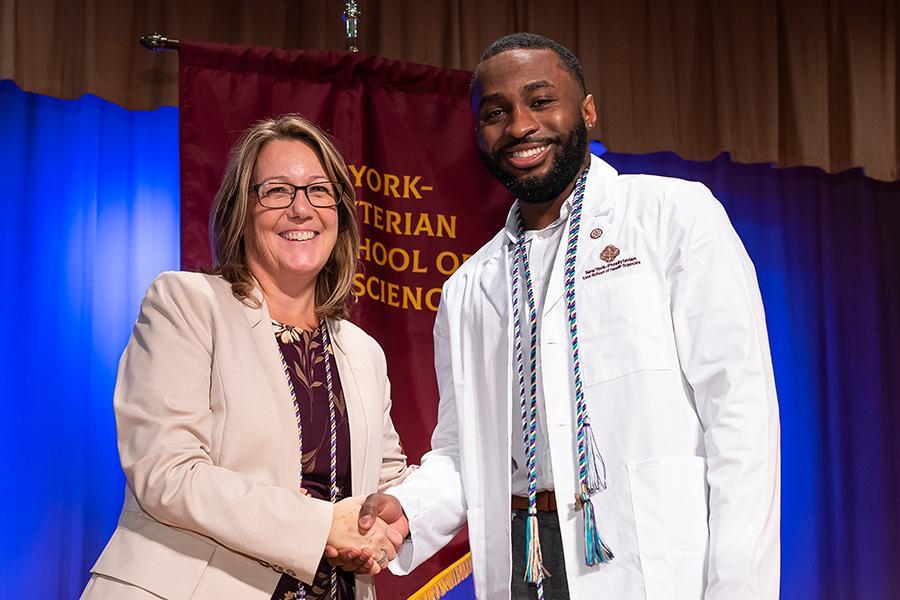 Tuition and Financial Aid Opportunities
Iona's MS in Nursing Education costs $1150 per credit with a $285 term fee in the fall and spring semesters and an $85 term fee in the summer.
A graduate degree is a worthy investment, but financing a graduate education can be complex. Iona's Student Financial Services is eager to help graduate students find the financial aid options that best suit their needs and connect students with scholarships, grants and other resources to make their educational dreams a reality.
Mission Statement
To provide high quality, accessible educational experiences that challenge and empower students to become nurse leaders working at the forefront of health care. We are committed to preparing students who are liberally educated, clinically competent, and will be compassionate, empathetic and ethical professionals. Iona's nursing program, consistent with Iona University's mission, will provide an educational environment that embraces intellectual inquiry, commitment to excellence, service to others, and an appreciation for inclusion and diversity.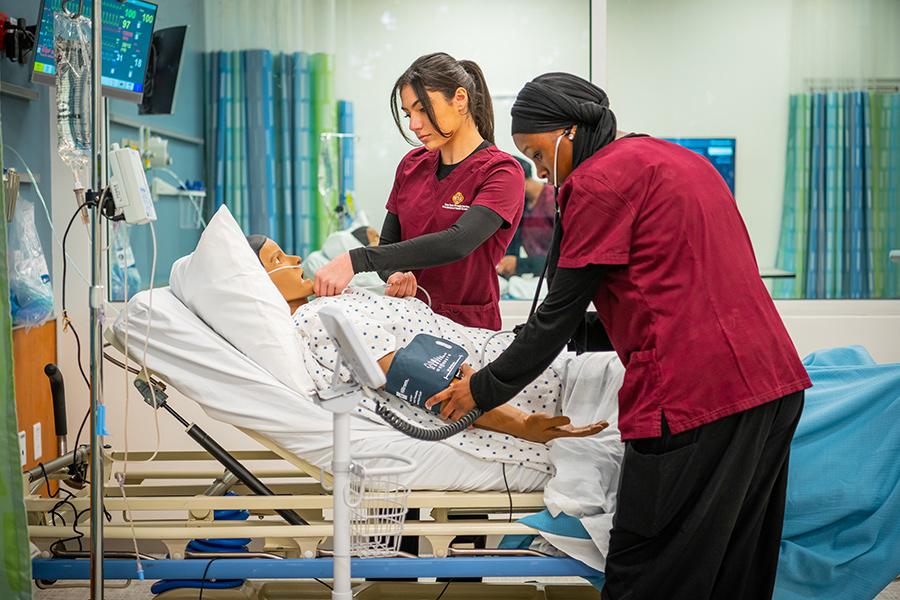 Take Your Next Step to Become a Nurse Educator
Visit Campus
Our scenic campuses, located just 20 miles from midtown Manhattan, truly do offer the "best of both worlds." Let us show you around, answer your questions and give you a feel of our tight-knit community.
Apply Today
If you're considering applying to Iona, you're not alone! During the past two years, our new-student enrollment is up nearly 30%. Additionally, graduate students automatically qualify for consideration of merit scholarships during their graduate program.
Request More Information
Learn more about Iona University today!