Return to Campus
Welcome back to campus! Please check the return to campus protocols and ensure your medical records are up to date.
Iona College's Hynes Institute for Entrepreneurship & Innovation Recognized as One of the Best for College Entrepreneurship
The Global Consortium of Entrepreneurship Centers (GCEC) recognized the Hynes Institute as a top entrepreneurship program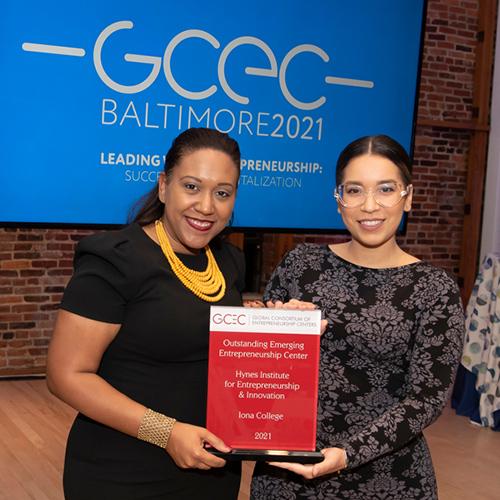 NEW ROCHELLE, N.Y. — The Hynes Institute for Entrepreneurship & Innovation won the "Outstanding Emerging Entrepreneurship Program" award for schools with less than 5,000 students at the 2021 Global Consortium of Entrepreneurship Centers (GCEC) Conference. The GCEC recognizes top entrepreneurship programs each year in several categories, chosen by a committee of judges led by past winners.
"Receiving this award is a wonderful recognition of all the hard work our entire team has put into creating an interdisciplinary entrepreneurship program that serves so many students across the College," said Christoph Winkler, Ph.D., endowed professor and founding program director of the Hynes Institute. "The award is also a mandate to keep building on that good work as we continue to grow and create entrepreneurial learning opportunities for our students, faculty, and larger College community."
This year's conference in Baltimore, Md., showcased higher education's role in supporting underrepresented entrepreneurs who have been most affected by economic crises and hold the most potential for growth. More than 500 people attended in person or virtually, including Iona's Lendynette Pacheco-Jorge and Jarlyne Batista Monzon '20MBA, who accepted the award on behalf of the Hynes Institute.
"Receiving GCEC's award for 'Outstanding Emerging Entrepreneurship Programs' is great validation for the work that we are doing for and with our students at Iona," said Lendynette Pacheco-Jorge, assistant director of the Hynes Institute. "The Hynes Institute team will take this recognition as an opportunity to continue to foster and leverage the entrepreneurial mindset across the campus and beyond."
The GCEC recognized the Hynes Institute's efforts in becoming a top-notch interdisciplinary hub that supports the development of creativity and leadership skills critical for success in a global economy.
"It has been incredibly rewarding to be a part of this team and especially a campus that has embraced entrepreneurship in the way it has," said Jarlyne Batista Monzon '20MBA, community manager of the Hynes Institute. "Presenting at GCEC was a great opportunity for us to share with new and established centers just one of the many ways we have been able to impact students, the Iona community and beyond."
ABOUT THE HYNES INSTITUTE
The Hynes Institute for Entrepreneurship & Innovation was established in 2017 through a record-setting $15 million gift from James P. Hynes '69, '01H and Anne Marie Hynes. It is an interdisciplinary program that fosters the development of creativity, leadership and entrepreneurship skills critical for success in a global economy. The Hynes Institute offers two undergraduate majors – a Bachelor of Arts in Entrepreneurial Leadership and a Bachelor of Business Administration in Entrepreneurship, as well as an advanced certificate in Entrepreneurship & Innovation. Located at the center of campus, the Hynes Institute is housed in a 3,800-square-foot, state-of-the-art coworking space offering a modern and sustainable home for creativity on campus and beyond. In addition, the Hynes Institute operates its GaelVentures Incubator at 748 North Avenue. Explore the Hynes Institute and get in touch to learn more today! 
ABOUT IONA
Founded in 1940, Iona College is a master's-granting private, Catholic, coeducational institution of learning in the tradition of the Edmund Rice Christian Brothers. Iona's 45-acre New Rochelle campus and 28-acre Bronxville campus are just 20 miles north of Midtown Manhattan. With a total enrollment of nearly 4,000 students and an alumni base of over 50,000 around the world, Iona is a diverse community of learners and scholars dedicated to academic excellence and the values of justice, peace and service. Iona is highly accredited, offering undergraduate degrees in liberal arts, science, and business administration, as well as Master of Arts, Master of Science and Master of Business Administration degrees and numerous advanced certificate programs. Iona's LaPenta School of Business is accredited by AACSB International, a prestigious recognition awarded to just five percent of business schools worldwide. The Princeton Review recognized Iona's on-campus MBA program as a "Best Business School for 2021." Iona College also recently launched a new, fully online MBA program for even greater flexibility. In July 2021, Iona College and NewYork-Presbyterian announced the establishment of the NewYork-Presbyterian Iona School of Health Sciences, to be principally located on the College's new campus at 171 White Plains Road, Bronxville, N.Y. Supported by a $20 million gift from NewYork-Presbyterian, the NewYork-Presbyterian Iona School of Health Sciences is expected to offer a new vision for collaborative health care education, modern workforce development, and community care.