Iona University Wins 2023 BCW Hall of Fame Award
Iona to be inducted April 25 for its exemplary corporate citizenship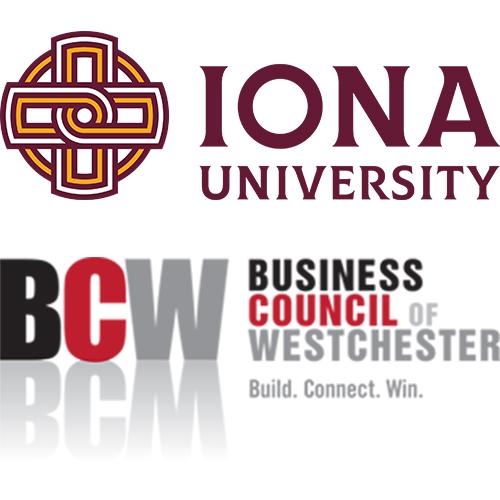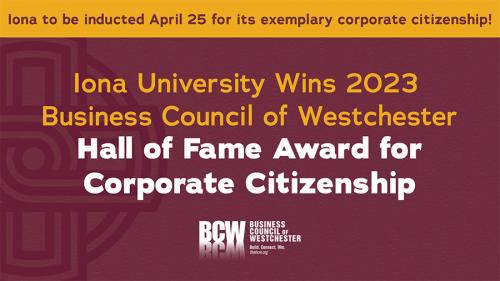 New Rochelle & Bronxville, N.Y. – Iona University President Seamus Carey, Ph.D., is pleased to announce that Iona has won the 2023 Business Council of Westchester (BCW) Hall of Fame Award for Corporate Citizenship. The BCW will induct Iona into its Hall of Fame on April 25, 2023, during a ceremony at Glen Island Harbour Club in New Rochelle.
"It is an honor to win the BCW Hall of Fame Award for Corporate Citizenship, as I believe it reflects the real difference our students, faculty, staff and the University as a whole are making in the world around us," Carey said. "Thank you to everyone at the Business Council of Westchester for your partnership. We look forward to building upon this collaboration for years to come."
Each year, the BCW recognizes leaders across various areas of impact, including corporate citizenship, entrepreneurial business success, family business success, minority business success, small business success, women in business success and the chairman's recognition award. This year's class of inductees joins more than 100 past winners, representing the most prestigious business leaders and organizations in the proud legacy of Westchester County. Learn more about attending and supporting the event here.
"The selection process for the Hall of Fame Awards is always incredibly selective, but this year, Iona University stood out for its commitment to bold leadership, service and partnership on behalf of Westchester County," said Marsha Gordon, president and CEO of the BCW. "We are so pleased to award this year's Corporate Citizenship Award to Iona and induct the University into our illustrious Hall of Fame. Congratulations, Iona!"
MISSION & MOMENTUM
Founded in 1940, Iona was built upon a mission of fostering economic opportunity for its students and local communities. Today, Iona is widely recognized for its ability to deliver on this promise, offering an exciting range of both undergraduate and graduate degree programs.
From education to entrepreneurship, criminal justice to health sciences, accelerated nursing to an online MBA, Iona's programs are geared toward practical, experiential learning that prepare graduates to excel in the workforce. Notably, Iona is ranked in the top 4 percent nationwide for the highest return on investment both 30 and 40 years after graduation, according to Georgetown University's Center on Education and the Workforce.
An anomaly in higher education, Iona has grown new student enrollment more than 30 percent over the past three years despite the headwinds of the pandemic.
Building on that momentum and demand, Iona nearly doubled its footprint in May 2021 by acquiring the 28-acre campus of Concordia College in nearby Bronxville, N.Y. Soon thereafter, Iona announced the creation of the NewYork-Presbyterian Iona School of Health Sciences with a $20 million gift from one of the nation's top hospitals. Earlier this month, Iona opened the school's new state-of-the-art flagship building, the Kelly Center for Health Sciences, named after benefactors Alfred F. Kelly Jr. '80, '81MBA, '19H, chairman and chief executive officer of Visa, and Peggy Kelly '81, '84MBA, who generously gifted $5 million to name the building.
Iona officially changed its status from College to University on July 1, 2022. The change not only reflects the prestige of an Iona education, but also the growth of its academic programs across three schools – the School of Arts & Science, LaPenta School of Business and the NewYork-Presbyterian Iona School of Health Sciences – as well as the Hynes Institute for Entrepreneurship & Innovation.
"The momentum at Iona continues to rise," Carey said. "We set out on a path of innovation and now the energy is palpable all across our two campuses."
PARTNERSHIP & SERVICE
Guided by a brand promise to "Learn Outside the Lines," Iona launched several impactful new initiatives in partnership with the BCW this past year.
First, through the Hynes Institute for Entrepreneurship & Innovation, Iona students partnered with the BCW and the City of Mount Vernon to help minority- and women-owned businesses bid on government contracts and grow their businesses. Next, the partnership extended to the City of Yonkers, where Iona students and the BCW worked with the Yonkers Housing Authority and Groundwork Hudson Valley to address the perils of "heat islands" in municipal housing. Most recently, Iona and the BCW announced a partnership to help develop the Westchester Innovation Network (WIN) Implementation Guide, a roadmap for transforming Westchester into a hotspot that attracts and nurtures innovative companies.
These examples are just a few of the countless collaborations happening inside and outside the classroom every day at Iona in service to the community. Iona students complete a remarkable 80,000 hours of community service each year, consistent with the mission of service, opportunity and the liberating power of education that inspires the Iona experience.
"To everyone at Iona who provides invaluable learning opportunities for our students by going beyond the classroom and collaborating with local businesses, communities, nonprofits and individuals, I want to say thank you," Carey said. "Guided by the legacy of St. Columba, Blessed Edmund Rice and the Christian Brothers, we at Iona know our greatest aim is in service to others. It is a great privilege to be called to do this work, and an honor to be recognized for it."
ABOUT IONA
Founded in 1940, Iona University is a master's-granting private, Catholic, coeducational institution of learning in the tradition of the Edmund Rice Christian Brothers. Iona's 45-acre New Rochelle campus and 28-acre Bronxville campus are just 20 miles north of Midtown Manhattan. With a total enrollment of nearly 4,000 students and an alumni base of over 50,000 around the world, Iona is a diverse community of learners and scholars dedicated to academic excellence and the values of justice, peace and service. Iona is highly accredited, offering undergraduate degrees in liberal arts, science, and business administration, as well as Master of Arts, Master of Science and Master of Business Administration degrees and numerous advanced certificate programs. Iona's LaPenta School of Business is accredited by AACSB International, a prestigious recognition awarded to just five percent of business schools worldwide. The Princeton Review recognized Iona's on-campus MBA program as a "Best Business School for 2023." Iona University also recently launched a new, fully online MBA program for even greater flexibility. In July 2021, Iona University and NewYork-Presbyterian announced the establishment of the NewYork-Presbyterian Iona School of Health Sciences, to be principally located on the University's new campus in Bronxville, N.Y. Supported by a $20 million gift from NewYork-Presbyterian, the NewYork-Presbyterian Iona School of Health Sciences offers a new vision for collaborative health care education, modern workforce development, and community care. On July 1, 2022, Iona officially changed its status from College to University, reflecting the growth of its academic programs and the prestige of an Iona education.