Top 5 Reasons Ambitious Students Choose Iona University
Iona rises in noteworthy rankings, recognizing the University's growth and efforts in helping students launch successful careers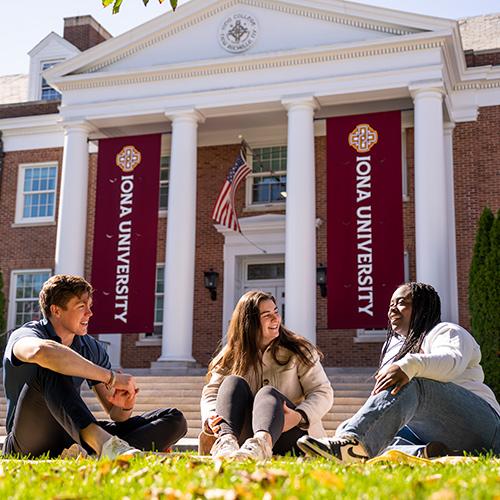 NEW ROCHELLE, N.Y. & BRONXVILLE, N.Y. — Rigorous academics, leadership development and an emphasis on economic upward mobility continue to be essential elements that define the Iona University experience. Widely known as a leader in preparing students to thrive in the workforce, Iona University has garnered attention for its ability to deliver on the promise of return on investment, with notable rankings in national outlets such as The Princeton Review, U.S. News & World Report, Forbes, The Wall Street Journal and many more.
"An Iona education is transformative," said Kevin O'Sullivan, senior vice president for Enrollment and Student Affairs. "It is gratifying to see the academic excellence that distinguishes an Iona education reflected in these rankings. At Iona, we are purposeful in curating opportunities that will not only elevate the student experience, but will also help our students succeed in their careers once they graduate. Iona first opened its doors with a mission to provide new paths to economic and social advancement for the next generation – and that mission continues today."  
A school on the rise, Iona is growing new student enrollment and expanding opportunities for students both inside and outside the classroom. Most recently, Iona expanded to a second campus in nearby Bronxville, N.Y., which added additional learning spaces and athletic facilities to the University footprint. The new campus is also home to the NewYork-Presbyterian Iona School of Health Sciences. In January 2023, Iona opened the school's flagship building, the state-of-the-art Kelly Center for Health Sciences, featuring 32,000 square feet of the most modern classrooms, simulation labs and collaborative spaces across three floors.
Iona also recently collaborated with The Equity Collective, an industry-leading group of 27 wealth and asset management firms. Led by Morgan Stanley, this initiative gave Iona students an opportunity to form one-on-one relationships with leaders in the industry, while working on resumé-building, interviewing skills, networking and more. The experience culminated in March 2023 as Iona students visited the Morgan Stanley headquarters in New York City, where three Iona students spoke on an exclusive panel.  
With alumni rising to the top of global business – notably Alfred F. Kelly Jr. '80, '81MBA, '19H, CEO of Visa, Margaret (Maggie) Timoney '89, '92MBA, CEO of Heineken USA, and several successful young alumni – there are no limits to what you can achieve with an Iona degree.
1. The Princeton Review's "2023 Best Colleges: Region by Region" and its "2023 Best Business Schools"
For its "2023 Best Colleges: Region by Region" list, The Princeton Review highlighted 655 colleges in five zones—Northeast, Southeast, Midwest, West and International (outside of the United States)—that they consider academically outstanding and well worth consideration in a student's college search. Iona was named among the top selected colleges in the Northeast.
Additionally, the LaPenta School of Business was named to The Princeton Review's 2023 Best Business Schools for its on-campus MBA program. According to The Princeton Review, Iona students reported that the LaPenta School of Business creates a "nurturing learning environment" in which students "can develop personally and academically in comfort." The school also has "a bright and cheerful atmosphere," mostly due to "the diverse student body and courteous professors," and "classes are challenging in a way that makes learning exciting."
2. Georgetown University's Center on Education and the Workforce's (CEW): Ranking 4,500 Colleges by ROI
In the latest report, released by Georgetown University's Center on Education and the Workforce (CEW) in 2022, Iona is ranked in the top 4 percent (#205) among 4,500 institutions based on its long-term return on investment (ROI). In addition, Iona ranks #1 among colleges with main campuses based in Westchester for delivering the highest ROI both 40 and 30 years after graduation, the time frames that best reflect a college's value, according to the report.
3. U.S. News & World Report: 2022-2023 Best Regional Universities
A college education is one of the most important investments that prospective students will ever make. For this reason, U.S. News compiled a list of the top universities in the North, South, Midwest and West; the latest edition assessing an all-time high of 1,500 U.S. bachelor's degree-granting institutions on various measures of academic quality. Iona University was ranked among the best universities in the North.
4. Payscale.com's "College Salary Report"
Payscale's "College Salary Report" ranked colleges and universities by the median salaries of their alumni. If a student is aware of how much they can expect to earn after getting their degree, they can choose a school wisely and set themselves up for future financial security. With a typical median salary of $111,600 for mid-career alumni with a bachelor's degree, meaning at least 10 years of experience, Iona ranked in the top 14 percent according to the 2021 Payscale report.
5. College Factual's 2023 Best Colleges in the United States
Iona University jumped 335 spots on the College Factual 2023 Best Colleges in the United States list, demonstrating it is a school on the rise and coming in at No. 588 nationwide. College Factual's ranking methodology focused on over 20 different objective factors including graduation rate, post graduate earnings, and more. Iona was also awarded a notable 52 badges in the 2023 rankings. Among other recognitions, Iona made the ranks for Best Health Science School, Most Popular in Sports Communication, and Best Colleges in New York, to name a few. 
ABOUT IONA
Founded in 1940, Iona University is a master's-granting private, Catholic, coeducational institution of learning in the tradition of the Edmund Rice Christian Brothers. Iona's 45-acre New Rochelle campus and 28-acre Bronxville campus are just 20 miles north of Midtown Manhattan. With a total enrollment of nearly 4,000 students and an alumni base of over 50,000 around the world, Iona is a diverse community of learners and scholars dedicated to academic excellence and the values of justice, peace and service. Iona is highly accredited, offering undergraduate degrees in liberal arts, science, and business administration, as well as Master of Arts, Master of Science and Master of Business Administration degrees and numerous advanced certificate programs. Iona's LaPenta School of Business is accredited by AACSB International, a prestigious recognition awarded to just five percent of business schools worldwide. The Princeton Review recognized Iona's on-campus MBA program as a "Best Business School for 2023." Iona University also recently launched a new, fully online MBA program for even greater flexibility. In July 2021, Iona University and NewYork-Presbyterian announced the establishment of the NewYork-Presbyterian Iona School of Health Sciences, to be principally located on the University's new campus in Bronxville, N.Y. Supported by a $20 million gift from NewYork-Presbyterian, the NewYork-Presbyterian Iona School of Health Sciences offers a new vision for collaborative health care education, modern workforce development, and community care. On July 1, 2022, Iona officially changed its status from College to University, reflecting the growth of its academic programs and the prestige of an Iona education.