The Wall Street Journal Ranks Iona University Among the Top 10 Catholic Schools Nationwide
National ranking emphasizes student outcomes and how much a college boosts salaries after graduation
New Rochelle and Bronxville, N.Y. – If you're looking for an incredible college experience that will help you finish on time and make more money after you graduate, then Iona University is one of the best in the nation, according to The Wall Street Journal/College Pulse's ranking of the 2024 Best Colleges in America.
The new report not only ranks Iona among the top in the nation overall, but also one of the best for student experience, salary impact, social mobility and more. Highlights include:
#66 Best College in America
#8 Best Catholic College in the Nation
#1 Best in the Nation for Student Experience Among Catholic Colleges
#1 Best in New York for Student Experience
#19 Best in the Nation for Student Experience
#6 Best in New York for Salary Impact
#11 Best in New York for Social Mobility
Impressively, the WSJ also found that it takes just 2 years and 7 months to pay off the net price of an Iona education, factoring in considerations of federal financial aid, tuition and fees, room and board, books and supplies, and even any grants or scholarships.
"The value of an Iona education continues to attract highly motivated and talented students who are eager to go out and make a difference in the world," said Iona University President Seamus Carey, Ph.D. "We look forward to ongoing success as we continue to add new programs and degrees that are in high demand, especially in nursing, the health sciences, business and other growing fields."
VALUE ADDED
Under the ranking's new methodology, special emphasis was put on student outcomes and how much a college boosts salaries after graduation.
No longer did the ranking reward a colleges' wealth or reputation in and of themselves. Gone, also, were the rewards for instructional spending and the assumption that the quality of an education is largely dictated by how expensive it is to produce, the WSJ explained.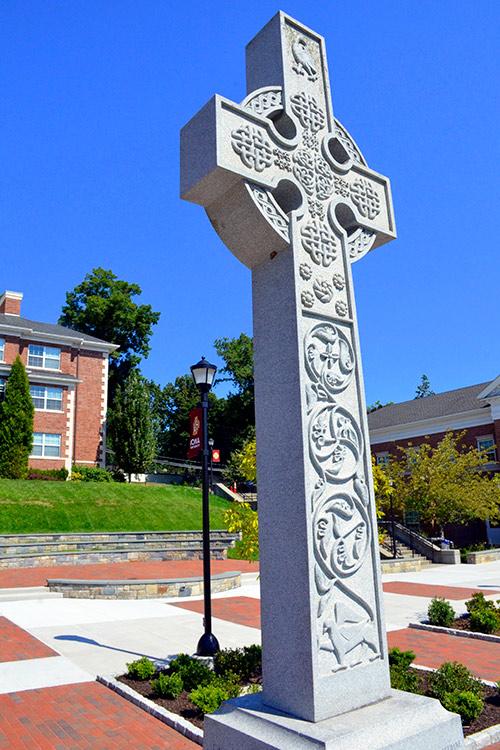 Instead, the new methodology expanded the importance of graduation rates and graduate salaries. Critically, the ranking put greater emphasis on measuring the value added by the colleges. Meaning, not simply measuring their students' success, but focusing on the contribution the college actually makes to that success, according to the WSJ.
In addition to the analysis of graduation rates and graduate salaries, the WSJ also factored in the cost of attendance against salary performance. Ultimately, their analysis ended up with an estimate of how quickly the salary boost actually pays for the cost of the college.
The ranking also included one of the largest-ever independent surveys of verified college students in the United States, undertaken by College Pulse. Over 60,000 undergraduates and recent undergraduate alumni were questioned on their college experience, capturing a range of perspectives on student life including perceptions of learning opportunities, career preparation, dining halls and sports facilities and thoughts on diversity.
In the end, college scores were based on three factors: student outcomes, accounting for 70% of the rankings; the learning environment, at 20%; and diversity, at 10%.
All of this continues to reinforce the transformative power of an Iona education and the value it provides for its graduates.
"For students, we believe this ranking will help them identify which colleges will do the most to help them graduate and make more money," wrote WSJ rankings editor Harry Carr. "What constitutes a good college is almost inevitably subjective and a source of contention. But if you want to prioritize learning environment and career preparation, and choose the college that will do most to make sure you graduate and maximize your earnings, that's the focus of this ranking. We hope that this will be a vital resource—and will help you trust your decisions when considering one of the biggest and most exciting choices of your life."
A SCHOOL ON THE RISE
The news comes as Iona continues to grow new student enrollment and expand opportunities both inside and outside the classroom. Since 2019, new student enrollment is up nearly 30 percent at Iona.
In addition to a rigorous academic focus, Iona students enjoy choosing from over 80 clubs and leadership organizations as well as a wide range of performing arts opportunities, 13 club sports and 23 NCAA Division I Athletics programs.
Notably, Iona also recently expanded to a new 28-acre campus in Bronxville, located just three miles from its 45-acre campus in New Rochelle, N.Y.
In addition to adding new athletic facilities and performing arts spaces, the Bronxville campus is now primarily home to the NewYork-Presbyterian Iona School of Health Sciences and the state-of-the-art Kelly Center for Health Sciences. This premier new school offers a variety of undergraduate and advanced degrees in collaboration with one of the nation's top hospitals, including top clinical placements and full-time employment opportunities.
All of this builds upon the longstanding reputation of Iona's School of Arts & Science and the LaPenta School of Business, not to mention the collaborative opportunities offered through the Hynes Institute for Entrepreneurship & Innovation.
Learn more about Iona University at iona.edu or join us at a Fall Open House! RSVP for October 8, November 19 or October 2 (virtual) today!
ABOUT IONA
Founded in 1940, Iona University is a master's-granting private, Catholic, coeducational institution of learning in the tradition of the Edmund Rice Christian Brothers. Iona's 45-acre New Rochelle campus and 28-acre Bronxville campus are just 20 miles north of Midtown Manhattan. With a total enrollment of nearly 4,000 students and an alumni base of over 50,000 around the world, Iona is a diverse community of learners and scholars dedicated to academic excellence and the values of justice, peace and service. Iona is highly accredited, offering undergraduate degrees in liberal arts, science, and business administration, as well as Master of Arts, Master of Science and Master of Business Administration degrees and numerous advanced certificate programs. Iona's LaPenta School of Business is accredited by AACSB International, a prestigious recognition awarded to just five percent of business schools worldwide. The Princeton Review recognized Iona's on-campus MBA program as a "Best Business School for 2023." Iona University also recently launched a new, fully online MBA program for even greater flexibility. In July 2021, Iona University and NewYork-Presbyterian announced the establishment of the NewYork-Presbyterian Iona School of Health Sciences, to be principally located on the University's new campus in Bronxville, N.Y. Supported by a $20 million gift from NewYork-Presbyterian, the NewYork-Presbyterian Iona School of Health Sciences offers a new vision for collaborative health care education, modern workforce development, and community care. On July 1, 2022, Iona officially changed its status from College to University, reflecting the growth of its academic programs and the prestige of an Iona education.